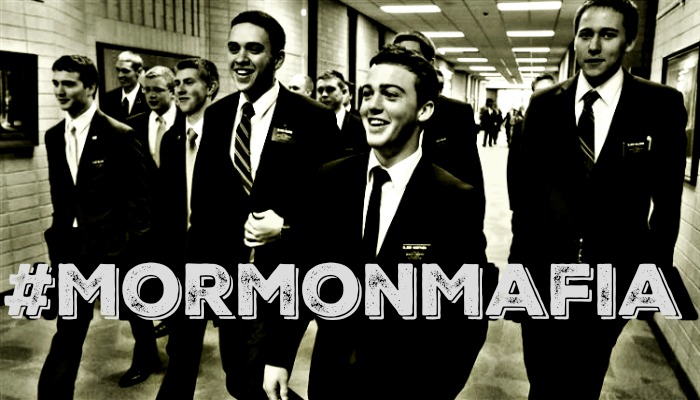 Revenge is a dish best served cold.
But the #MormonMafia would NEVER serve you a cold meal. Hot casseroles all day, every day. 😎
The Huffington Post recently published an article that dubbed #MormonMafia "Twitter's best new hashtag," and we have one person to thank for that: Lou Dobbs.
The initial tweet containing this hashtag was posted by none other than Fox's Mr. Dobbs himself. It stemmed from his anger at politician Evan McMullin who announced his candidacy for President back in August. McMullin is neck-and-neck with Donald Trump in Utah, which Dobbs thinks will end up handing over the state's electoral votes to Hillary Clinton.
Look Deeper, He's nothing but a Globalist, Romney and Mormon Mafia Tool #MAGA #AmericaFirst #TrumpPence16 #TrumpTrain #Dobbs https://t.co/WfjYzck2jt

— Lou Dobbs (@LouDobbs) October 23, 2016
However, Dobbs never could have anticipated the social-media frenzy his tweet would kickstart… or how because of it, we get to enjoy laughing-out-loud at these 13 hilarious tweets that deal with none other than the world's scariest organization: the Mormon Mafia.
1.
"I'm gonna make him a Jello salad he can't refuse." #MormonMafia

— Mark Hemingway (@Heminator) October 27, 2016
And let's be honest… About 50% of us don't even understand The Godfather References. Unless, you know, we've watched it on VidAngel.
2.
@LouDobbs You mean this #MormonMafia ? It's the sopranos @MormonTabChoir #christian pic.twitter.com/QSMkLH8R7M

— Restored Gospel of Jesus Christ (@LDSPrinciples) October 27, 2016
3.
"I know you drank the coffee, Fredo. You broke my heart. You broke my heart." #MormonMafia

— Ben Shapiro (@benshapiro) October 27, 2016
The Mormon Mafia headquarters: anywhere but Starbucks… Unless they just really want a Caramel Apple Spice.
4.
The #mormonmafia will shoot you and then frame your friends
.
.
.
.

Into the perfect scrapbook

— Sarah (@sarah_wxtx) October 27, 2016
5.
They don't call them funeral potatoes for nothing… #MormonMafia pic.twitter.com/0VQuPICGLz

— Rachel's Reviews (@smilingldsgirl) October 27, 2016
After tasting these, even Al Pachino would probably join the Mormon Mafia.
6.
"Say hello to my little friend…magazine"#MormonMafia https://t.co/qpAkxlsaAV

— "A New Balance" (@ACEide93) October 27, 2016
The Friend: a magazine for children and mobsters alike.
7.
Nice charity you have there. Shame if we donated to it. #MormonMafia

— Dan 🇺🇸 (@danieltobin) October 27, 2016
8.
"Gosh darn it, you messed with the wrong fellows this time, you nincompoop!" #MormonMafia

— Orange Muppet Energy (@sunnyright) October 27, 2016
9.
You're gonna sleep with the fishes.

The only spare bedroom we have left has an aquarium in it. Hope that's not a problem.#MormonMafia

— Eric Spencer (@JustEric) October 27, 2016
10.
#MormonMafia bosses want their #MormonThugs to deliver a message to each of the families every month. pic.twitter.com/SfowoHYCrY

— David Grant (@davidbgrant1) October 27, 2016
Home teachers or HOODLUMS? It can be very difficult to tell the difference.
11.
Is the #MormonMafia that large group of people that show up to help strangers after a natural disaster strikes?

— Derik Stevenson (@derikstevenson) October 27, 2016
Nothing says "We'll mess you up" like wearing shirts that say "Helping Hands."
12.
https://twitter.com/BigRMV/status/791498463691153408
13.
Tweets with replies by Philip Moon 🃏 (@Philip_R_Moon) | Twitter
When Someone is Rude to You, Respond Like a Mormon.
These are just a few of many hysterical #MormonMafia tweets. Share with us some of your favorites in the comments below!