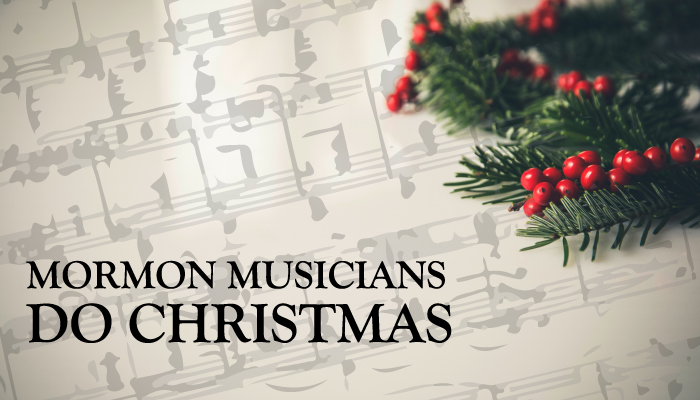 Last year our staff at MormonMusic.org featured Christmas music videos from our favorite LDS artists. We began doing this weekly and thought we'd be just fine. As December wore on, however, the offerings began to pour in, and we had trouble keeping up with them. They were all amazing, and we couldn't bear to leave any out.
MormonMusic will try that again this year, but here at MormonHub.com, we'll try to keep up in a slightly different way. We'll continue to add new Christmas music videos from LDS artists (and a few best oldies) to this very article as the season progresses. So be sure to check back often to see (and hear) what's new.
1. Hamildolph by Eclipse 6
In this hilarious parody of the musical Hamilton, Eclipse 6 launches the Christmas season on a humorous note. Eclipse 6 gathers together a cappella singers Paul Hansen, Kevin Jones, Jake Despain, Dan Kartchner, Shayne Taylor, and James Case. They got together originally at Utah State University and released their first album in 2001. The award-winning group toured Asia and the U.S. in 2011. Eclipse 6 has released a couple of Christmas albums, so search for them at your favorite online music provider.
2. The Dance of the Sugar Plum Fairy by Jennifer Thomas
Jennifer Thomas will be a household name before long, as she's on her way to becoming a famous classical crossover composer and performer. In April 2016 she announced that she had won several Indie awards—Best Live Classical Performance (Jennifer Thomas LIVE with the Ensign Symphony and Chorus at Benaroya Hall); Best Classical Music Video for "Alleluia"; and Music Video of the Year for "Alleluia."
She also announced that her album "Winter Symphony" was nominated for a Hollywood Music in Media Award (HMMA) in Contemporary Classical/Instrumental. Jennifer's newest Christmas video offering tells the story from the classical ballet, the Nutcracker.
3. One Single Bell by One Voice Children's Choir and BYU Vocal Point
The One Voice Children's Choir is composed of 140 children from northern Utah along the Wasatch Front, Park City area, and Heber Valley. The age of the children who volunteer to be a part of the Choir ranges from four through eighteen. Some are LDS.
BYU Vocal Point is a nine-member, male a cappella group at Brigham Young University (BYU). The group was founded in 1991 by two BYU students, Dave Boyce and Bob Ahlander.
The group's YouTube channel currently has over 154,000 subscribers. The most popular video, "Nearer My God to Thee," has over 5 million views. In 2012, they released their first-ever All-Hymns Album "Lead Thou Me On." In 2014, they released "Spectrum," and in 2015, they released their first Christmas album "He is Born."
4. O Holy Night by GENTRI
We hope you had some tissues handy before you watched this video. Gentri has touched our hearts once again with this tender holiday offering.
Established in June 2014, GENTRI (The Gentlemen Trio) provide a rich, tenor sound in three-­part harmonies. GENTRI is comprised of three highly trained tenors: Brad Robins, Casey Elliott, and Bradley Quinn Lever, who are known as "the Gents." The three Gents met in the Spring 2014 production of Les Misérables at the Hale Center Theater. In 2016, GENTRI released their second album, "Rise," which can be found on iTunes, Spotify, and YouTube.
5. Grown-up Christmas List by the Hollens'
OK, so we are totally cheating on this one. Although they've been part of every LDS musical event in recent memory, Peter and Evynne Hollens are not Mormon. (Should this change or even be incorrect, please let us know.) This video is part of the #LIGHTtheWORLD event.
6. What Child is This by Reese Oliveira
At age 11 Reese is delightful in this Christmas solo, arranged and produced by Masa Fukuda, the director of One Voice Children's Choir. Reese is a "triple threat" talent who sings, dances, and acts. She played Young Cosette in Les Miserables at Hale Center Theater Orem, 19 February – 25 April 2015. She also acted and sang in such productions as 2014's Scera Shell Les Miserables, 2014 Celebrations of Christ at Capitol Theater, Kurt Bestor Christmas, and the inauguration of State Attorney Sean Reyes.
7. Christmas Mashup by Maddie Wilson & Tiffany Alvord
Also part of the lead up to Christmas sponsored by the Church, Maddie Wilson and Tiffany Alvord have created this medley of Mary, Did You Know and Away in a Manger. Maddie Wilson is a talented (Country Crossover) vocalist, songwriter, performer, and an accomplished musician. An award-winning performer, her songs have been played around the globe on radio, and internet radio including iTunes, Spotify, and Pandora.
Tiffany Alvord has about 3 million subscribers on YouTube! She released her first album My Dream in 2011, followed by My Heart Is in 2012, and Legacy in 2014. Her music is also on iTunes, and Spotify.
8. Away in a Manger by Monica Scott
This touching video by Monica Scott focuses on children's celebration of Christ's birth, with her sweet but brilliant piano accompaniment. Monica calls herself a "stay at home mom," but she's managed to launch a YouTube channel of her very special piano arrangements.
Monica's first album is called "Reflections" which is a collection of 8 of her arrangements of LDS sacred hymns and 3 of her own compositions. Samples of the tracks from the album can be listened to on her official website, and full-length tracks can be purchased from her website, yourldsmusicstore.com, cdbaby.com, iTunes, and Amazon.
9. The Wexford Carol by the MoTab
The Mormon Tabernacle Choir helps us feel the spirit of Christmas with this interesting take on the Parable of the Prodigal Son. This video was released at the end of November this year.
10. Joy to the World by (just about everyone)
This video outtake from BYU's Christmas under the Stars features BYU Vocal Point, Ryan Innes, the Hollens', One Voice Children's Choir, and Madilyn Paige. With a modern, jazzy arrangement and powerful delivery, this performance is pretty much meant to knock your socks off. (You can hang them from the mantle.)
11. O Come All Ye Faithful by BYU Combined Choirs and Orchestra
Prepare to be blown away by this combined choir and orchestra performance from BYU. The most handsome young adults in the world show they are also amazingly talented and well-studied.
12. Son of God by Paul Cardall and Patrice Tipoki
This original Christmas song by Paul Cardall is part of his #1 Billboard album, A New Creation. International Broadway Star Patrice Tipoki sings what Cardall believes to be the Virgin Mary's feelings at the birth of Christ. This beautiful song with it's tender message has caught the interest of Churches throughout the world who will be performing "Son of God" as part of their Christmas evening Mass and Sunday worship services (LDS Daily).
13. My Little Prayer by David Archuleta
This original song by David Archuleta came to him in the middle of the night as a heavenly gift. Its sweetness melts the soul. For the full story, go to LDSLiving.com.
14. Blue Christmas by Belle Jewel and Taylor Graff
Recent The Voice finalist Belle Jewel joins with Taylor Graff to create a casual and bluesy Blue Christmas together. Belle has been singing professionally only since mid-2013 but is soaring fast toward a successful career.
15. Angels We Have Heard on High by the Gardiner Sisters
The Gardiner Sisters are actually a trio but have brought in two songbird sisters for this rendition of Angels We Have Heard on High. The Gardiner Family is from North Carolina. Their family motto is, "If you work hard and put the Lord first, you can do anything you set your mind to."
Click on this article often to see new added videos.