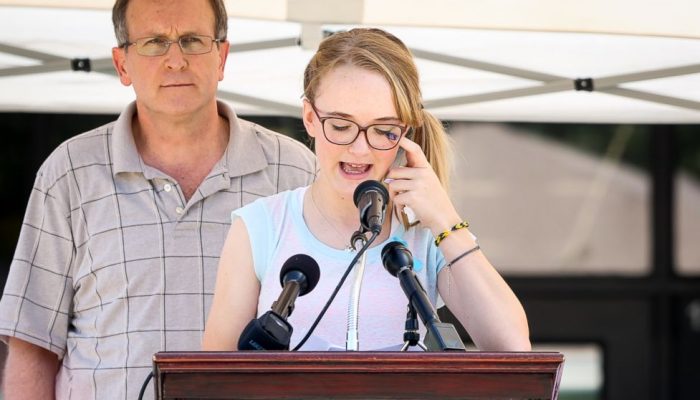 Members of the community of Spring, Texas are rallying together after a horrific tragedy killed 6 of its members. On July 9th, an estranged relative of the Stay family went to the Stay home in search of his ex-wife, the sister of the family's mother. According to reports, the accused gunman, Ron Haskell, shot both parents and each of the five Stay children after they each told him they did not know the location of his ex-wife.
The oldest child, 15-year-old Cassidy Stay, is the lone survivor of the execution-style shooting. She miraculously survived by placing her hands up when she was shot and then playing dead. The bullet hit her finger, which deflected the bullet just enough so it only grazed her skull and did not cause serious brain damage or death. After the shooter left her home, Cassidy called 911 and provided them with enough details so they were able to apprehend Haskell before he got to her grandparents' home.
Cassidy was released from Children's Memorial Hermann Hospital on Friday, July 11 in good condition and is on a path to make a full-recovery.
The Stay family were members of the Houston North Stake of The Church of Jesus Christ of Latter-day Saints. Cassidy has relied on her Mormon faith to get through this tragic event. According to click2houston.com, Cassidy and her grandfather, Roger Lyon, attended an event Saturday morning at a local elementary school.  Cassidy thanked the community, the emergency response teams, and all those who have supported her through this tragedy. She quoted Harry Potter and told all of her friends and neighbors that she knows her family is in a better place:
'Happiness can be found even in the darkest of times, if one only remembers to turn on the light.' I know that my mom, dad, Bryan, Emily, Becca and Zach are in a much better place and that I'll be able to see them again one day.
A funeral for Cassidy's six family members will be held on Wednesday, July 16th at 2:00 PM at the Houston North Stake Center of The Church of Jesus Christ of Latter-day Saints at 16331 Hafer Rd., Houston 77090.
Those wanting  to donate to the Stay Family trust fund can go to 
stayfamilyfund.org
  or 
stayfamilyfund.com
, which have been set up specifically by the relatives of the Stay family. 100 percent of the donations made through these sites will go to the trust fund for Cassidy and her family.