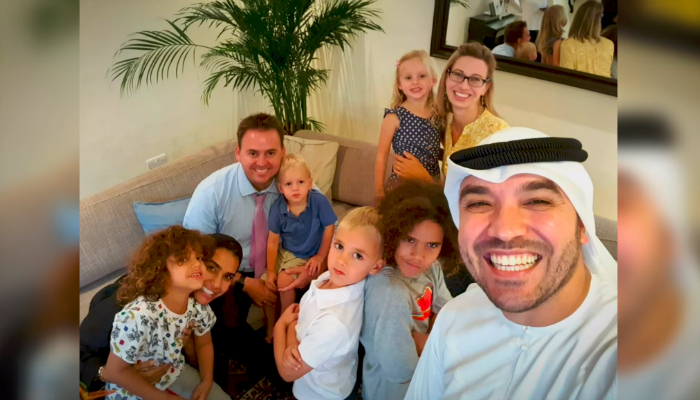 Muslim creator Khalid Al Ameri published an AWESOME video a couple of days ago called, "MUSLIMS VS. MORMONS." But the video is far from the controversial "us vs. them" videos you've probably seen floating around social media. This one is about finding common ground, building friendships, and rising together. The video already has almost 800,000 views, and continues to spread far and wide. Take a look, it'll bring a smile to your face:
In the Facebook post, Khalid says,
What happens when a Muslim and a Mormon family come together?

Being Muslim is a big part of our lives and has been the foundation of our relationship, our love for each other and for the family we are building. Through the journey of visiting other religious institutions in our country, the United Arab Emirates, we are always surprised and appreciative of just how similar we all are, and visiting this family of Latter Day Saints is just one more example of that.

Thank you so much to Sterling and Lindsay Jensen and their wonderful family for welcoming our Facebook family into their home and for the wonderful Iftar, much love and blessings to you always.
In the Moslem faith, the ninth month of the Islamic calendar is considered a "holy month" they call Ramadan. During this month, Muslims put into practice one of the five pillars of Islam: Fasting. They fast every day of the month from sunrise to sunset. The meal they eat to break their fast after sunset is called Iftar. In the video above, you'll notice that Khalid and his family have their Iftar at the home of their Latter-day Saint friends. To learn more about Ramadan and why Muslims fast during this month, check out this video, also from Khalid:
Ramadan is also the month when many Muslims make the Hajj, or pilgrimage to Mecca. It's the fifth and final pillar of Islam. Join Khalid and his wife on their journey to Mecca:
Thanks, Khalid, for making this world a little brighter!
What was your favorite part of Khalid's "Muslims vs. Mormons" video?