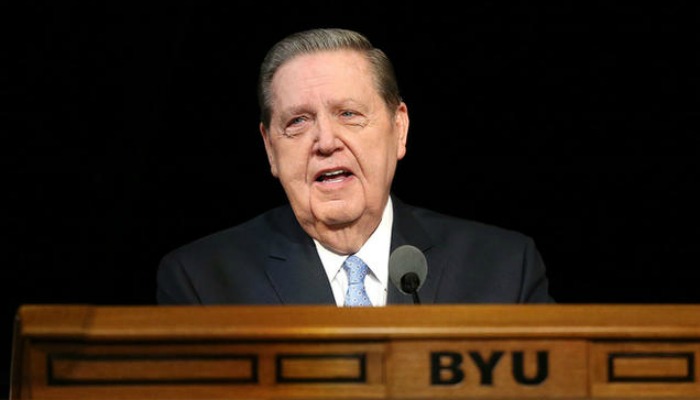 With education week coming to a close, The Church of Jesus Christ of Latter-day Saints has announced the construction of a new website, religiousfreedom.churchofjesuschrist.org, geared toward educating members on preserving religious freedom. The website comes as a bookend to Elder Holland's Education Week address "Bound by Loving Ties," which focused on the pivotal role of religion in a sound society. Elder Holland called attention to the rise of secularism in the world today, a phenomenon underscored by the increase of Americans identifying as 'religious nones.' 
Content on the site aims to give members a resource when searching for information on how to live your beliefs in a public setting. Videos shown at Education Week by Michael Frandsen of LDS Public Affairs will be posted to the site. Frandsen hinted that the website was in the works after the videos were screened.
"There's a lot you can do as a person of faith to live your beliefs in a public school setting. Part of it involves understanding just what your rights are, and just so that you know, the Church is working to make these sorts of things easier for our members to understand so that they know how to answer these kinds of questions. You'll see more to come in that regard."
The creation of the website is an indicator of the Church's continual push to integrate technology with religion. Director of publishing product management for Seminaries and Institutes of Religion, Ron J. Schwendiman, taught a series of classes at Education Week on "Teaching the Gospel in a Digital World."  Schwendiman offered advice on using media within a lesson, instructing older, less tech-savvy teachers to enlist the help of the younger generation.  "Technology is a tool, and mastering the tool in the classroom enables the Spirit to be felt," Schwendiman told his class.
Until religiousfreedom.churchofjesuschrist.org is up and running, those wishing to learn more about religious freedom are encouraged to visit http://www.freedom-of-religion.org/ or www.religiousfreedomcenter.org/.