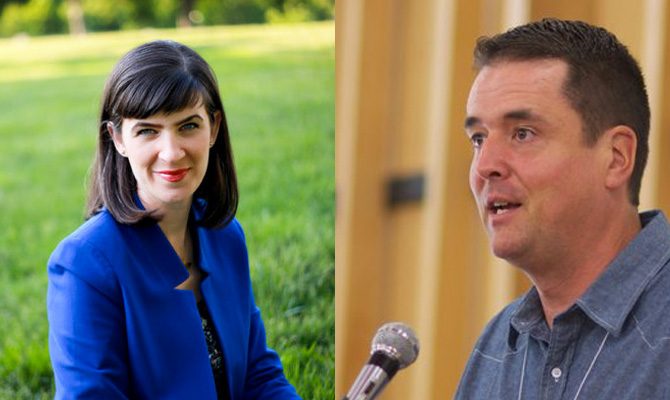 The New York Times broke the story today that John Dehlin and Kate Kelly, both members of The Church of Jesus Christ of Latter-day Saints and internet activists, have been asked to appear before disciplinary councils. Kate Kelly is the founder of the Ordain Women movement and John Dehlin is a well-known blogger and activist. According to the article, both of them received a letter inviting them to respective councils. Dehlin provided his invitation letter to The New York Times, which contained this statement.
"Because of the love I have for you, I have become concerned about some of your recent statements and actions regarding this church and your place in it."
The letter cited a post on Dehlin's blog in which he says he no longer believes some fundamental tenets of the Church. The New York Times also reports that Kelly received a letter in May telling her that if she did not shut down the Ordain Women website and repent:
She faced excommunication for "openly, repeatedly and deliberately acting in public opposition to the church and its leaders after having been counseled not to do so."
According to The New York Times, Dehlin and Kelly suspect that these disciplinary councils are a coordinated effort. They have both expressed that they are not pleased with the decision. On Kelly's blog she lamented,
Given the gravity of the situation, I feel like being invited to a council of this sort is akin to being invited to my own funeral.
Church Response
Responding to questions about these letters, the Church posted the following to MormonNewsroom.org.
"Sometimes members' actions contradict Church doctrine and lead others astray. While uncommon, some members in effect choose to take themselves out of the Church by actively teaching and publicly attempting to change doctrine to comply with their personal beliefs. This saddens leaders and fellow members. In these rare cases, local leaders have the responsibility to clarify false teachings and prevent other members from being misled. Decisions are made by local leaders and not directed or coordinated by Church headquarters."
In a phone call between LDS.net and Church Public Affairs, the Church did not offer any additional information, except to say that they do not contest the authenticity of the letters.
In a previous speech, Elder M. Russell Ballard had this to say about disciplinary councils:
"Members sometimes ask why Church disciplinary councils are held. The purpose is threefold: to save the soul of the transgressor, to protect the innocent, and to safeguard the Church's purity, integrity, and good name."
What do you think about Dehlin and Kelly being called in to disciplinary councils? Let us know in the comments.