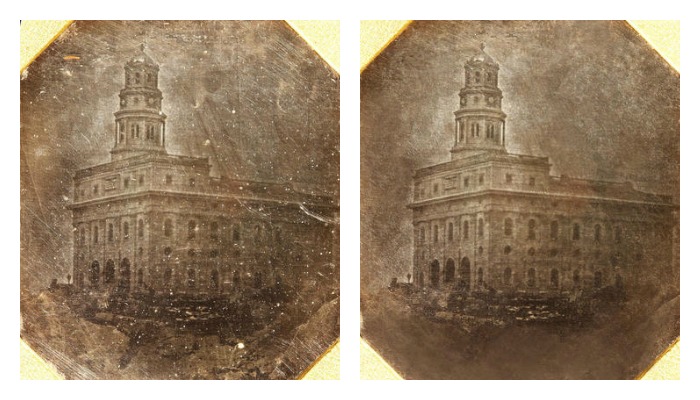 A rare original image of the Nauvoo Temple was discovered by a Church Historian recently and restored by a volunteer photo restorationist.
"One of the well-known daguerreotypes of the Nauvoo Temple was found in an old museum and labeled as a pioneer mirror," Church Historian, Brittany Chapman said. "A historian from the Church History Library was walking around and noticed it and knew that it wasn't a mirror. It is one of only six images known to exist of the original Nauvoo Temple."
Keith Finlayson is a volunteer photo restorationist for the Church and has been doing so for two years, after retiring from a career in the medical field. He restored the rare Nauvoo Temple image using advanced software. Finlayson is fascinated by Church history and has restored many interesting daguerreotype photos during his time volunteering for the Church.
"The daguerreotypes are my favorite to work with because they're the oldest and there's fewer of them around," Finlayson told the Deseret News. "There was so much effort put into them that almost all of them are in focus and of good quality."
Chapman hopes all will visit the online Church History Library to catch a glimpse into what the Church was like in some of its earliest days,
Seeing some of these early Church images restored to their former beauty is quite remarkable.We hope people in the present will come and view the images online we have collected from the past.
To see more restored image collections from the early days of the Church, visit the Church History Library online.