It's March, so that means March madness basketball. Here's a look at 10 of the most interesting Mormon Basketball Players throughout history.
10. Scot Pollard
Scot Pollard may be best remembered for his-ahem-inventive hair styles. Pollard played basketball at the University of Kansas, and had a journeyman career in the NBA before retiring six years ago after winning a championship with the Boston Celtics.
9. Trick Shot Titus
Far and away the shortest player on this list. Trick Shot Titus is still two years old! Titus' impressive ability to make shots you or I couldn't dream of has landed him some one on one with Kobe Bryant, and a basketball game against Bradley Cooper and Channing Tatum on a Spanish talk show.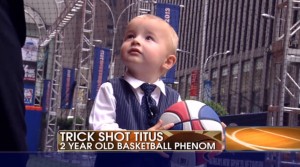 8. Shawn Bradley
Shawn Bradley is largely remembered for his impressive 7'6" height. Since retiring Bradley is usually memorialized via the impressive dunks against him, but he did have a solid career as a shot blocker, and memorably played himself in Space Jam.
7. The Mud Lake Ward

From the LDS comedy film Church Ball, the Mud Lake ward (congregation) undergoes a classic underdog story as they try to get into the last stake (like a diocese) church ball tournament.
6.  Jabari Parker

Jabari Parker is one of the most talented players on one of the best college basketball teams in the country, Duke University. Expect to see Parker playing deep into March Madness, and be drafted early in this year's NBA draft.
5. Danny Ainge

Danny Ainge may be best known now as the GM and President of Basketball Operations for the Boston Celtics, winning an NBA Championship and Executive of the year in 2008. Ainge also had an impressive career as a player, winning the John R. Wooden award for outstanding college basketball player, and going on to a fourteen year NBA career peaking in an NBA All-star appearance.
4. Those missionaries who dunked
http://www.youtube.com/watch?v=Z1tB0DalWJ0
Last year two high flying missionaries for The Church of Jesus Christ took the world by surprise when they got caught on YouTube dunking during a pickup game. The video went viral, and Arsenio Hall even featured it on his show.
3. Tom Chambers
Tom Chambers is largely remembered for his highlight real drunks while playing for the Clippers, SuperSonics, Suns, Jazz and Hornets during a career that lasted sixteen years. Chambers had his greatest success helping the high scoring Sun offense of the early nineties. Tom Chambers played in four all-star games, and was once named all-star MVP.
2. Jimmer Fredette

Jimmer Fredette's NBA career may have not taken off yet, but his four year career at BYU had many youngsters draining three point shots while shouting "Jimmer." Fredette was the leading NCAA scorer his senior year and was named the National Player of the Year by every major award.
1. Mel Hutchins

The oldest player on this list, Mel Hutchins played in the NBA from 1951 to 1958. He was voted rookie of the year by newspaper writers, then led the league in rebounds in his second year in the NBA. Hutchins was a four time all-star before his career ended with a serious knee injury. Were it not for his prematurely ended career, Hutchins would likely be in the NBA Hall of Fame