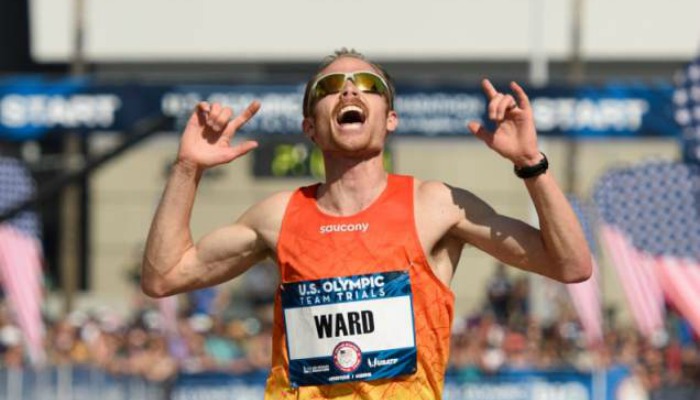 With the 2016 Summer Olympics already upon us, the festivities and athletics have officially begun in Rio de Janeiro, Brazil. Athletes from every corner of the world prepare themselves to compete in their events, and viewers at home prepare to cheer on their favorite athletes.
To prepare you for the Olympic Games, we put together a list of LDS Olympic athletes to cheer for in Rio:
Taylor Sander: USA, Men's Volleyball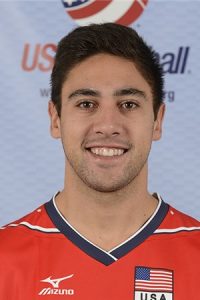 One of only twelve men on the U.S. Men's Volleyball Team, former Brigham Young University volleyball star Taylor Sander will play in the Olympics with seven other first-time Olympians, two 2008 Beijing Olympic Gold Medalists, and two returning Team USA players. Making up one of the youngest US volleyball teams in recent history, Sanders is only 24 years old.
Sander, with his high jumps and intense energy, made the national team soon after leaving BYU, managing to become one of the national teams most valuable players. A member of The Church of Jesus Christ of Latter-day Saints, Sander met and married his wife while attending BYU. He originally hails from Huntington Beach, California.
Maka Unufe: USA, Rugby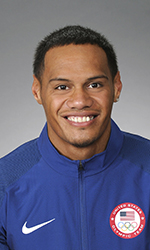 Former Provo High football star Maka Unufe will compete in the Rio 2016 Olympic Games in the rugby sevens event. Since 1924, rugby has not been included in the Olympic Games. With the United States as the two-time defending champions, Unufe hopes to help Team USA hold their title and win against fierce competitors.
Originally excelling in football, Unufe later joined a rugby team and shot to success. Born and raised in Provo, Utah, he is a member of The Church of Jesus Christ of Latter-day Saints.
Valerie Adams: New Zealand, Shot Put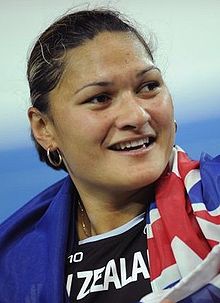 A two-time Olympic gold medalist and three-time Olympic contender, Valerie ranks as one of the best women shot putters in the world. The 2016 Rio Olympics will mark her fourth Olympic Games, and she hopes to win the gold medal once again.
Hailing from New Zealand, Valerie celebrates her Tongan heritage. Earlier this year, she celebrated her wedding to Gabriel Price in true Tongan style, after their marriage in the Hamilton New Zealand Temple. When she's not competing in the Olympics, she also loves to cook.
Jared Ward: USA, Men's Marathon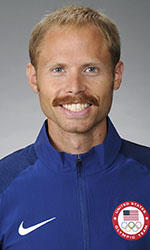 Former Brigham Young University athlete, Jared Ward, 27, will compete with two other Team USA runners in the men's marathon. After taking two years out of running to serve his mission to Pennsylvania, he trained himself in marathon running so he could qualify for the Olympics.
Ward, along with his wife and two children, is a member of The Church of Jesus Christ of Latter-day Saints. He also teaches statistics courses at BYU as an adjunct professor.
Lydia Casey Jele: Botswana, Track and Field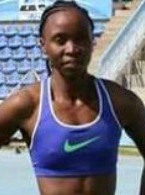 Lydia Casey Jele, 26, will run the 400m race as the first woman ever from Botswana to qualify for and compete in an Olympic track and field event.
As a member of The Church of Jesus Christ of Latter-day Saints, Jele married her husband, Ofentse Edward Jele, who is also a member of the Church, in 2011.
John Nunn: USA, Race Walking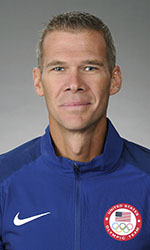 Two-time Olympian and U.S. Army Staff Sergeant, John Nunn will compete in his third Olympic games in the race walking event. As a member of The Church of Jesus Christ of Latter-day Saints, he served a two-year mission to Las Vegas, where he would wake up early with his companion to run.
He also owns and operates his own cookie business with his daughter, Ella. With funds from their cookie sales, Nunn managed to bring his daughter to the London 2012 Olympics with him.
Sami Hill: USA, Water Polo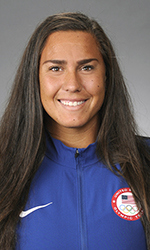 Latter-day Saint goalkeeper for the U.S. Water Polo Team, Sami Hill hails from Santa Barbara, California. She recently graduated from UCLA with a history degree. As a member of the Church, she finds strength in her family, where she is the oldest of four children.
When asked about her role model, she replied, "My Parents. Aside from pushing me to be my best in sports, they have taught me through example how to be a better person. Family means everything to me."
Sarah Robles: USA, Weightlifting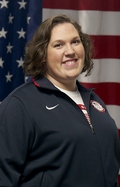 Latter-day Saint weightlifter and 2012 London Olympian, Sarah Robles will compete in her second Olympics. Although she was teased as she grew up for her size and build, Robles learned to laugh and enjoy life with a positive attitude. She found weightlifting and loved the sport. She converted to The Church of Jesus Christ of Latter-day Saints in high school, after asking her friends if she could attend church with them. She shares the gospel with those around her as well.
Leilani Mitchell: Australia, Women's Basketball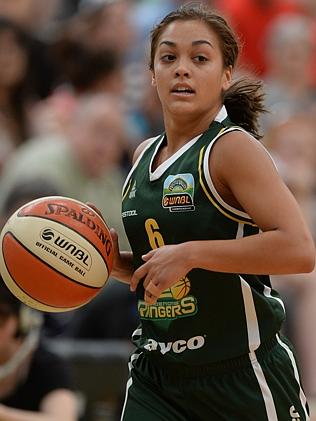 Latter-day Saint basketball star Leilani Mitchell only stands at 5-foot-5. However, her height hasn't slowed her down. Born in the United States, Mitchell holds double citizenship in the U.S. and Australia. She studied at University of Utah and graduated in 2008 with a degree in family consumer studies.
While she competes in the WNBA, Mitchell will compete for Australia in the Rio 2016 Olympic Games. In the WNBA, she plays for the Phoenix Mercury.
Jake Gibb: USA, Men's Beach Volleyball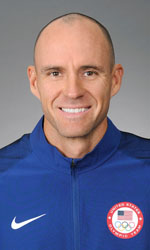 Making his second trip to the Olympic Games, Jake Gibb hopes to finish first this time around and win the gold medal. Partnering with fellow LDS Olympian Casey Patterson, Gibb and Patterson are seeded sixth overall. However, that's not the end goal. "Our end goal is to get a medal and that's what we're focused on," he said.
Coming into the game late, Gibb began his volleyball career at the age of 21. He has also overcome cancer twice, once with skin cancer and then testicular cancer. Standing at 5-foot-7, this Huntington Beach, California, resident knows how to fight for what he wants.
Casey Patterson: USA, Men's Beach Volleyball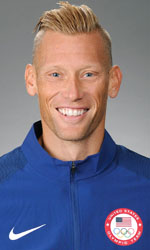 Making his Olympic debut in Rio, Casey Patterson played volleyball for Brigham Young University from 1999 to 2005. In 2003, he began his beach volleyball career, and will compete with fellow LDS Olympian Jake Gibb.
Originally from Newbury Park, California, the 36-year-old athlete stands at 6-foot-6 and is nicknamed "Mr. Boom." While teammate Jake Gibb will attend his second Olympics, Rio 2016 will be Patterson's first Olympic Games.
Jason Smyth: Ireland, Paralympic Track and Field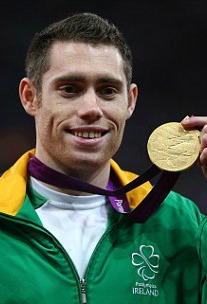 Considered as the fastest Paralympic sprinter, Jason Smyth was diagnosed at a young age with Stargardt Disease, which left him legally blind. However, he doesn't allow his vision impairment to slow him down, and he has won four Paralympic gold medals. "Setting my sights high keeps me focused and drives me each day to improve," he says. "I want to be the very best and show others that there are no limits to what can be achieved."
The Derry, Northern Ireland, native aspires to one day qualify for not only the Paralympics, but also the Olympics. As a lifelong member of The Church of Jesus Christ of Latter-day Saints, Smyth finds strength from his wife, family, and faith. "Who I am as a person is because of my faith. It gives me a greater perspective of what is important in life, as well as an inner strength that motivates me to do better."
Todd Hodgetts: Australia, Paralympic Shot Put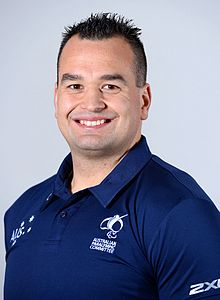 After winning gold in the London 2012 Paralympic games, Tasmanian shot putter Todd Hodgetts will be competing in the Rio 2016 Paralympics for another gold medal. Competing in the Paralympics with autism, Hodgetts proves how to work hard through difficulties. Although he was bullied as a youth, his faith helped him understand his purpose.
"My faith has helped a great deal," he said.  "I came to realize that no matter what challenges I was faced with, I had divine potential which would allow me to overcome any obstacle people might throw at me."
Tyson Gunter: USA, Paralympic Track and Field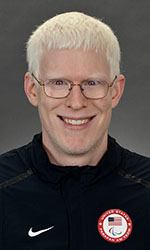 Track and field athlete Tyson Gunter, who is considered legally blind, qualified for the 2016 Rio Paralympic Games. Originally from Pocatello, Idaho, Tyson is albino, which also affected the development of his vision. Originally hoping to qualify in jumping events, Gunter had to shift to running races since the jumping events were cut from the Paralympics.
The 2016 Paralympic Games will be in Rio de Janeiro, Brazil, starting on September 7, 2016.
Mykayla Skinner: USA, Women's Gymnastics (Alternate)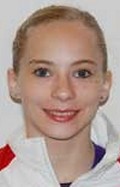 While Mykayla Skinner didn't make the roster of five female gymnasts competing in the Rio 2016 Olympics, she will still travel to Rio with the team as an alternate, in case of injury. Although she most likely won't get a chance to compete, she placed fourth in the Olympic qualifiers, which was a great achievement. Skinner, who is 19 years old, lives in Arizona and is a member of The Church of Jesus Christ of Latter-day Saints.
Jackson Payne: Canada, Men's Gymnastics (Alternate)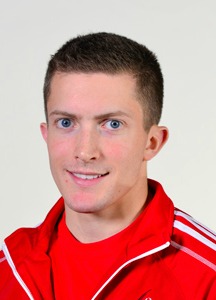 When the Canadian men's artistic gymnastics team failed to qualify for the Rio Olympics, there were two spots left on the roster for Team Canada's men's gymnastics team. Although he lost the spot to one of his teammates, Jackson Payne, who is from Edmonton, Canada, will travel with the Canadian gymnastics team as an alternate, in case of injury. Payne, who got married earlier this year, is a member of The Church of Jesus Christ of Latter-day Saints.
Dustin Williams: USA, Track and Field (Trainer)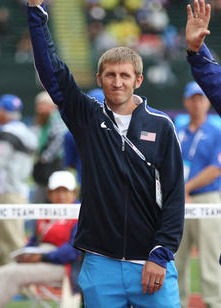 Heading to Rio as the athletic trainer for the U.S. Track and Field Team, Dustin Williams shows that you don't have to be an athlete to enjoy the Olympics. When explaining his excitement in attending the Olympics in Rio, he said, "You just can't explain it, it's like nothing else. It's going to be great to be a part of that atmosphere."
Originally from Arco, Idaho, Williams met his wife, Jillian Camarena-Williams, through his athletic training profession. His wife competed in the shot put event at the 2008 Beijing Olympics and 2012 London Olympics, but failed to qualify for the 2016 Olympic Games in Rio. Both Williams and his wife are members of The Church of Jesus Christ of Latter-day Saints, and Williams served his mission in England.
Cody Sanderson: USA, Wrestling (Coach)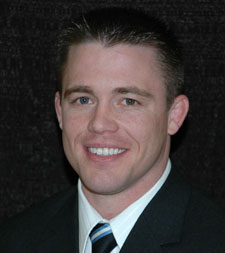 Raised in Heber, Utah, wrestler Cody Sanderson currently coaches wrestling at Penn State University. Sanderson also started a wrestling program at Utah Valley State College (now Utah Valley University) in 2003. He graduated from Iowa State in 2000, with a pre-medicine bachelor's degree. He married a Iowa State gymnast, and they now have three kids.
Sanderson is the brother of gold-winning wrestler Cael Sanderson, who won gold at the Athens 2004 Olympics. However, instead of competing for gold, he will be coaching his Penn State wrestler, Frank Molinaro.
Do you know of any other LDS Olympic athletes competing in Rio? Share in the comments below.
Correction: While a previous version of this article included Olympic diver Steele Johnson and BYU track and field star Tatenda Tsumba, neither are confirmed members of The Church of Jesus Christ of Latter-day Saints.