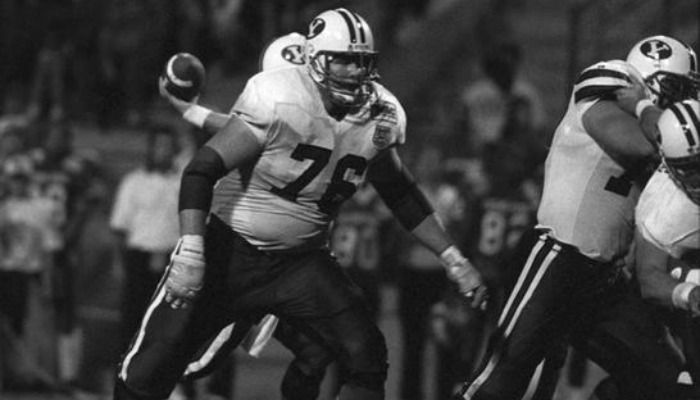 This article was originally written by Jeff Call for Deseret News. The following is an excerpt. 
Twenty years after making a decision that shocked the National Football League — and plenty of other people — Eli Herring wants the world to know he's been abundantly blessed. And he's happy.
"There was never a regret," he said this week, just days before the start of the 2015 NFL draft, which will transform college kids into multimillionaires.
Herring, who once was considered one of the top offensive linemen in the country, is a humble man who doesn't seek the limelight and is reluctant to do interviews. But when he's asked, he'll share his powerful religious convictions that led him to turn down an opportunity for a lucrative career in the NFL in order to avoid playing on Sundays and to keep the Sabbath Day holy.
Based on what's transpired over the past two decades, Herring has no doubt that the decision he made was the right one for him and his family.
"The main thing is that I know something now that I was acting on faith on 20 years ago," he said. "That is, I believed that the Lord would bless me and keep promises that I have learned about as I have studied the scriptures and listened to the prophets. Now I know that. After 20 years, He's kept his promises abundantly. I'm very grateful and I'm glad I made that decision."
For Herring, 45, a math teacher and assistant football coach at Mountain View High School as well as a member of an LDS stake presidency in Orem, the evidence of that truth is all around him.
This week the father of seven children sat in his small office at his modest home, reflecting on the impact that choice has had on him over the past 20 years.
Herring is surrounded by shelves of books, mementos from the seven years he served as an LDS bishop and family photos — but, curiously, no memorabilia from his days playing football at BYU.
While his hair is now gray, he has the same warm smile and gentle aura that emanated from him in college. As he speaks softly, a daughter plays the piano in the living room while other children do their homework and play video games. His wife, Jennifer, keeps everything running smoothly.
It amazes Herring that 20 years has gone by so swiftly. Does he ever think about where he would be now had he decided to go to the NFL?
"Oh yeah," he said. "I don't have any idea other than it would have been more money, so I would have been in a bigger home with nicer cars somewhere else. But I wouldn't have been happier than I am now."
SAYING NO TO THE NFL — AND A SIX-FIGURE CONTRACT
Early in 1995, once Herring had decided not to play in the NFL, he, with the help of a BYU administrator, wrote a letter to all 30 NFL teams informing them of his intentions. Despite that, numerous teams told Herring they would select him in the seventh round, figuring he would come to his senses and change his mind, and then sign him for a bargain-basement price.
At the time, Herring was 6-8 and 330 pounds, had a 3.5 grade-point average and was considered one of the top senior offensive tackles in the draft.
Read Call's full article at DeseretNews.com.