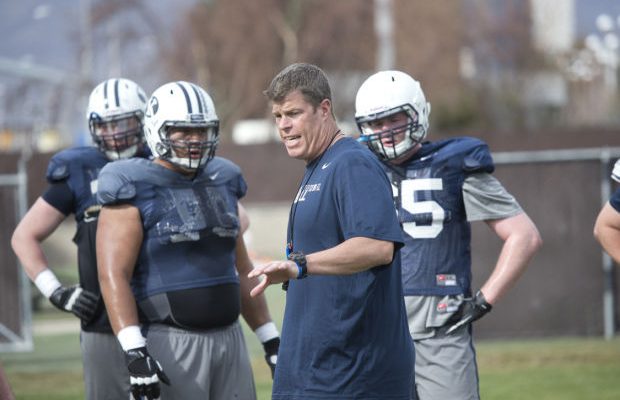 Players reported back to Provo this week for the start of fall camp and all eyes are on returning junior Taysom Hill. He had a solid season last year rushing nearly 3,000 yards leading the Cougars to a 8-5 record.  According to the SL Tribune, Hill is ready for this coming season, he said,
"Last year, we had our base…for me, personally, it gave a chance to give insights to coach Anae, what I like, what I don't like, and to add intricacies to our offense."
He said since the spring, the team is starting to build upon their experiences last year. "Offensively, we've gotten a little better from where we finished last season to where we are now."
Fans are also interested in what Bronson Kaufusi will bring to the field this season. He will be learning a new position and filling the spot previously held by Kyle Van Noy.
Here is the Cougars 2014 Schedule:
08/29/14  @ UConn (5:00 pm MT, ESPN)
09/06/14  @ Texas (5:30 pm MT, Fox Sports 1)
09/11/14   Houston  (7:00 pm MT, ESPN)
09/20/14  Virginia (TBA)
09/27/14  OPEN DATE
10/03/14  Utah State (8:15 pm MT, ESPN)
10/09/14   @ UCF (5:30 pm, ESPN)
10/18/14    Nevada
10/24/14   @ Boise State (7:00 pm MT, ESPN or ESPN2)
11/01/14    @ Middle Tennessee State (1:30 pm MT, CBS Sports Network)
11/08/14   OPEN DATE
11/15/14    UNLV
11/22/14   Savannah State (1:00 pm MT. BYUtv)
11/29/14   @ California