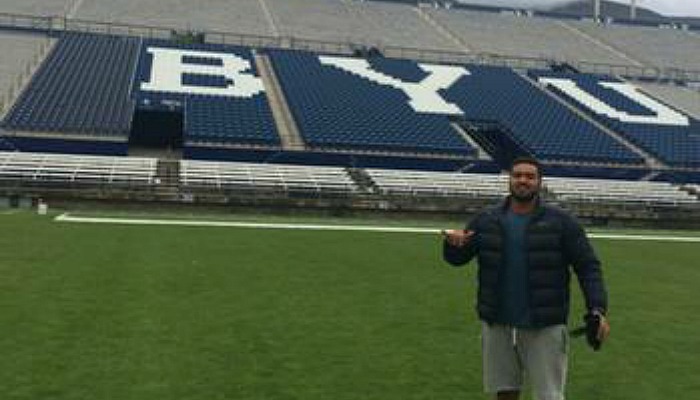 This article was originally published in Deseret News by Dick Harmon. Below is an excerpt.
The big break in BYU's signing of mammoth Auckland, New Zealand, rugby player Manase Tu'ungafasi last week came from an unlikely source: a radio.
On April 22, Cougar defensive line coach Steve Kaufusi arrived for his second visit to Auckland as part BYU head coach Bronco Mendenhall's plan to expand recruiting efforts in the South Pacific.
Kaufusi touched down and immediately tried to make as many contacts as he could within the Polynesian community. A distant cousin, a Tongan whose maiden name was Kaufusi, invited him to make several appearances on a Tongan language radio show a few days later and explain why he'd traveled so far, who he was and what he was looking for.
That seemingly insignificant bit of public relations led to almost 50 calls and messages to Kaufusi, many from the Auckland LDS community who had teenagers who played rugby and were interested in exploring their options. Several had just returned from missionary service. One of the listeners of that radio program was Manase's father, whose interest was piqued immediately, especially after hearing Kaufusi explain it in his native tongue.
BYU had been aware of the 6-foot-7, 325-pounder since the end of 2014 when Manase made a trip to San Francisco to visit his mother and attend an all-star football game comprised of Polynesians from the Bay Area. Manase is the youngest son of a couple that divorced and remarried, and he lives with his father who remains in New Zealand.
To read the rest of the article, go to Deseret News.