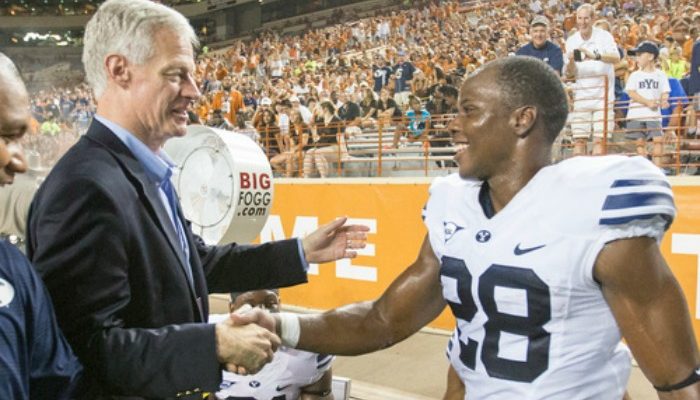 Yesterday, Deseret News featured an article written by Kevin J. Worthen, the president of Brigham Young University. In his article, Worthen shares what he believes sportsmanship to be all about.
Worthen recalls a story he heard recently about the Texas vs. BYU football game earlier this season. A Texas fan who was confined to crutches was trying to make his way down from the top of the stadium to the concourse level. Struggling to move cautiously down the steps, a BYU fan noticed the trial this was for the Texas fan and spent the next 20 minutes helping him down the steps until he reached the concourse. He explains this as a prime example of true sportsmanship, saying,
Sportsmanship is a love of the game. Someone who loves the game understands that Texas fan… When you love the game, you recognize other people's love of the game. That common love for the game…is what sportsmanship is really about.
After he was announced as the new President of BYU, Worthen states that one of the first phone calls he received came from David Pershing, the President of athletic rival University of Utah. Worthen states that both he and Pershing are leaders of universities that stand for something greater than just sports. Pershing is scheduled to address students at BYU as one of the weekly campus devotional or forum speakers. Worthen invites all BYU students to put aside the rivalries and come and hear the President of "The U" speak on March 24, 2015.