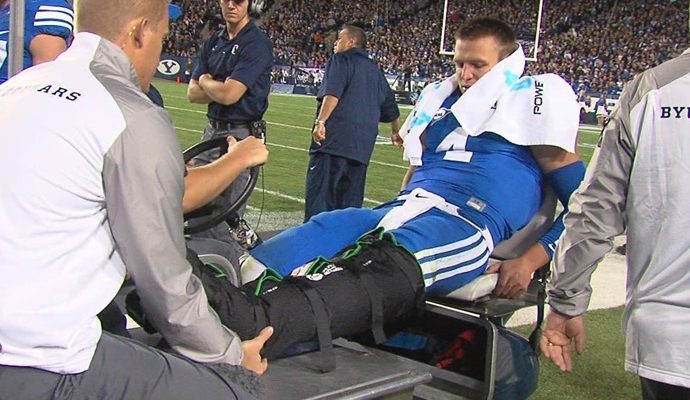 Hopes of an undefeated season for Brigham Young University's football team were crushed Friday night after a devastating loss. But more devastating than losing to rival Utah State University, was the loss of their star quarterback, Taysom Hill.
Late in the first half of the game, Hill, a junior at BYU, broke his leg during play, silencing all hopes of Heisman consideration. The tackle, made by Utah State's safety, Brian Suite, put Hill out for the season. ESPN reports that it was difficult for BYU's Coach, Bronco Mendenhall, to see Hill get injured:
It was really difficult to watch Taysom go down… Our execution will now have to be better from top to bottom because of Taysom's ability to create. There just isn't another Taysom Hill out there anywhere.
Despite his injury, Hill tweeted that he will support the Cougars throughout the season:
Thanks for all the prayers and tweets tonight!! Love my team, and will be supporting them all year! #fam #CougarNation

— Taysom Hill (@T_Hill4) October 4, 2014
Reports came after Hill's surgery on Saturday, October 5, that his leg injury is worse than originally thought. Mendenhall said that the surgery allowed doctors to discover that every major ligament in Hill's leg was shredded, according to NBC Sports. Jay Drew, writer for the Salt Lake Tribune, posted a video of Coach Mendenhall to YouTube, explaining Hill's injury and the team's confidence moving forward. See the video below:
After his surgery, Hill tweeted that he is ready to start the road to recovery:
Surgery was a success! Thanks to my doctor and his staff, I'm on my way to a full recovery! Grateful to my sweet wife, family & friends!

— Taysom Hill (@T_Hill4) October 5, 2014
As of Friday evening, the Aggies have defeated BYU five times in the last 35 years (1978, 1982, 1993, 2010 and 2014). After suffering a 35-20 loss against the Aggies, BYU is faced with the possible reality of what Hill's injury may mean for the Cougars.
Christian Stewart, a senior and Hill's replacement, threw three interceptions in the second half, but feels he is ready to lead the team, saying he has his teammates' support:
It's a terrible thing that Taysom went down and no one wanted to see that, but if there's a guy that's ready to step up to the challenge, it's me. That's why I came here. I honestly believe my team has my back and I have their back, and we're still going to do some special things this season.
Stewart will be given the chance to play again as he tries to lead the Cougars to victory over Central Florida on Thursday, October 9 in Orlando. The next home game for BYU is the Homecoming game on Saturday, October 18, when the Cougars take on University of Nevada.