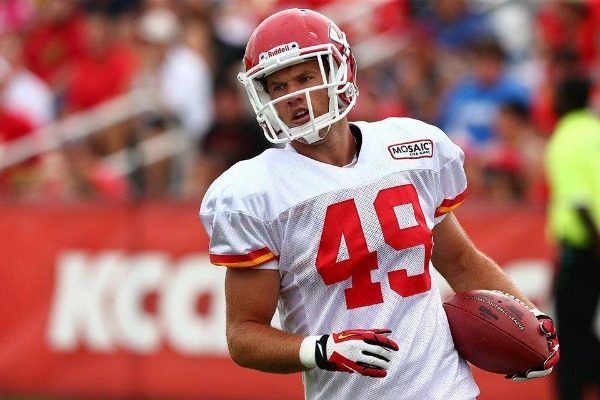 Daniel Sorensen, former BYU safety and Kansas City Chiefs' rookie safety spent cut-down day with his wife Whitney at the temple. All NFL teams were required to cut their rosters to the league-mandated 53 players this last weekend. Sorensen who was undrafted out of BYU was nervous about the cut-down and his probability of making the Chiefs' roster.
To take his mind off of the cut, he and his wife spent the day worshiping at the Kansas City Temple, leaving their cell-phones in the car. When they returned to their car their phones were overheated and would not turn on. They nervously placed their phones next to the car's air conditioning ducts waiting for them to turn back on. Ten minutes down the freeway they finally got the news about the cut. Sorensen made the Chiefs' roster!
In Sorensen's interview with ESPN he said:
This whole experience is kind of a roller coaster… there's some days where you feel really confident, and some days you don't. There's never really a point where you're sure about what's going to happen.
Sorensen played in all four preseason games for the Chiefs, replacing Eric Berry who was out with a heel injury. He impressed coaches and staff and was especially valuable on special teams.
Although Daniel made the roster, his older brother Brad wasn't so fortunate. Brad who was a 7th-round draft pick for the San Diego Chargers was cut Friday. Brad Sorensen, a quarterback, passed for 159 yards, completing 22 of 39 passes with 2 interceptions during the Chargers' four exhibition games. During his 3 years at Southern Utah, he passed for over 9,000 yards. After hearing the news of Daniel making the roster, Brad left him a voicemail congratulating him and telling him he deserved it because he worked hard.
He's always been the older brother," Daniel said, "and kind of an example to me. He's always been the one who's kind of given me advice in difficult situations.
"It was kind of strange. I didn't feel like there was any advice I could tell him. He's been at this a little longer than me. We just talked and shared our thoughts and feelings about what's going on."
Read original article by Elizabeth Merrill on ESPN.com