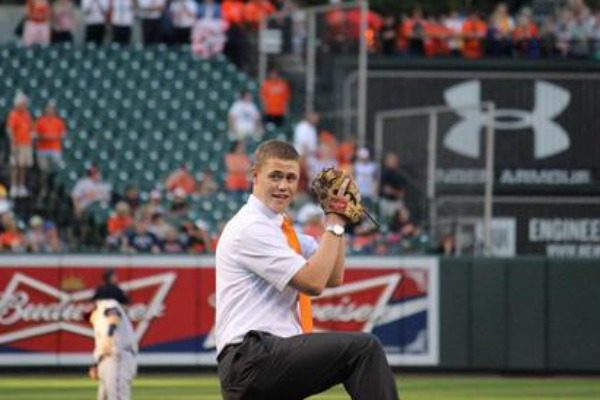 Elder Anthony "Bo" Burrup, a 2-year missionary for The Church of Jesus Christ of Latter-day Saints, threw the ceremonial first pitch at LDS Family Night with the Orioles. Elder Burrup of Idaho has always had a passion for baseball but put it on hold to go on his mission to Baltimore, Maryland. Yet, on Friday, Aug. 29th he found himself at the mound at Camden Yards in Baltimore throwing the first pitch at a professional baseball game in his white shirt, tie, and missionary name tag.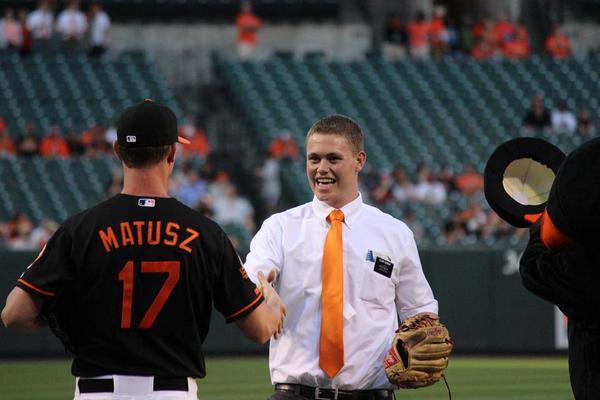 "Nothing is better than sharing the gospel," said Burrup. "It was the coolest thing being on the mound in a (white) shirt and tie with a nametag representing Jesus Christ."
Elder Burrup is said to have grown up with a ball in one hand and a glove on the other. He was a remarkable high school baseball player throwing an impressive 90-mph fastball and boasting a .456 batting average. He was named all-conference as a freshman and sophomore, and all-state as a junior. Many colleges took notice including Stanford, Oregon State, Utah Valley University and Brigham Young University, all offering him a chance to play for their teams. Burrup also received letters of interest from Major League teams including the Kansas City Royals, Los Angeles Angels, Atlanta Braves, Chicago Cubs, and Arizona Diamondbacks.
Even with such big offers to play baseball, Elder Burrup said the decision to go on a mission was simple. He finished his senior year of high school early to leave for his mission as soon-as-possible, at the age of 18 and right before the upcoming baseball season. Elder Burrup plans on playing for Brigham Young University upon his return.
According to Deseret News:
LDS Family Night with the Orioles is an annual tradition in its seventh year. The Church of Jesus Christ of Latter-day Saints is consistently the largest faith-based group to attend Orioles games and always sells out its allotment of seats. With 2,600 Mormons in attendance this year, the excitement was palpable at Camden Yards as Elder Burrup approached the mound. He waved to the cheering crowd of members and fellow missionaries before winding up and gracefully pitching a strike.
Other high profile Mormons who have thrown the ceremonial first pitch during the Orioles' LDS Family Night have been Baltimore Ravens tight end Dennis Pitta and former Orioles and current Kansas City Royals pitcher Jeremy Guthrie.