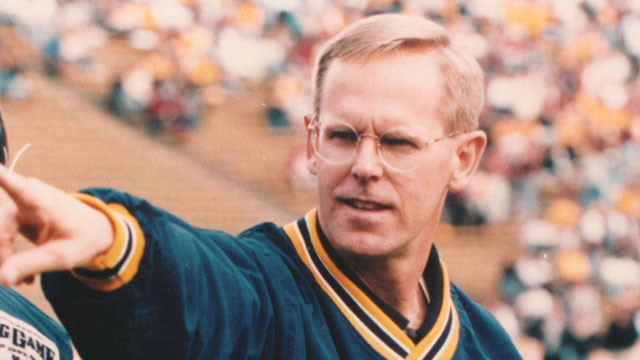 Thomas Allen Holmoe, the current athletic director at Brigham Young University (BYU), was born on 7 March 1960 in Los Angeles, California. He is a former college and professional American football defensive back and coach.
Exceptional Athletic Prowess
Tom Holmoe possessed exceptional athletic prowess from an early age. Starting with his high school days at Crecenta Valley High School in Crescenta, California, he proved himself to be a superstar athlete in both basketball and football. He earned and accepted a football scholarship to BYU, and, from 1978 to 1982, he played cornerback and safety for the Cougars. "As a sophomore in 1980, he led the Western Athletic Conference with seven interceptions, and went on to earn all-WAC honors as a senior in 1982. The Cougars won the conference championship in each of his four seasons at the school." [1] "He was also a member of the BYU squad that pulled off an incredible comeback victory against Southern Methodist University in the 1980 Holiday Bowl." [2]
Holmoe was drafted in the fourth round, overall 90, of the 1983 NFL Draft by the San Francisco 49ers. He played seven seasons for the 49ers, from 1983 to 1989, and shared the victory of winning the Super Bowl with fellow teammates in 1984, 1988, and 1989. He retired from professional football in 1989 after suffering a knee injury.
A Challenging Coaching Career
After retiring from professional football Tom Holmoe began a coaching career. After being compelled by LaVell Edwards, he returned to BYU as a graduate assistant, and in 1992, he accepted an offer from Bill Walsh to join the staff at Stanford University as the defensive backfield coach. During his two years at Stanford he helped the Cardinals become the Pac-10 co-conference champions in 1992 with a 10-3 overall record and a victory over Penn State in the Blockbuster Bowl.
After leaving the coaching staff at Stanford, Holmoe became the defensive backfield coach for two seasons under George Seifert for the San Francisco 49ers where he won a fourth Super Bowl in 1994. In 1996, he joined the staff at University of California, Berkley as defensive coordinator under Steve Mariucci. When Mariucci departed to the NFL in 1997, Holmoe was named head coach.
Holmoe, by his own admission, was an unsuccessful coach. During his five-year tenure at Cal, he compiled a 16-39 record, including a 9-31 record in Pac-10 play and a 1-10 season in 2001, the worst in the Golden Bears' history. Holmoe went 0-5 against archrival Stanford and failed to reach a bowl game as head coach. Holmoe resigned at the end of the 2001 season. [1]
Successful Comeback as Athletic Director
After resigning from University of California, in July 2001, he returned to his Alma Mater, Brigham Young University, to serve as the Associate Athletic Director for Development. "As part of his responsibilities, he supervised the Cougar Club, served as the department's liaison with the LDS Foundation, served on the BYU Alumni Association Board of Directors and worked on the capital campaign to raise funds for the university's new athletic facilities." [3]
On 1 March 2005, he was appointed the 12th Athletic Director of BYU, and the first to oversee both men and women's athletics. "He oversees a nationally recognized program with 21 intercollegiate sports, involving more than 600 student-athletes and a 150-person staff." [3]
Since Holmoe's appointment, BYU has captured 76 conference regular-season or postseason championships, and more than 180 student-athletes have earned All-America status. Under his tutelage, both the football and men's basketball teams have enjoyed tremendous success. BYU has won at least 10 football games in five of the past seven seasons and has received a bowl invitation eight years running; while the men's basketball program put together a string of six consecutive 25-win seasons and has made the postseason every season, including a NCAA Sweet-16 run in 2011. [3]
Faith is the Sure Foundation for Life
Holmoe graduated from BYU in 1983 with a degree in Zoology in 1983, and in 1995 he received a master's degree from BYU in Athletic Administration. He and his wife, Lori, have four children and one grandchild.
Of all the accolades that he has been blessed with in life, nothing compares to the special event that occurred in 1988, when after some years of contemplation, he made the decision to become a member of The Church of Jesus Christ of Latter-day Saints (inadvertently called a Mormon). In a Deseret News article, Holmoe talks about his conversion to the Mormon faith.
"At the time we won our first Super Bowl, the feeling was joy," he said. "We had worked so hard for something that was so difficult to achieve, and we did it. That lasted for a while. But your conversion to the gospel is eternal. I felt a sweeter spirit." [2]
Great Examples on the Road to Conversion
Tom Holmoe's search for the true Church began as early as his high school days and on into the days when he was a part of the NFL. He admits that becoming a member of The Church of Jesus Christ was something that he thought about constantly, but having seen others around him become members of the Church for the wrong reasons and then leave the Church when things did not go the way that they had planned, the one decision that he did make was that if he were to become a member, it would be forever.
"It was a wrestling match," Holmoe said recently at BYU football media day. "I wanted to feel it for a long time, but I wasn't in the right frame of mind. I wasn't humble enough. I tried, but half-heartedly. I thought about it all the time. It was yes-no-yes-no. I saw guys at BYU get baptized for girls, but when the girls were gone, the church was gone. I wasn't going to have that. I wanted to do it for the right reason. I told my wife, 'Honey, if I do this, it's forever. I'm going to do it on my terms, not for anybody else.' " [2]
He was blessed to come in contact with several people along the way that influenced him in making his decision. One of the families that had a great impact on him while he was in high school was the Hales family. What he admired most about his association with members of the family in school, as well as at home, is that they did not preach the gospel to him, but instead the example that they set before him by the lives that they lived, became living testimonies of the gospel of Jesus Christ. It wasn't until years later when Holmoe was a senior at BYU that Klane Hales, prior to leaving for medical school, shared his testimony and feelings about The Church of Jesus Christ of Latter-day Saints with him.
"It was powerful and I thanked him," Holmoe said. "Those seeds that he planted definitely were a part of moving me along, because I needed to be dragged." [2]
After high school, he was recruited by Oregon, Washington State, Harvard and Air Force, but strongly believes that he made the right decision by agreeing to play for the BYU Cougars. While at BYU he attended services with a local Lutheran congregation, all the while he was exposed to the teachings and doctrines of The Church of Jesus Christ through religion classes and devotionals. He also gained knowledge about the Church from fellow teammates who were returned missionaries.
After a victory against Southern Methodist University in the 1980 Holiday Bowl, in the midst of all of the excitement that was swirling about, Holmoe found himself, still in full uniform, kneeling in the shower area to pray.
"My prayer was, 'I'm so grateful (for the win).' … I won't stop trying to find out about the church. I know there is something about this church. I will never quit," Holmoe said. "It was weird. I was emotional. Then I returned to the festivities." [2]
Shortly after that, he began dating his future wife, Lori Wright, a BYU cheerleader. She invited him to attend Church with her, and he accepted. He enjoyed the meetings and being with her family, and discussing Church doctrines. He even began reading books by Church leaders such as Elder Neal A. Maxwell, who was serving as a member of the Quorum of the Twelve Apostles at the time. He was also present when the late President Spencer W. Kimball spoke on the campus of BYU. And he even agreed to meet with the missionaries, at his own pace, but he was not yet ready to commit to being baptized. Even as he and Lori prepared to be married, he was still undecided about becoming a member of The Church of Jesus Christ, but made a promise to Lori that he would continue investigating the Church.
When he wasn't playing football in the NFL he attended Church, continued studying the gospel, and even welcomed regular visits from home teachers. He also enjoyed associations with former Cougars who were also Latter-day Saints like Steve Young, Bart Oates, Todd Shell, Bill Ring, and others.
"Those guys were rock-solid, stable, very good people and friends. I wasn't a member, but we talked about it (the gospel)," Holmoe said. "They knew I went to church and tried to help me in my conversion process. They were great examples." [2]
At the conclusion of the 1987 season, Jordan Clements, the Bishop of the ward where Holmoe was attending at the time, spoke with him about fasting (an act of willing abstention from all food, drink, or both, for a period of time), and explained to him that he felt Holmoe was very close to being baptized, and fasting and prayer would definitely help him to reach his decision as the Spirit would testify to him. He followed the Bishop's counsel, but said that he didn't feel anything. It wasn't until 3 weeks later, when he was back in Utah that things began to happen.
Tom Holmoe Receives the Testimony of the Spirit
It was in February 1988 when he was visiting old coaches and friends on the campus of BYU that the Spirit testified to him that now was the time for him to be baptized. The unfolding of the events that led up to the day of his baptism is a wonderful story:
[Holmoe] placed an emotional call to Joe Wood, a favorite religion/history professor and close friend, and asked what he should do.
Wood directed him to BYU's longtime equipment manager, Floyd Johnson, who gave Holmoe a big hug and directed him to find the missionaries on campus.
When he informed the missionaries of his desire to be baptized, the missionaries tried to tell him he needed the discussions first.
"No, no, we are not having any discussions," Holmoe laughed. "I've already had them about four times. I need to get baptized now!"
A week later, Holmoe was baptized in a font in a classroom in the Jesse Knight Building by his father-in-law, Joseph Wright.
"It was a beautiful service," Johnson wrote in his book, "Touchdowns, Tip-offs and Testimonies." "As Tom bore his testimony, I sat there trying to hold back the tears while listening to him talk about his faith in the Lord … the church and of his experience of coming back here and having the Spirit whisper that he should be baptized." [2]
Knowing that his parents and family would not be receptive of his decision to become a member of The Church of Jesus Christ, he delayed in telling them of his decision, and later expressed his feelings and the reasons for his decision in a letter to them. It wasn't until months later during a telephone conversation with his dad that his dad agreed that Holmoe being baptized was perhaps the best decision that he could have made considering his wife, Lori was already a member of The Church of Jesus Christ. His father also expressed his feelings about being unified in religious beliefs and practices as a family. His parents have since passed away and their temple work has been done.
Life Lessons Learned
Reflecting on the long road that led to him being baptized and becoming a member of The Church of Jesus Christ, Holmoe realizes just how blessed his life has been. Speaking of his position as Athletic Director at BYU, he stated:
"It's helped enormously because I come from a background where I saw things differently. I know how they feel. I know how their parents feel. I know there are pressures on them that LDS people might not feel or see or sense. It's easier for me to put myself in their shoes," he said. "I like rubbing shoulders with our athletes. When I can help them, especially the non-LDS kids, through difficulties or troubles that they might have here or celebrate their achievements, that's my favorite part of the job." [2]
Holmoe admits that becoming a member of The Church of Jesus Christ was the most important decision that he has ever made, and because of the decision, his life has been blessed beyond measure. He commented, "I'm still learning. I hope to learn more on my spiritual climb as I continue to grow in the gospel." [2]