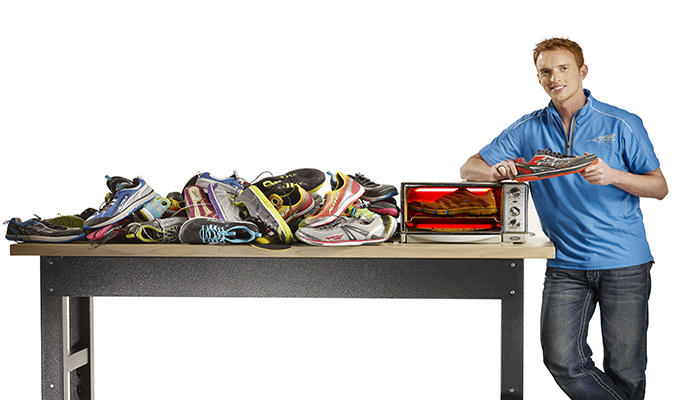 Golden Harper, founder of Altra Running and member of The Church of Jesus Christ of Latter-day Saints, started his company with nothing more than an old pair of running shoes and a toaster oven.
Harper says he has been running since before he could walk, racing since he was 2, breaking both national and world records since he was 8, and working at his family's running store since he was 9. After years of experience working at the family's store, Harper discovered that people were running wrong.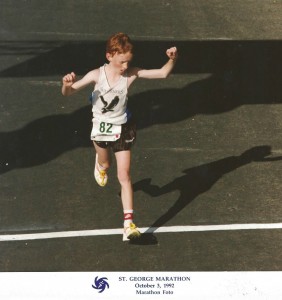 When customer after customer came to visit his family's running store complaining about joint, shin, and foot pain, Harper sympathized with them, having experienced many of those injuries himself. While attending Brigham Young University, Harper researched running injuries and used this research in conjunction with video analysis from the store. The video analysis compared the natural form of athletes running barefoot to the form of athletes running using various shoes sold at the family store. What he observed is that traditional running shoes caused athletes to run with poor form and excessive impact, increasing the chance of injury. Poor form and excessive impact are caused because traditional running shoes have heels that are twice as high, twice as thick, and twice as heavy as the shoe's forefoot (front part of the shoe). This negatively effects the runner's stride as the foot strikes the ground a few inches before the forefront does. This issue does not exist when an athlete runs without shoes. Pretty much, traditional running shoes do not allow the body to absorb shock in the correct way. This discovery inspired Harper to experiment with the creation of a new type of running shoe, which eventually led to Altra Running and the Zero Drop shoe.
"I started with my toaster oven, heated up a pair of shoes, pulled the out-sole off, pulled the mid-sole out of there, put two flat pieces of foam in, put the out-sole back in…tested it and I totally felt a difference. "
After stripping a pair of old running shoes and reconstructing them with a smaller heel, Harper tested the product on his staff, filmed the results, sent out surveys, and started inviting runners with troublesome knees to try the shoe. Harper says the results were incredible, with 99 percent of the feedback being positive. People started coming back with stories of how their pain was non-existent. Some runners who gave up running due to pain even claimed to be able to run again—trouble free. Harper teamed up with some of the most innovative minds in the running shoe industry and created the world's first Zero Drop shoe—which contains a smaller sole and a foot-shaped toe box—which are optimal for long distances and aid in preventing foot problems.
Harper has seen incredible success with Altra Running—next month, his product will reach 44 countries. However, for Harper, it's not about the money.
"My drive has always been…a love of helping fix people. If I can go out of my way to fix somebody and make their life better, then that was the best thing because I would go home and sleep so good…and feel so good too!"
I've always had a connection between running and my family, and I've always had a connection between running and God.
For Harper, running is more than just a hobby or a way to stay in shape—running is a way to strengthen his relationship with God. Being raised Mormon, Harper grew up with his parents always emphasizing the importance of one's relationships with family members and the importance of one's relationship with Heavenly Father.
"Usually when I run there are prayers going on and it's my time to clear my head, think straight and figure things out, and sometimes just get things straight with the Lord. Running has been a big bond for my family and my parents have done a fabulous job keeping us close to the church."
For people wanting to get into running, Harper offers 4 pieces of advice:
1. Start slow
2. Get through the first six weeks
3. Be consistent
4. Take the time to learn how to run
To learn how to perfect your running form or to find out more information on Zero Drop shoes, visit Altra Running's website at AltraRunning.com.