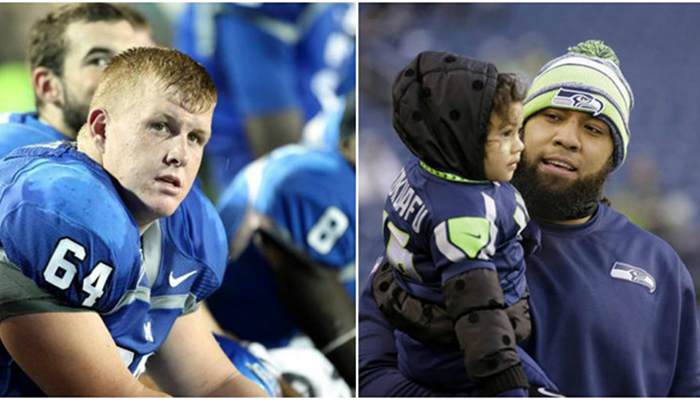 Four members of The Church of Jesus Christ of Latter-day Saints are preparing to play in the Super Bowl XLIX matchup between the New England Patriots and the Seattle Seahawks this Sunday.
Along with Latter-day Saints Sealver Siliga (Patriots) and Tony Moeaki (Seahawks), the following two LDS athletes will also potentially have the opportunity to showcase their talent during Sunday's gridiron battle in Glendale, Arizona:
Jordan Devey
Devey, who plays offensive tackle for the New England Patriots, took a seven year break from the game after he was diagnosed with a knee condition in eighth grade. According to the Salt Lake Tribune, Devey's doctor recommended that due to the knee condition, Osgood-Schlatter disease, Devey refrain from playing football until he stopped growing. Instead of football, the former American Fork High School student spent his teenage years playing the tuba in the marching band and playing for the school's baseball team as first baseman.
After returning home from his mission in Costa Rica for the LDS Church, Devey was a Snow College walk-on. Devey then played for two years at the University of Memphis before being drafted to the NFL. Devey started four games in the 2014 season, but hasn't played during the playoffs as the Patriots have solidified their offensive line. The Trib quotes Devey saying,
Obviously, I have a lot of flaws and a lot of things I need to get better at. The goal is just to work hard and improve and get there eventually.
Will Tukuafu
Tukuafu joined the Seattle Seahawks as a fullback in late October after the team's starting fullback broke his foot. This is Takuafu's second appearance in a super bowl game, the first being with San Francisco  two years ago when the 49ers lost to Baltimore 34-31. Deseret News quotes Takuafu saying, 
Not too many people get the chance to be here twice, and I'm excited.
Takuafu had to transition quickly as he had to learn an entirely new offense. Takuafu expressed how grateful he is to have another opportunity to play for those who have helped him. He said, "I'm not only here for myself, but I'm here for thousands of other people that have helped me be here. I can't go out there and not give it my all."
The Seahawks and the Patriots will kick-off the Super Bowl XLIX battle at 4:30 PM (MST) on Sunday, February 1, 2015.