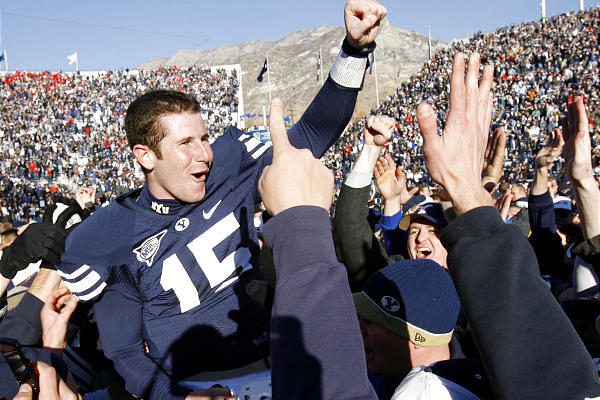 Two weeks ago, Max Hall retweeted a quote from @LDSquotable that said,
"Think the best of each other, especially of those you say you love. Assume the good and doubt the bad." – Jeffery R Holland

— LDS Quotes (@LDSquotable) August 17, 2014
Yesterday, multiple news organizations reported that Hall was arrested Saturday for suspicion of possessing stolen items and cocaine. The news spread quickly and Brigham Young University fans and Cardinals fans spoke out on social media about the allegations made towards Hall.
While many of the initial opinions voiced over social media were negative, there were also many people that used the opportunity to share the gospel by showing compassion for Hall and his family.
"He who is without sin….let him be the first to cast a stone" our prayers are with the Hall family.

— Paul Tidwell (@CoachPTidwell) September 2, 2014
I'm by no means anywhere near a BYU fan, but I don't believe in kicking a man while he's down #maxhall

— T-mon (@Whitethought1) September 3, 2014
I love and pray for my friend Max Hall. He has some issues but he will fight through it because he is a warrior. He will always be my friend

— Chad Lewis (@18clew89) September 2, 2014
@mxrd15 Don't give up Max! Cougar nation supported you as a player and we pray for you as a husband and father! #keepfighting

— Mike Farnes (@mkfarnes) September 3, 2014
The trend to stop judging and focus on Hall's good qualities has spread into the journalism and blogging sphere too. Friends and coaches of Hall are even speaking out about the challenges of substance abuse, especially in the NFL.
David Nixon, a linebacker and former teammate of Max Hall at BYU, shared his experience in seeing other athletes affected by this same challenge. Nixon shares his experience in the video below.
Bronco Mendenhall, the head coach of the BYU football team and Hall's coach from 2007-09, also shared his insight on the current situation with listeners on "BYU Football with Bronco Mendenhall."
Mendenhall said,
I loved him before, as a player, loved him the year he was here helping as a student assistant, and still now. Every one of us goes through trials, some more visible than others. This affects nothing in terms of what I think of him, and the support we plan to give him. 
It seems that many onlookers are encouraging others to "think the best of each other… assume the good and doubt the bad."