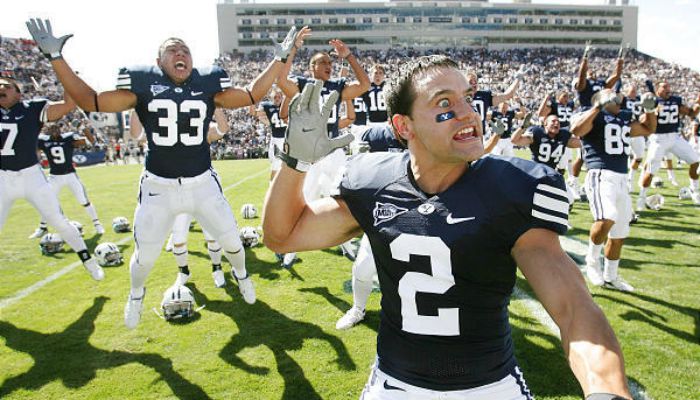 Republished From:

This article has been shared here by permission of the author. The original article can be found at
LDSSmile.com
.
In light of last season's brawl in Miami, radio host Mike Welch tweeted out the following.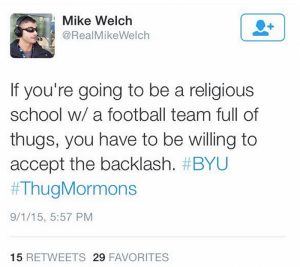 Well as you can imagine, BYU fans and Mormons from around the world jumped onto this bandwagon and the results were hilarious. Here are some of the best tweets from the hashtage #thugmormon. Also, leave your own #thugmormon in the comments below.
The real #ThugMormon #ThugMormons pic.twitter.com/ZvrqBjFiey

— Kyle (@Y_Soup) September 2, 2015
#thugmormon life pic.twitter.com/ndDkXt59fB

— Happy Being Miserable (@dillidalley) September 2, 2015
Goes on a date 2 weeks before their 16th birthday. #thugmormon

— ? (@bewhyyoucb) September 2, 2015
How to be a #ThugMormon: https://t.co/XA58MKqV6i

— Jody Genessy (@DJJazzyJody) September 2, 2015
When being helped with the prayer growing up. If I didn't like what was whispered in my ear. I would shake my head and say no. #ThugMormon

— Jed Pollock (@JPPollock) September 2, 2015
I take three pieces of bread during the Sacrament on Fast Sunday. #ThugMormon

— Robby McCombs (@rtmccombs) September 2, 2015
I say no to callings. #ThugMormon

— Jed Pollock (@JPPollock) September 2, 2015
You never wanna run into these guys in a dark alley. #ThugMormon pic.twitter.com/WxsNeIHggb

— P Norton (@P_Norton) September 2, 2015
#ThugMormon #ThugMormons pic.twitter.com/uHcSDhvez5

— Seth Killingbeck (@SethKillingbeck) September 2, 2015
Blesses baby, drops the mic. #ThugMormon

— Snarkernacle (@Snarkernacle) September 2, 2015
Didn't do my hometeaching but reported 100% anyways #thugmormon

— LDS_SMILE (@ldssmile) September 2, 2015
I raced my pinewood derby car backwards #ThugMormon

— Jacob C. Hiller (@jacobchiller) September 2, 2015
https://twitter.com/jennygarrard/status/639138610143358976
When reading the Book of Mormon, I sometimes skip the words of Isaiah. #ThugMormon

— T Kov (@TKO_v2) September 2, 2015
#ThugMormon pic.twitter.com/dvUn0gHrnL

— Heath Waddingham (@heathwadds) September 2, 2015
Staying a virgin into your 20s. #ThugMormon

— Robby McCombs (@rtmccombs) September 2, 2015
A real #ThugMormon uses his thug-ishness to turn the inside linebackers meeting room into the #PuntersRoom #InsideBYU #RealTalk

— Jonny Linehan (@jlinehan9) September 2, 2015
#thugmormon https://t.co/S6QOE4CUra

— wiz cool pants (@hobocita) September 2, 2015
When I was in primary, I wouldn't jump out my seat during the "beam" part in "Jesus wants me for a Sunbeam" #ThugMormon

— Robby McCombs (@rtmccombs) September 2, 2015
I went home teaching on the last day of the month, didn't share a message, just took cookies, you know beacuse #ThugMormon

— Travis (@travturner22) September 2, 2015
Driving 20 minutes for a 64 oz. Mtn Dew on Sunday so your neighbors don't see you shopping on the Sabbath #thugmormon

— Clint Peterson (@Clintonite33) September 2, 2015