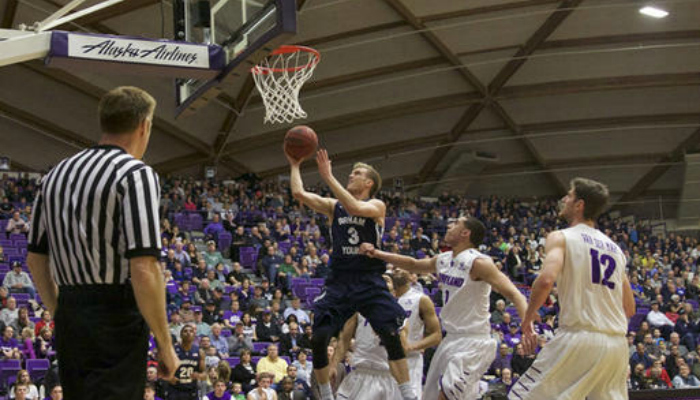 Tyler Haws made school history last night by surpassing Jimmer Fredette as all-time scorer in BYU's basketball win against Portland. Haws came into the game needing just seven points to beat Fredette's total 2,599 career points at BYU. With 14:39 left in the first half, Haws scored a routine layup giving him his 2,600th and 2,601st career points to put him in the BYU record books.
Haws finished the game with 21 total points putting him in double figures for the 117th time, tying Danny Ainge for the most in school history.
"I thought I was at a home game," Haws said. "The crowd was going crazy for a whole possession. It was pretty special. I'm proud to be at BYU and experience all that I've experienced."
"I was happy for him," said coach Dave Rose. "I almost felt like we should call timeout (after the record-breaker) and everybody take a breath and say, 'OK, that thing's done.' It came in the flow in the game. It came at a great time. Ty gets us off to good starts almost all the time. I'm happy for him and his family."
Despite Tyler Haws' record breaking points, BYU was down at halftime 41-33. The Cougars made a rally in the second half which included a 13-0 run to overcome the Portland Pilots 82-69.
"In the second half, our guys were really determined," said Rose. "We made some shots coming out of the half that got some momentum for us, but we were a lot more aggressive." 
About breaking the record Haws said, "It hasn't really set in yet. I'm just so happy we came back and won the game… To break a record like that it's a pretty special thing. I owe all the credit to my coaches and my teammates. I just love being at BYU and it's a really cool feeling right now."
BYU needed the strong win to keep their NCAA tournament hopes alive. The Cougars play their last regular season game against #3 Gonzaga on Saturday.
To see how Tyler Haws has stacked up against Jimmer Fredette's career at BYU visit CollegeSportsUtah.com for stats and comparisons.