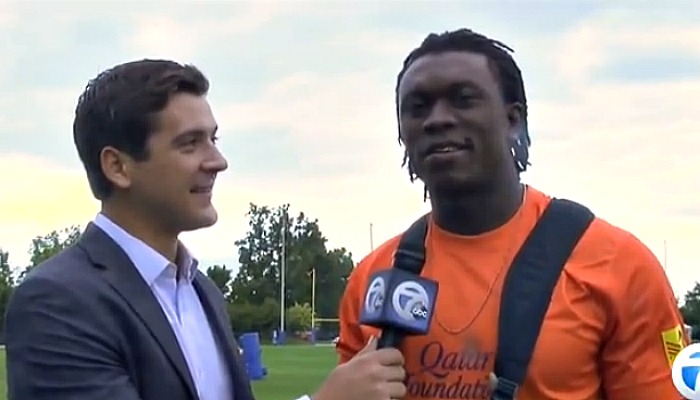 If you have ever been to a Lions, Tigers, or Red Wings game in Detroit you've probably heard the trombone of Toney High. The 55-year old street performer and homeless man is well known in the downtown area for his music. Last month in Greektown a group of guys beat and mugged Toney. Stolen from him was a pair of new glasses and his most prized possession: his trombone.
In an interview with ABC 7 News, Toney said about his music,
I don't have no music to play. That hurts, that hurts. I want to play music, I get joy out of playing for the little kids when they come into Greektown. I make them smile. I make them happy, and what is a musician that plays the horn, that doesn't have a horn?
Many have come forward in support of Toney, some even offering to replace his trombone. One fan in particular insists he be the one to help Toney get his trombone back. Ziggy Ansah, a member of The Church of Jesus Christ of Latter-day Saints and defensive end for the Detroit Lions, was particularly moved by Toney's story. He not only offered to help replace the trombone, but also invited Toney to participate at a Lion's practice.
"At the state where I'm at, I'm able and willing to help other people," said Ansah.
Ezekiel "Ziggy" Ansah had never played football before walking onto the Brigham Young University football team in 2010. After three seasons with the Cougars Ansah was drafted in the first round by the Detroit Lions, 5th overall in the 2013 NFL Draft. Ansah is now in his second year with the Lions.
Watch the ABC 7 News interview with Ziggy Ansah and Toney High below: