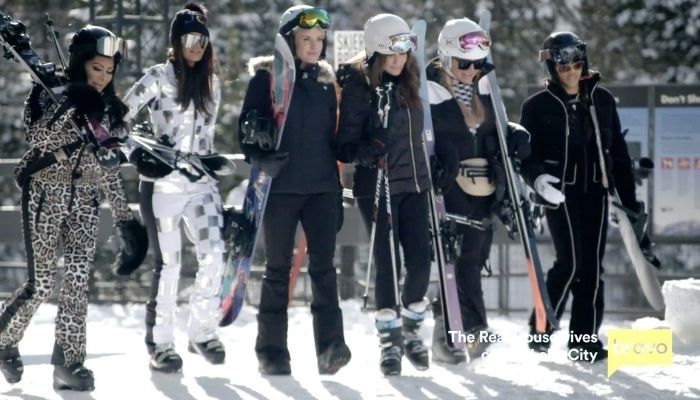 I personally try to steer clear of reality TV shows, but the preview for The Real Housewives of Salt Lake City piqued my interest. I am curious to see how the LDS wives will be portrayed on TV.
The show, which premiers on November 11th, has more of an emphasis on religion than any other previous part of the franchise. These six women are actually already friends, but that doesn't mean that the show will be friendly because let's face it, it's reality TV.
I did a little digging to see how many of the cast members were members of the Church, and what roles the spread of religious views may play on the show.
Lisa Barlow
Lisa's sister served a mission with John Barlow and later introduced John and Lisa. The pair have been married for 17 years. In the preview that was recently released Barlow says she is "Jewish by heritage, Mormon by choice."
They are now business partners and run the tequila distillery Vida Tequila, despite claiming to be active members of the Church. They also have two sons, Jack and Henry.
She is also the owner of the LUXE marketing company and started a company called Fresh Wolf. Because of all these thriving businesses and many more, Barlow has been deemed a serial entrepreneur by many.
In an article with Thrive Global, Barlow said, "Building a business from the ground up while having children is so hard yet so rewarding.  I have learned to include my kids in my day-to-day."
Heather Gay
In an interview with Bravo, Heather called herself "Mormon-ish" yet, in the preview, she said she is a "purebred pioneer Mormon." It will be interesting to see what she means by that.
Gay was married for 11 years though it is unclear who she was married to. Our only clue is that her former husband was "Mormon royalty." The pair divorced and has 3 daughters together.
She owns Beauty Lab and Laser and is an accomplished businesswoman. She plans to expand her business to multiple locations and we will get a glimpse into some of what she does on the show.
Jen Shah
Jen Shah is a Polynesian beauty who is married to Sharrieff Shah Sr. who played football for the University of Utah and is currently a cornerback coach at his alma mater. Their son Sharrieff Shah Jr. also played football for the Utes. They also have a teenage son named Omar.
She and her husband were both raised in the Church but have since converted to Islam together. From what we can tell, the couple looks strong as ever so their relationship may not be a source of drama on the show.
Jen owns a couture fashion line, among other businesses, and is always sporting designer clothing, including the designs of fellow castmate Merideth Marks.
Whitney Rose
Because Rose is a "descendent of Mormon Royalty" it is important to note that she stated, "It's a very big deal that I am no longer Mormon."
She is married to Justin Rose and they have a daughter named Bobbie and a son named Brooks. She runs a business called Iris and Beau. The brand features many anti-aging skincare products.
The preview shows what looks like a wedding and it is believed to be Whitney and Justin's vow renewal. The ceremony took place sometime last December and filming for the show was done around that time.
Mary Cosby
Cosby is the "Pentecostal First Lady" of her family's church empire. Not only does here family own churches, but they also own restaurants and much more.
She married her former step-grandfather, Robert Cosby Sr. in order to inherit her grandmother's multi-million dollar estate. It seems that it worked out for them because their marriage has lasted 20 years so far. Although the pair has about a 25 year age gap, they have a teenage son together.
Of all the Real Housewives of Salt Lake City, Mary Cosby and Merideth Marks are the only women who have not been members of the Church at some point. However, they are both devout in their own respective religions.
Meredith Marks
Marks lists her religion as Jewish. She is an award-winning celebrity jewelry designer whose designs have graced fashion week runways, television, and red carpets.
She is married to Seth Marks. Together they have a daughter named Chloe who is 19 and looks like a carbon-copy of Merideth. They also have two sons, named Reid and Brooks.
Instagram posts from over the years show that Merideth has been friends with Jen Shah and Lisa Barlow for a while.
Will you be watching the show? Share in the comments.