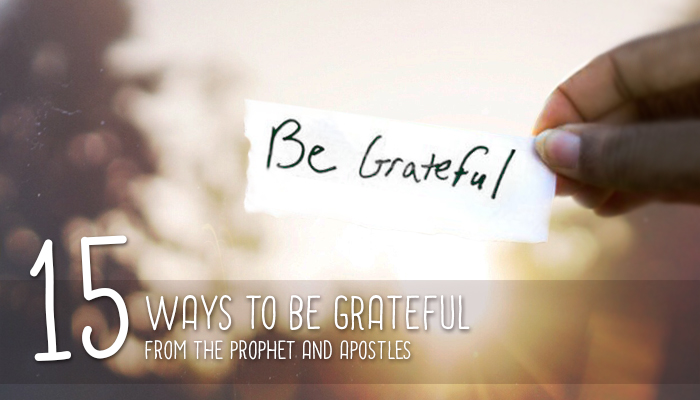 With Thanksgiving just around the corner, the month of November is filled with gratitude. This can be seen on social media outlets, where users frequently participate in #30daysofgratitude on Facebook and Twitter, among others.
Throughout the years, leaders of The Church of Jesus Christ of Latter-day Saints have given several talks on gratitude and how to be thankful in any circumstance. Below are 15 tips for cultivating gratitude and things to be grateful for, one from each member of the First Presidency and Quorum of the Twelve Apostles.
1. Thomas S. Monson: How to have a grateful heart
President Monson has called gratitude a "divine gift." In the October 2010 General Conference, he taught:
 My brothers and sisters, do we remember to give thanks for the blessings we receive? Sincerely giving thanks not only helps us recognize our blessings, but it also unlocks the doors of heaven and helps us feel God's love. 
Reminding us that thanks needs to be given for what we have, he said, "We can lift ourselves and others as well when we refuse to remain in the realm of negative thought and cultivate within our hearts an attitude of gratitude. If ingratitude be numbered among the serious sins, then gratitude takes its place among the noblest of virtues."
2. Henry B. Eyring: Remembrance
President Eyring said in October 1989 that "Remembrance is the seed of gratitude." Teaching that to have gratitude we need first to remember, he said, "The Holy Ghost brings back memories of what God has taught us. And one of the ways God teaches us is with his blessings; and so, if we choose to exercise faith, the Holy Ghost will bring God's kindnesses to our remembrance." He then suggested to keep a book of remembrance to be able to more easily recall blessings.
3. Dieter F. Uchtdorf: Gratitude in all circumstances
President Uchtdorf taught in April 2014 that gratitude can come in any circumstance. He suggested to find gratitude amidst even sorrow and trials and that gratitude should be a way of life.
4. Russell M. Nelson: Be thankful for the missionaries
Counseling all to "Ask the missionaries," Elder Nelson taught in October 2012 to be grateful for missionaries. Naming missionaries as a "heaven-sent resource," he said, "As representatives of the Lord Jesus Christ, they strive to fulfill that divine command—renewed in our day by the Lord himself—to take the fullness of the gospel abroad and bless the lives of people everywhere."
5. Dallin H. Oaks: Thankfulness for the commandments
Elder Oaks said in the April 2003 General Conference to be thankful for the commandments, suggesting that the commandments are catalysts for gratitude.
6. M. Russell Ballard: Service
Elder Ballard suggested in April 2011 that gratitude and joy can be found through service. He said, "When this pure love of Christ—or charity—envelops us, we think, feel, and act more like Heavenly Father and Jesus would think, feel, and act. Our motivation and heartfelt desire are like unto that of the Savior."
7. Robert D. Hales: Repentance and the Atonement
Elder Hales taught in April 1992 that gratitude based in the Atonement will help individuals know where to look for strength. He said:
The point I would like to make is that when we express thankfulness to God and to his Son, Jesus Christ, we base our faith and repentance upon their forgiveness and their goodness. 
8. Jeffrey R. Holland: Being grateful for the faith of the saints
Elder Holland expressed thanks for the faith of the saints in the October 2010 General Conference. Acknowledging that he had often "failed to express gratitude for the faith and goodness" of those who served him, he encouraged all to not delay expressing gratitude. He encouraged saints to recognize those who have served them when he said, "No one of you is insignificant, in part because you make the gospel of Jesus Christ what it is—a living reminder of His grace and mercy, a private but powerful manifestation in small villages and large cities of the good He did and the life He gave bringing peace and salvation to other people."
9. David A. Bednar: Express gratitude
Teaching about how to make prayer more meaningful in October 2008, Elder Bednar said often more meaningful prayers are accompanied with very few, or no, requests. He then gave a suggestion for all: "Let me recommend that periodically you and I offer a prayer in which we only give thanks and express gratitude. Ask for nothing; simply let out souls rejoice and strive to communicate appreciation with all the energy of our hearts."
10. Quentin L. Cook: Thankfulness for trials through the Atonement
Elder Cook counseled in October 2008 to remember the blessings, even amidst trials. He said, "Regardless of our trials, with the abundance we have today, we would be ungrateful if we did not appreciate our blessings." Elder Cook then reminded saints to turn to the Atonement in times of trial to recognize gratitude. "I testify that the Atonement of Jesus Christ covers all of the trials and hardships that any of us will encounter in this life. At times when we may feel to say, 'Hope you know, I had a hard time,' we can be assured that He is there and we are safe in His loving arms."
11. D. Todd Christofferson: Gratitude from obedience to covenants 
In his April 2009 General Conference address, Elder Christofferson reminded saints of the great strength that comes from covenants when he expressed that we should be thankful for our covenants and the strength they bring us: "…As we walk in obedience to the principles and commandments of the gospel of Jesus Christ, we enjoy a continual flow of blessings promised by God in His covenant with us. Those blessings provide the resources we need to act rather than simply be acted upon as we go through life."
12. Neil L. Andersen: Gratitude for shared faith
In his first address as an Apostle, Elder Andersen expressed gratitude for those around the world who share our faith in Christ and all we can learn from them. He counseled, "We must remember,… who we are and what we have in our hands. We are not alone in our desire to do good; there are wonderful people of many faiths and beliefs."
13. Ronald A. Rasband: Gratitude leads to resolve
Elder Rasband has already spoken in general conference six times. And his talks are an example of gratitude. Every single time he has spoken he has expressed gratitude for someone or something. In a 2008 talk, Elder Rasband explained that when we are grateful for the Book of Mormon we have a resolve to go forward and live the gospel.
14. Gary E. Stevenson: Others will be grateful for our courage
In his 2012 talk, while still the Presiding Bishop, Elder Stevenson told the story of one man, John, who embarrassed his friend by leaving a party where marijuana was being smoked. But years later, because of the consequences of those who stayed, Elder Stevenson said, "[His friend] remains grateful to this day for John's courageous example."
15. Dale G. Renlund: Gratitude for family support
In Elder Renlund's first remarks as an apostle, he taught us that gratitude comes in varying degrees. First he thanked all the members of the church for their sustaining, but then he gave special gratitude for the sustaining of his family members. Elder Renlund taught while we should be grateful for everything in our lives, we need to be especially grateful for those near to us.
Plus three additional thoughts from the apostles who have recently left us.
Boyd K. Packer: Gratitude for acquired wisdom and knowledge
In April 2013, reflecting on what he had learned through years of service, President Packer shared a poem he wrote. In it, he expressed gratitude for the wisdom and the knowledge each passing year had brought him. He said, "…age has brought those precious truths, that make the spirit grow. … I have not changed my mind one bit, about regaining youth. We're meant to age, for with it, comes a knowledge of the truth."
L. Tom Perry: Be grateful for the scriptures
In October 2005, Elder Perry taught saints to be thankful for the scriptures. He said:
…the blessings of the scriptures are far more valuable than property and other worldly things. When we seek after the things of the Spirit, the rewards are eternal and will bring us the satisfaction we seek through this mortal experience. 
Richard G. Scott: Finding joy
In April 1996, Elder Scott taught, "Sadness, disappointment, and severe challenges are events in life, not life itself." He suggested that instead of letting events define mortal experience, gratitude can be found by turning to Heavenly Father and Jesus Christ: "Your joy in life depends upon your trust in Heavenly Father and His Holy Son, your conviction that their plan on happiness truly can bring you joy."