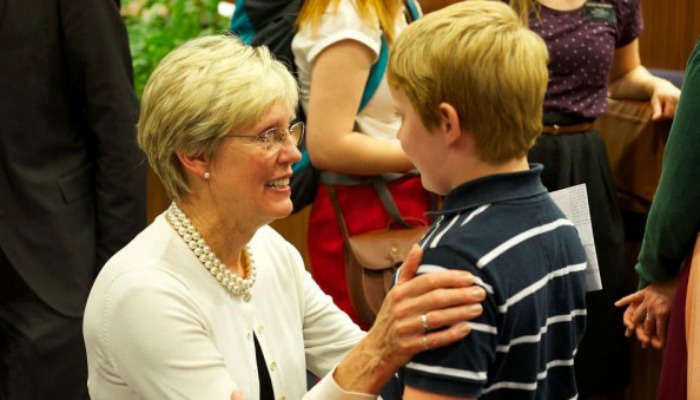 This article was originally written by Breanna Olaveson for Utah Valley 360. The following is an excerpt. 
Sister Rosemary M. Wixom, who served as Primary general president from April 2010 until her release on April 2, 2016, served during a period of great excitement and progress for The Church of Jesus Christ of Latter-day Saints. During her time as president, the Church faced monumental decisions, the challenges of an ever-growing church and almost constant media attention.
Sister Wixom, her counselors, and other female leaders of the Church contributed to this progress in significant ways. Here are five highlights from Sister Wixom's tenure.
1. First live worldwide auxiliary training
The online-only 2014 Auxiliary Training was the first of its kind. Instead of a live training limited to those in the Salt Lake area, the annual training was available online in multiple languages at the same time.
"We've tried it the last couple of years to have our training prepared in a way that it could go out, and now it seems like it is the right time to provide this online training for Relief Society and for Young Women and for Primary," Sister Wixom said.
The training also took place after general conference — a departure from past tradition. The messages in general conference helped shape the focus of the training.
2. Primary-aged girls invited to General Women's Meeting
The first General Women's Meeting was monumental for women in the Church and especially for Primary-aged girls. Beginning with April 2014 general conference, the General Women's Meeting was open to all female Church members eight and older. Sister Wixom had a significant role in the establishment of this meeting.
"As we counseled together we all came to the conclusion that it begins for girls when they turn eight years old, when they take upon themselves the baptismal covenant," Sister Wixom said. "Children are growing up faster now than ever before and they bring an energy and openness."
Wixom and the Church's other female leaders said that the changes would give women and girls opportunity for "advancement and progression."
Read Olaveson's full article at utahvalley360.com.