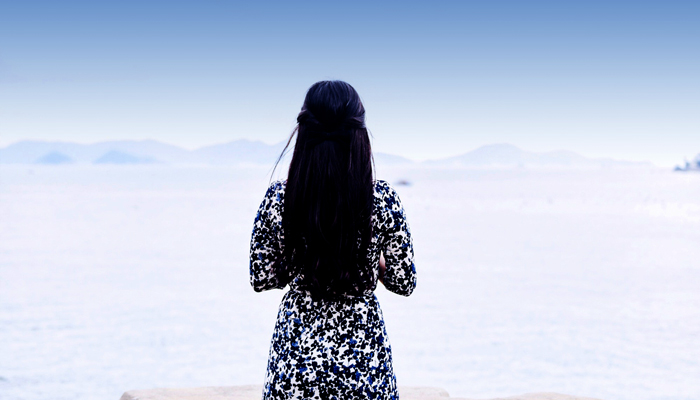 Truthfully, my story began before I was even born.
My parents, both born during the Vietnam war, immigrated to the United States from Vietnam between the ages of 8 and 10. Both of my parents had to escape when it became possible and leave everything behind. My father and his sister were caught by the communists while trying to escape, however, they were able to find their way onto another boat later that carried them to the United States.
My mom traveled to the United States with her entire immediate family, while my dad only traveled with a few of his siblings. Unlike my mother, he wasn't able to see the rest of his family until they all gradually arrived in the United States.
Years down the road, my parents met at pharmacy school at the University of Pacific in Stockton, California. After graduation and establishing their careers, my parents decided to get married and have kids.
My Childhood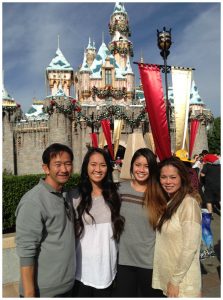 My sister and I grew up in Southern California. We were both baptized into the Catholic faith when we were babies, but my family and I didn't attend church normally. We were often so invested in our sport that we were too busy to attend church on Sundays.
I started playing tennis when I was seven and began homeschooling when I was in fourth grade. My sister and I practiced many hours with Kendl Hansen, a current BYU student, and member of the The Church of Jesus Christ of Latter-day Saints.
Before my 14th birthday, I traveled to Utah for the first time for a tournament. We stayed in Provo at my friend's sister's apartment. Her sister is the BYU women's tennis head coach and recruited my sister, who then began attending BYU. My parents didn't know much about BYU, but they were pleased with the Honor Code rules and supported my sister's decision to attend school in Utah.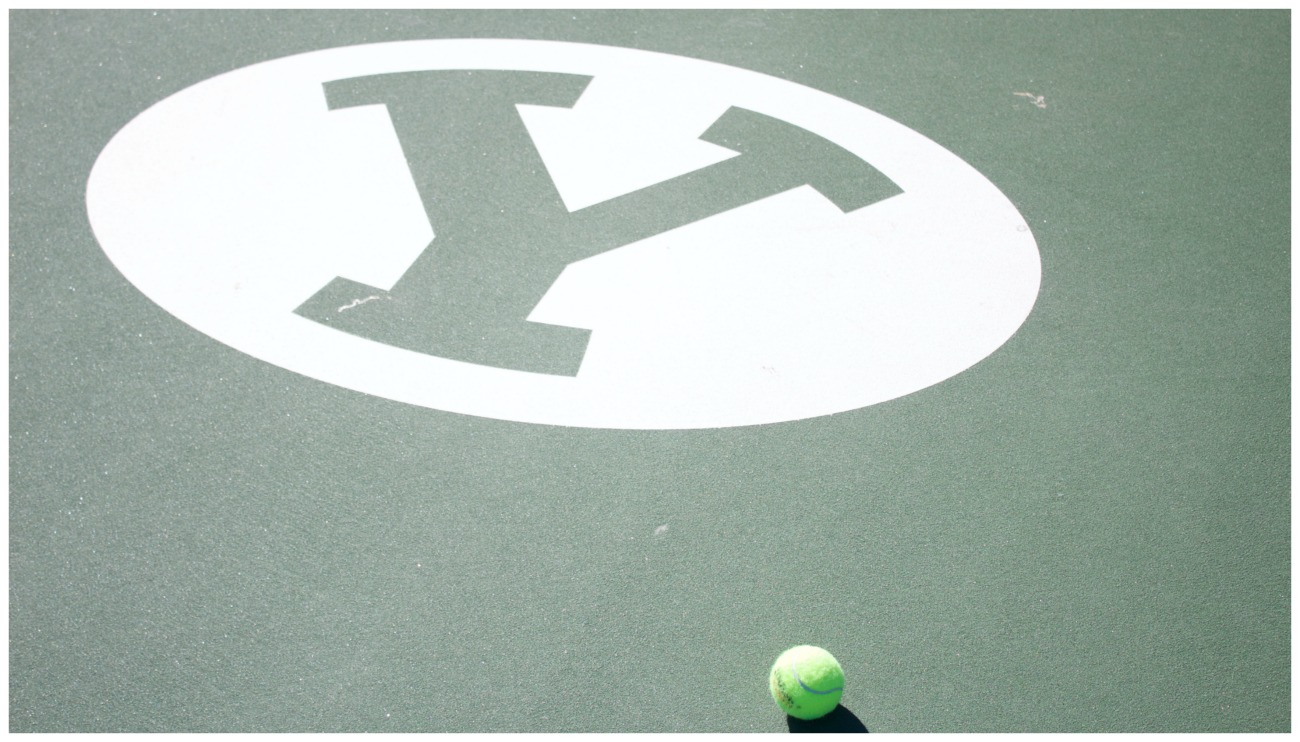 My Journey at BYU
Towards the end of my junior year of high school, I was also recruited by BYU's coach and was also offered a full-ride athletic scholarship. I followed in my sister's footsteps and graduated a semester early. She was a junior when I came to BYU as a freshman.
My first semester wasn't what I expected; I didn't fit in. I struggled to make friends. I only knew my sister and teammates, but rarely hung out with them outside of practice. I usually sat on my dorm bed doing homework when I wasn't in class or at practice.
I thought that my roommate and I would become close friends. However, one afternoon she said to me, "I would invite you to hang out with my friends and me, but you wouldn't get along with them." She was probably unaware that her statement hurt my feelings.
Another day during my freshman year, I was at the BYU library when a girl told me that, "only Mormon people are good people." Her comment frustrated me. I even told her that, "Just because you aren't Mormon, doesn't mean you aren't a good person. I'm Catholic and I'm a good person." Mormons had a bad reputation in my mind after that statement.
Once the semester ended, I moved in with my sister for the summer. I often hung out with the men's tennis team and some of my teammates. I remember getting mad at one of the guys on the team, so my other friend took me on a drive.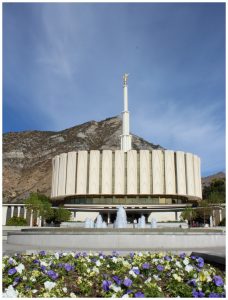 Our drive led us to the Provo Temple. We were both nonmembers at the time, so I was confused why we were at an LDS temple. He shared with me that he would visit the temple whenever he was upset because it would calm him down.
I kept asking him, "Why are we even here?" About 30 minutes later, I noticed that I was no longer feeling angry. Unfortunately, the temple experience dropped from my mind after that night.
That same summer, I went to a baseball party and tried alcohol for the first time. I wasn't interested in trying alcohol growing up, and I'm not sure what sparked my interest at BYU.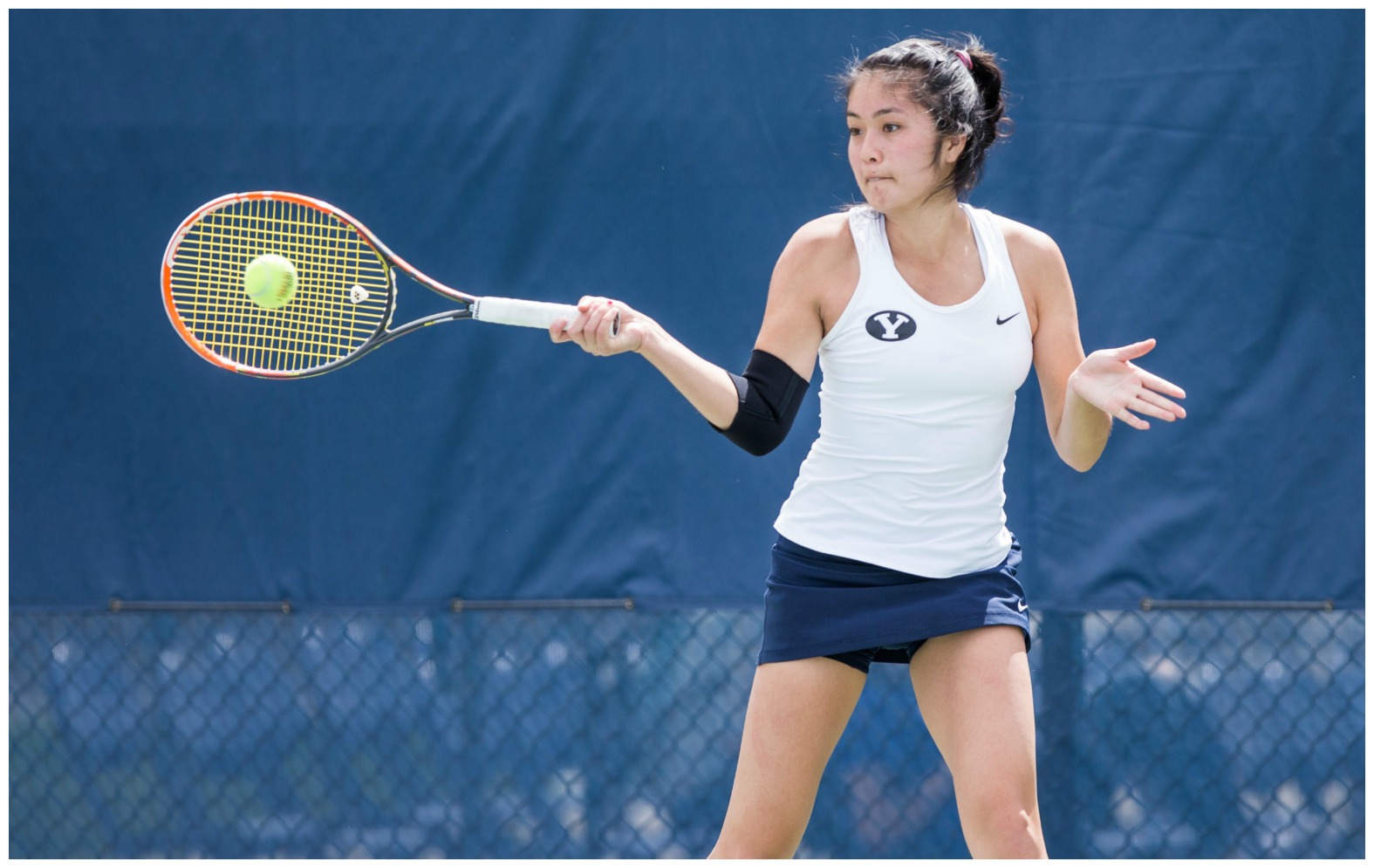 I was still drinking and partying during my sophomore year, which affected my grades. I also struggled with the law of chastity.
That same year, I got in trouble with BYU for alcohol abuse during fall semester. I paid my dues with a two week suspension, 30 hours of community service, and missing a collegiate tennis match.
Although I was still consuming alcohol, I decided to accompany my friends to sacrament meeting a few times over the summer. I felt this peaceful, relaxing feeling at sacrament meeting that I'd never felt when I went to Catholic mass.
Time for a Lifestyle Change
I was disappointed with my decisions during sophomore year. I didn't know right from wrong. However, I was able to learn and grow from my mistakes. My mistakes made me realize that I wanted to live a better lifestyle. I wanted to live a healthier, happier life.
My lifestyle change and temple values led me to investigate the LDS Church. I was also drawn to the Church because of the morals of the Word of Wisdom and the Law of Chastity.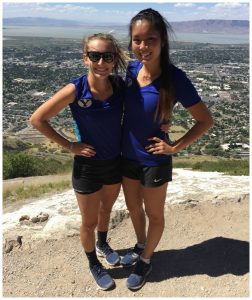 Although I'd been to sacrament meeting a few times, I'd never attended all three hours. Demi has been a friend and teammate in tennis to me at BYU. She continues to be a positive influence and example in my life. I knew I wanted to try attending all three hours with Demi.
After about a month and a half of attending all three hours of church, I decided to start taking missionary lessons. My coach offered to have the lessons at her home. I wasn't sure what to expect for my first lesson; I was just nervous. My nervousness started to slowly disappear as the missionaries taught the first lesson.
After a few lessons, I was given a baptismal date for November. I was conflicted enough about joining the Church that I requested to push my baptismal date out two more months. I was dealing with personal trials that held me back from fully committing to being baptized. I cried for many days; I was so torn about my decision.
I almost moved my baptismal date again, because I was still feeling lost and confused. My boyfriend at the time suggested I get down on my knees and pray to Heavenly Father. I recall being on my knees crying and pouring my heart out to Him. After praying, I felt a sigh of relief. Heavenly Father let me know that everything was going to be okay.
My Baptism, Wedding, and Church Callings
My parents' conviction in their faith inspired me to be firm in my own faith and beliefs. Thus, I chose to get baptized on January 29, 2015. I am grateful that my childhood tennis buddy, Kendl, performed the baptism. I will always cherish my baptism.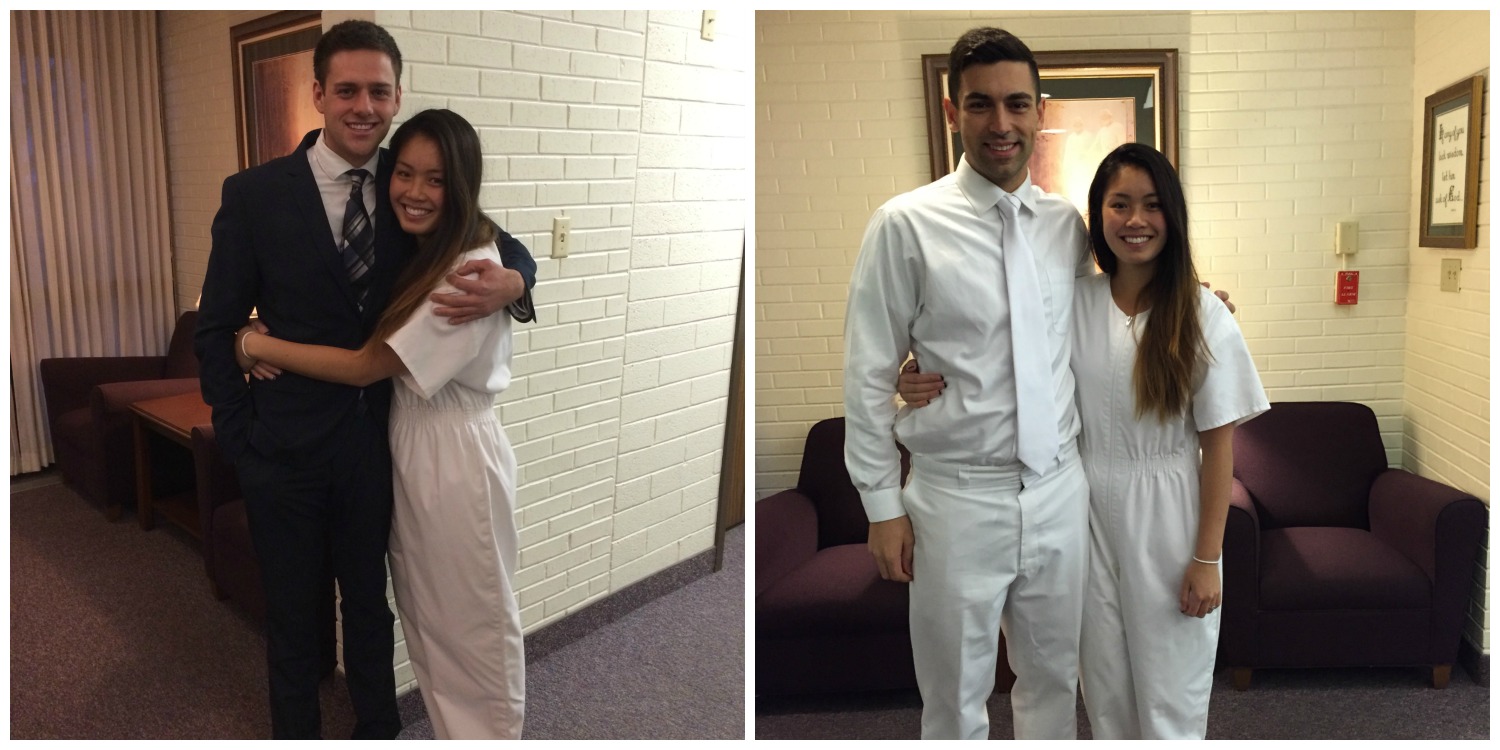 It's crazy to think that Danny walked into my life right when I decided to change my lifestyle. We started dating in October and started talking about marriage in February. Instead of waiting a year from my baptism to get married and sealed, we decided to get civilly married July 2015 and sealed the following year.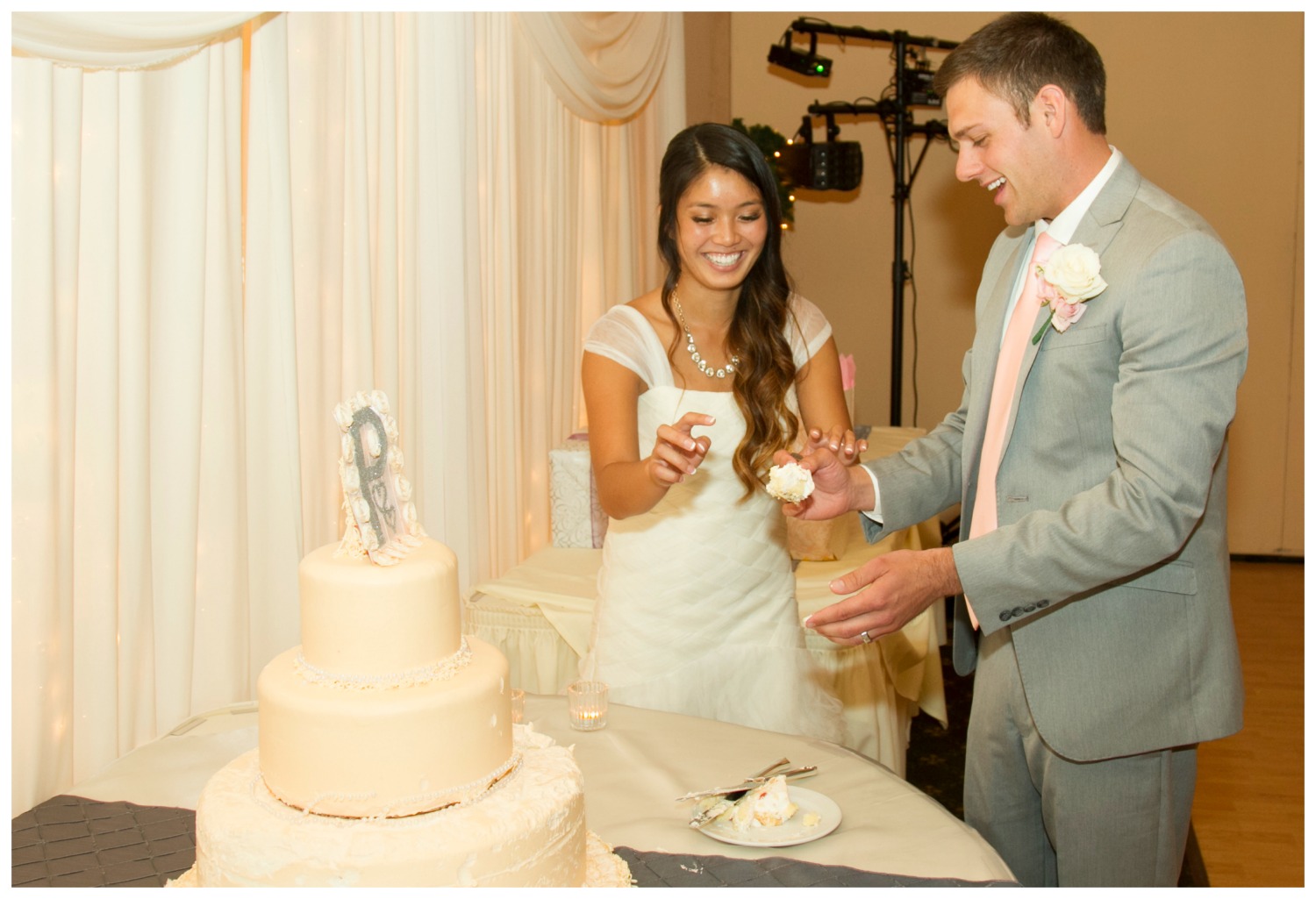 I had this strong feeling that we should be sealed in the Provo City Center Temple. At first I wasn't sure when we would be able to schedule our sealing date. I remember scrolling through Facebook and came across the Provo City Center Temple page. Then, I looked at BYU women's tennis schedule to see when our weekends were free. The next day, I called and scheduled our sealing for April 9, 2016 at 2:00 p.m.
During winter semester, I scheduled my endowment session at the Provo Temple on February 27, 2016. I met with the Stake Presidency for temple preparation. Many members told me that they were overwhelmed their first time. It made me wonder about my first time going through. I imagined it to be the weirdest thing in the world. However, I wasn't overwhelmed or weirded out after my session. I was definitely well prepared by friends, family, and ward members.

The day before my sealing, we lost to Santa Clara. We've never practiced on Saturdays but coach scheduled morning practice the day of my sealing.
I arrived at practice upset and stressed. I was constantly checking the time. It was around 11:10 a.m. when I asked coach if I could leave early, but she wouldn't let me. Practice finally ended at 11:30 a.m.
I thought I was suppose to feel happy and relaxed the day of my sealing. Instead, I was stressed and depressed the whole morning. I called Danny and cried on the drive home. I started panicking because I thought I wasn't going to arrive to the temple on time.
Luckily we made it on time. Our sealing definitely put me in the best mood ever, especially after the morning I'd had. I had the biggest smile on my face when I knelt at the altar and was sealed to Danny for time and all eternity.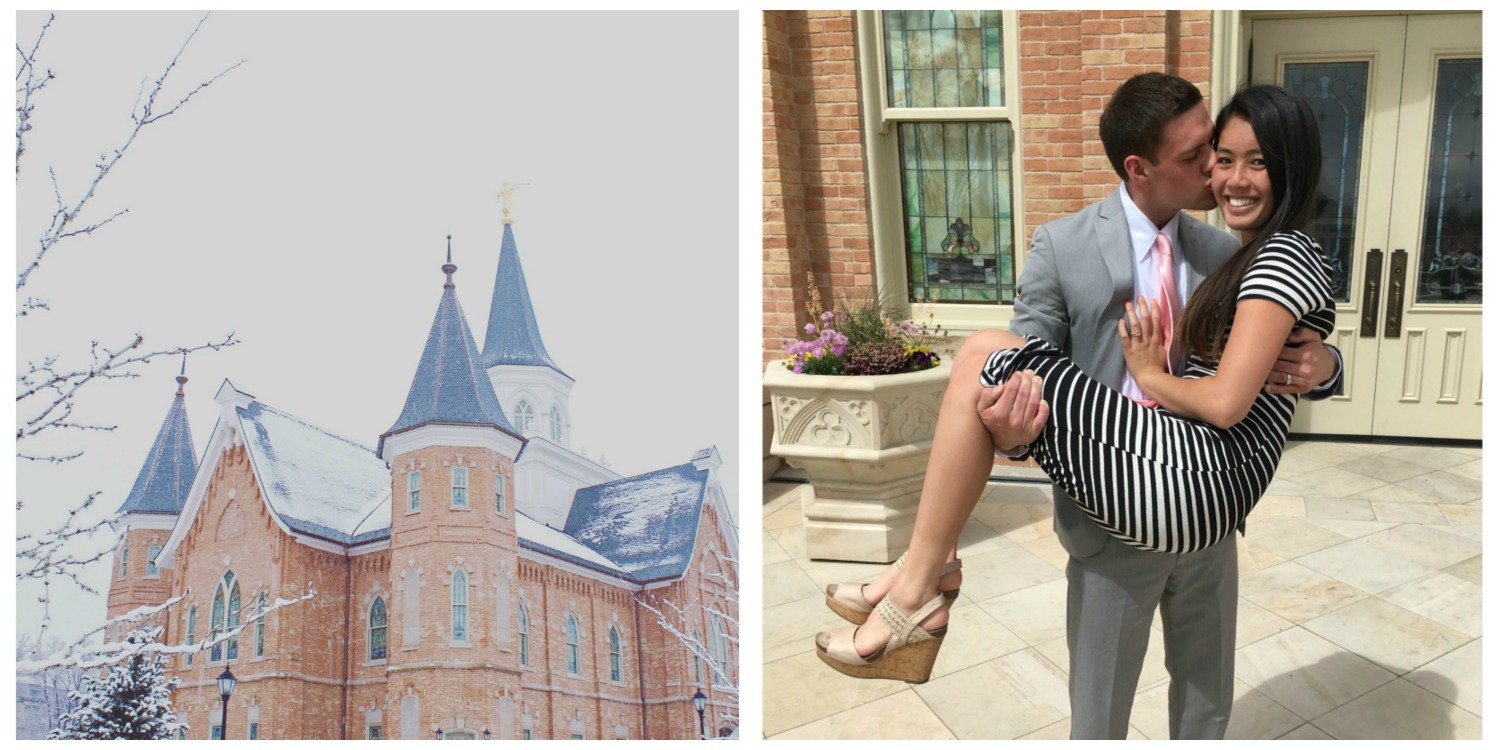 I finally received my first calling with Danny in our family ward, Sunday School greeters. A couple months after, we were called as Sunday School teachers for 12-13s. It was nerve-wracking to accept this calling because I've never taught a lesson before. Danny taught the lessons until I felt comfortable enough to share my thoughts and testimony.
I was asked to talk about my conversion at Stake Conference in May. My nerves took over once again. I've never borne my testimony before, not even on fast Sunday. I was terrified to speak in front of 1500 people; I didn't want to speak. I cried the night before and the morning of. Once the Stake Presidency meeting ended, I ran straight into Danny's arms and started crying again. I had never felt so terrified in my life. The stake president came up to me and told me to just bear my testimony. I thought, "How am I suppose to do that? I've never done that before."
When I was sitting on the stand, I was still scared. I wasn't sure what to share, but I was told to rely on the Spirit. When I got up to the podium, all of my nervousness vanished. The Spirit helped me share and speak from my heart. Tears kept overflowing from my eyes as I tried to find words to explain my conversion.
At the beginning of summer, I was called as a Mia Maid advisor. I was looking forward to this calling because I wanted to be a good influence on the girls. I was mostly nervous about teaching my first lesson, especially teaching it alone.
Being a Mia Maid advisor, I received the opportunity to experience girls' camp for the first time. I went to Camp Shalom on testimony meeting day.
Girls camp was a neat experience for me. I was able to bond with a lot of the girls. It was time for testimony, and I was afraid to share my past struggles with alcohol. So many thoughts were running through my head about what I should share. I almost didn't bear my testimony, but I got over my fear and bore my testimony. This was the first time I willingly bore my testimony.
I started crying when the bishopric told me they were releasing me from Mia Maids. I was reassigned to Sunday School with Danny. I know that it is the Lord's way and I needed to trust him.
I can't wait start a family and raise our children in the LDS Church. I am grateful for the Gospel and the Atonement. I know that Heavenly Father loves each and every one of us. He is always there listening to us. Everything will work out if we put our faith in Heavenly Father.
This is my conversion story, what's yours?