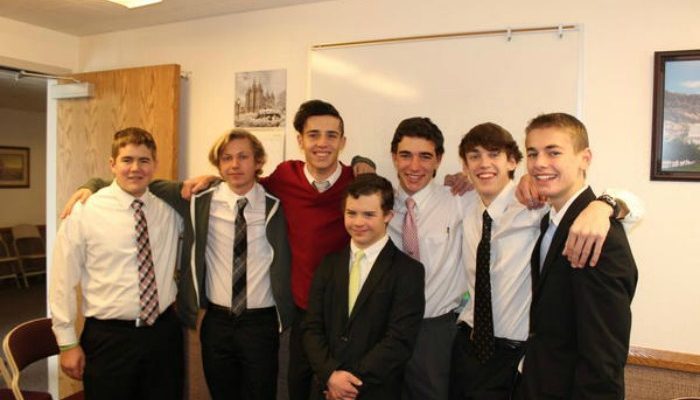 A group of young men got together to give the bishop of their LDS ward the best Christmas gift they could think of.
After contemplating a few different ideas, teachers and priests from the Cedar Hills 9th Ward, Cedar Hills Utah West Stake, decided to surprise their bishop with a priceless gift that the bishop was sure to never forget. The young men decided to work together to earn their Duty to God certificates before Christmas, and surprise Bishop J. Spencer Fluhman with their accomplishment. 
Deseret News reports that the boys worked on their Duty to God requirments, keeping their progress a secret from Fluhman in order to truly surprise him. Fluhman recalls walking into the room and seeing the group of 24 boys sitting there. When he asked what was going on, the young men proceeded to pull out their Duty to God certificates.
Of that moment, Fluhman says,
When each boy pulled out their own Duty To God certificate I began to weep. I could not speak.
Fluhman then went from boy to boy, signing their certificates and thanking them one by one with a handshake and an embrace, according to Deseret News.
In addition to presenting their bishop with an unforgettable gift, the young men also received something unexpected themselves. Some of the young men have stated that they have noticed a change in themselves as they have grown throughout working toward achieving their Duty to God award, often times having to reach outside of their comfort zone. Shawn Miller, first counselor in his teachers quorum, said that he feels better about himself after receiving his certificate.
A priest in the ward, Jackson Dayton, explained that it is also a blessing for the quorum as a whole, saying,
We have grown a lot closer as a quorum. As a quorum, we had a single goal to work toward together.
Duty to God is a program that is set up in the Church to help young men to strengthen their testimonies and become better prepared for future challenges and responsibilities they may face. For more information on Duty to God, visit LDS.org.