Joey Macasieb never thought that seeing The Book of Mormon Musical would change his life, but it did. This is his conversion story.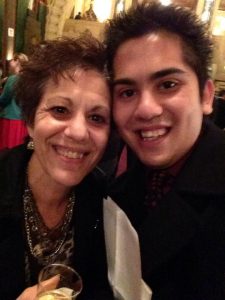 Macasieb went to see the satirical musical—which pokes fun of Mormon beliefs, stereotypes and gospel misconceptions—with his mom at the Pantages Theater in LA. After a night full of laughs, Macasieb left the theater with a few questions about The Church of Jesus Christ. Within a few weeks of seeing the musical, two LDS missionaries tracting in Macasieb's neighborhood happened to knock on his door.
Andy Proctor reports that Macasieb was intrigued by the LDS faith and he invited the elders in. He wanted to know answers to things discussed in the musical, like if Mormons really believe they will have their own planets after they die. Following the Spirit, the elders answered Macasieb's questions and then offered him a copy of the real Book of Mormon telling him to read it for himself.
By the time the missionaries came back, Macasieb had read all the way to 2 Nephi. Macasieb says that he was surprised he found truth in the book and that he found answers to many questions he had from growing up Catholic.
Three months after first meeting with the missionaries, Macasieb was baptized as a member of The Church of Jesus Christ of Latter-day Saints, and it all started with "The Book of Mormon."