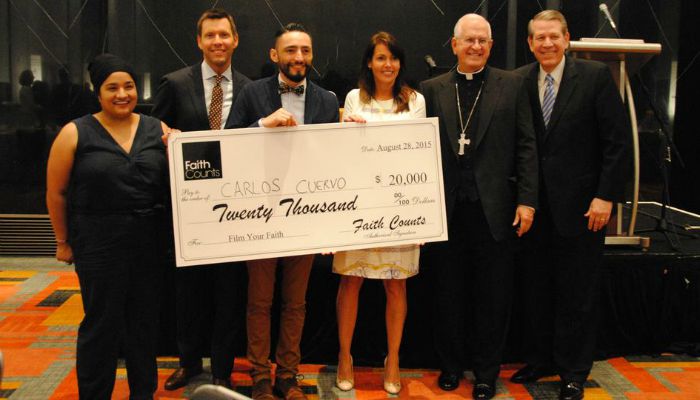 Winners of the "Film Your Faith" video competition, which welcomes videos from people of all faiths, were announced on Friday, August 28.
Faith Counts, a non-profit and the sponsor of the competition, received more than 140 two-minute video entries from people showcasing their individual faith. Elder Donald L. Hallstrom of the Seventy of The Church of Jesus Christ of Latter-day Saints sat on the judges panel for the competition and told Mormon Newsroom that he enjoyed his role in the event. 
I am so pleased to be part of this great initiative aimed at promoting faith. Seeing the winner accept the award was an affirmation that young people truly do understand the profound good that faith accomplishes.
In addition to the first place winner, three other contestants received awards on Friday for People's Choice and Honorable Mentions. The four winning contestants and their videos are posted below.
First Place
Carlos Cuervo of Miami, Florida, won the $20,000 first place prize for his video "Without Walls." The video demonstrates how a small faith-based charity helps the homeless. 
People's Choice Award
Utah Valley University student, Austin Bagley, took home the People's Choice award for "Turn on Your Light." Bagley won $10,000 for showcasing how a young girl in Zimbabwe relied on God following the death of her mother. 
Honorable Mentions
Two different contestants won an honorable mention award, which came with a $2,500 prize. "Metaphors of Faith," an animated film by Andreas Peterson, looks into what faith actually is—and isn't. Tim Holt's video, "I Am New," shows how faith had a positive effect on one woman's life.