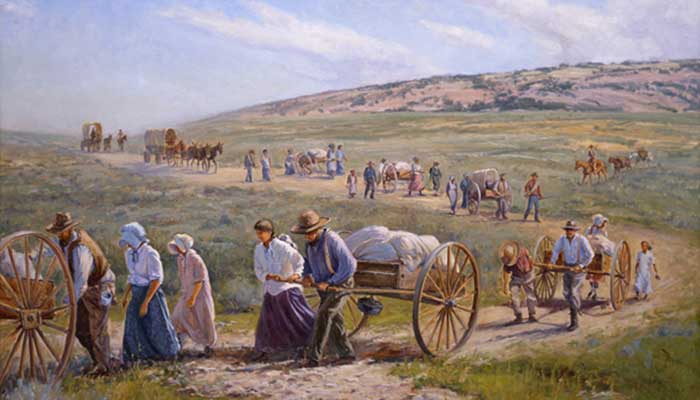 May 13, 2014
Yesterday, The Church of Jesus Christ of Latter-day Saints posted a new essay to their website addressing some of the conflicts 19th-century Mormons experienced. The essay, titled "Peace and Violence among 19th-Century Latter-day Saints" seeks to provide context for the violence committed against Mormons, as well as the violence committed by them.
Although some Mormons participated and added to the violence experienced during the 19th-century, the Church believes in proclaiming peace and renouncing war. The article posted by the Church explains that historical context does not excuse the violent acts of Mormon participants. Elder Russell M. Nelson, a member of the Quorum of the Twelve Apostles, is quoted saying:
"Now, as members of The Church of Jesus Christ of Latter-day Saints, what does the Lord expect of us? As a Church, we must 'renounce war and proclaim peace.' As individuals, we should 'follow after the things which make for peace.' We should be personal peacemakers."
The article addresses conflicts such as:
Missouri Persecutions: Mobs verbally and physically abused saints, including prominent leaders of The Church of Jesus Christ of Latter-day Saints.
The Extermination Order: October of 1938 – Church members were forced out of their homes when the governor of Missouri issued an order that all Mormons be expelled from the state. At least 8,000 members were forced to leave their homes during the winter months.
Haun's Mill Massacre: A Missouri Militia attacked a settlement of Saints during a time of truce.
Martyrdom of Prophet Joseph Smith: June 27, 1844 – While booked in Carthage Jail—located just outside of Nauvoo, IL—for false accusations of treason, a mob came and martyred the Prophet Joseph Smith, along with his brother, Hyrum Smith.
Nauvoo Legion: After experiencing the mobs in Missouri, the saints formed a state-sanctioned militia in order to protect themselves. The Legion was later disbanded upon the request from the governor of Illinois.
Violence in the Utah Territory: "Aggression and retaliation by Latter-day Saints against their perceived enemies occurred most frequently during the first decade of settlement."
Latter-day Saints' Relationship with American Indians: Latter-day Saints often frequented sites already occupied by American Indians, causing some tension between the two groups.
The Utah War: President Buchanan sent an army escort with the new governor for Utah after deciding to replace Brigham Young. The army of 1,500 troops caused the saints to fear more persecution was coming.
Mountain Meadows Massacre: September 11, 1857 – While traveling through Utah to California, men, women, and children were massacred by a force of Mormon militia members and Southern Paiute Indians.
Read the full article, "Peace and Violence among 19th-Century Latter-day Saints," on churchofjesuschrist.org.