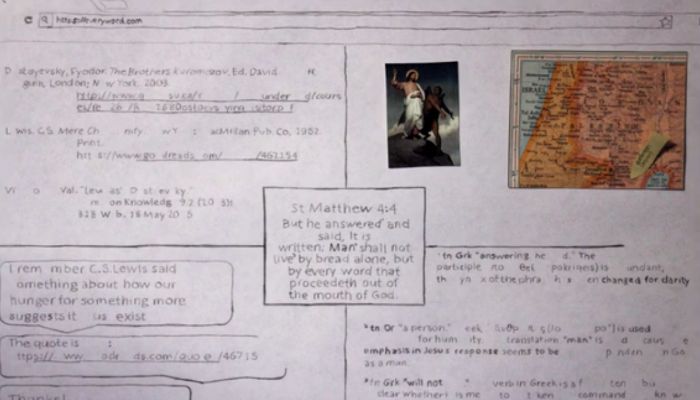 Joshua and Sarah Sabey, members of The Church of Jesus Christ of Latter-day Saints, have developed the idea for a new online study Bible that is completely different than any other study Bible available.
"Everyword," the Sabey's creation, is a study Bible that anyone of any faith can contribute. Here's how it works:
Everyword will break down the Bible verse by verse. Each verse will be isolated on its own page and anyone—scholars, ministers, christians, athiests, etc.—can respond to the scripture as long as their response is Bible related. Individuals can write their own insights, link to quotes or lyrics from others, or ask questions.
The Sabeys say that people often forget that the Bible has inspired musicians, poets, artists, and various others in a variety of ways. They further explain,
We want to connect verses to sermons from Methodist ministers, U2 lyrics, the writings of early church fathers, graffiti, and more. Anything that ties back to the Bible is welcome, which is why it is so important to generate a large and diverse following.
The couple is trying to prevent arguments that may arise due to the differing viewpoints that will exist when anyone can participate. Therefore, anyone who chooses to post in response to a scripture verse can choose if they want to allow comments on their post. If they do allow comments, they will need to approve each comment before it will publish publicly. Participants can also flag rude and uncivil people to ban them from commenting on their posts again.
The Sabeys created a campaign on Kickstarter to help them raise money and turn their idea into a reality. They will only be allowed to use the funds raised if they reach their goal of $5,000 by August 9, 2015, otherwise all donors will not be charged and the Sabeys must find another way to fund their project.
For more on the interfaith study Bible, "everyword," visit kickstarter.com.