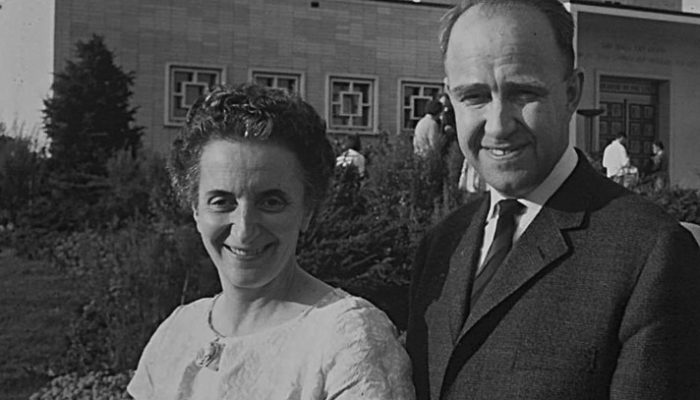 The following tells the true story of a World War II concentration camp survivor and a Nazi Soldier that met, fell in love, and found the gospel of Jesus Christ. The article was written by O. Håkan Palm for LDS Living. 
Agnes Erdös was an only child, born of Jewish parents but baptized into the Catholic church with her family when she was 9 years old. Though she lived a rather carefree childhood, her life was turned upside down when Hitler invaded Poland. Because of their Jewish descent, she and her parents were treated as Jews and were sent to a ghetto in Nazi-invaded Hungary.
In 1944, SS soldiers emptied the ghetto where Agnes and her parents had been living, whisking everyone onto a freight car and from there to a warehouse in Zalaegerszeg, Hungary—their first stop on the way to Auschwitz.
In distant Norway, when news of war between England and Germany came, Gustav Palm felt it was far away and cared little about it. But when Germany invaded Norway, Gustav, with little political knowledge and no one to turn to for advice, decided to join the National Socialist Party, which he found full of bold ideas and ambitious members.
In 1941, Gustav was offered a job as a traffic policeman in the city, where he was confused to be put through harsh military training. However, Gustav's first assignment in 1942 was not as a traffic policeman, but as a guard at the newly opened Berg prison camp. He quickly realized, "We, as guards, were also prisoners, even though technically we had our freedom. None of us had voluntarily sought the task we were tricked into. The Nazism I had been in contact with so far was not at all what I had imagined it to be. I had simply been very naïve. I was now fully convinced that the organization to which I belonged was wrong."
To escape life as a prison guard, Gustav joined the Waffen-SS Ski Ranger Battalion Norway. He believed that he "would be able to support Finland's cause against Communism but had to do so in the uniform of a Nazi Waffen-SS soldier."
Read the full article at LDSLiving.com.