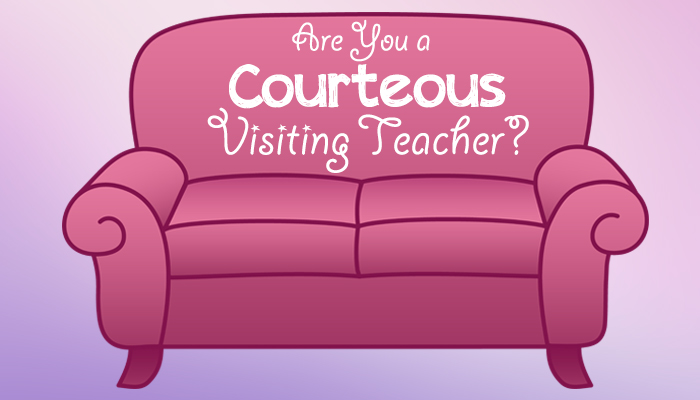 Visiting teaching is a fantastic program to help sisters create bonds with other sisters and help each other out. Unfortunately there are times when we sabotage our visits before we even get to the lesson.
Eliza R. Snow said "You want to be filled with the Spirit of God, of wisdom, of humility, of love, that .. they may not dread your coming" (Relief Society Minutes, Sixth Ward, Salt Lake Stake, August 16, 1868).
Here are a few small things we can do to give us a better chance of having a successful visit and open the door for future visits.
Let the Sister you are Visiting Know ahead of Time if you are Bringing Children

We are a family friendly church and many sisters have no problem with small visitors, but some sisters are not comfortable with kids coming along. This does not mean they do not like you or your children, but for a variety of different reasons it may be difficult for them. Something as simple as "If I come during the day I will have to bring my children, but I can come in the evening without them if you would prefer" may help you know their preference.

If you are unable to make your visits without your children, there are still lots of great options with a little creativity. Invite them over to your house, meet in a park, or even a fast food joint with a play place.

Let the Sister you are Visiting Guide the Conversation

It is not fun to be visited by sisters who spend the time talking more to each other than to you or about topics that you aren't interested in. Don't be those sisters. When you are visiting the home of a sister, you are there to learn about her. Follow her lead when it comes to the topic and length of the "small talk" conversation. Do your best to keep the tone of the conversation healthy, especially when it comes to husbands, children and leadership.

Most of all, be a good listener. Remember the things she says and follow up next time. If your memory isn't that good, jot a few notes down after your visit to review for next time.

Be Respectful of their Time

This may be one of the biggest contributors to visiting teacher dread. Some sisters love a good chat, other sisters want a more succinct visit. It is okay to ask your sisters what kind of visiting teacher they need, but since our time availability can vary from visit to visit learning to take our conversation cues from the sisters we visit becomes even more important.

Please be on time to your visits and work to schedule back to back visits in realistic increments and if for some reason you are going to be late, please call.

Give Everyone an Opportunity to add their Testimony to the Lesson

Sometimes when we just present a lesson and leave right away we leave our sisters or companions bursting at the seam to share their testimony or thoughts on the lesson. Involve both your companion and the sister you are visiting from the start by asking inspired questions. Be sure to give each sister time to add their thoughts at the end and share any inspiration they may want to share.

Be careful that our desire to visit together doesn't overshadow the benefit of these gospel discussions. President Kimball said "Don't let us be satisfied with just visits. … Friendship, of course, is important, but how better can you make a friend than to teach somebody everlasting principles of life and salvation?" (Kimball, A Vision of Visiting Teaching, Ensign, June 1978)
Of course there are exceptions to every one of these, however, these courtesies should be our default. We shouldn't get so caught up in what is wrong and what is right that we let it be an excuse to not visit, but being members of the same church does not excuse us from the responsibility to be polite.
Above all, our visits will go best if we follow the advice of Eliza R. Snow:
"A teacher … should surely have so much of the Spirit of the Lord, as she enters a house to know what spirit she meets there…Plead before God and the Holy Ghost to get [the spirit] so that you will be able to meet that spirit that prevails in that house…and you may feel to talk words of peace and comfort, and if you find a sister feeling cold, take her to your heart as you would a child to your bosom and warm [her] up" (Eliza R. Snow in Mt Pleasant North Ward Relief Society Minutes, August 7, 1880 as shown in "Daughters in my Kingdom").
There are so many incredible stories of how lives have been changed through visiting teaching. We would love to hear from you! How can we, as visiting teachers and sisters being visited, create an environment conducive to gospel learning? What simple things can we do to be courteous? How do these courteous actions express love to the sisters we visit? Leave your answers in the comments!