Jeffrey R. Holland, a member of the Quorum of the Twelve, spoke on faith, family and religious freedom at Chapman University in California on February 26, 2015.
Holland emphasized the values of faith, family and religious freedom. "[These are] big issues that are intertwined, interlinked and interlocked so tightly that when one of them is struck, the other two are damaged, that when one of them is cut, the other two will bleed," Holland said. "These issues deserve our interfaith attention and our interfaith protection, because there is always strength in numbers."
Interfaith Issues
Holland addressed a variety of interfaith issues that are plaguing our society.
Indeed the longer I live the more convinced I am that as Christians, Jews, Muslims, people of faith, we play into the devil's hand to let lesser differences obscure chances for greater unity, to let animosity canker our inherent, divine brotherhood and sisterhood, to let sectarian tradition destroy our collective desire to go about 'doing good.'
He also stressed the importance of acknowledging the similarities between different religious denominations, in order to combine forces against the evil in the world.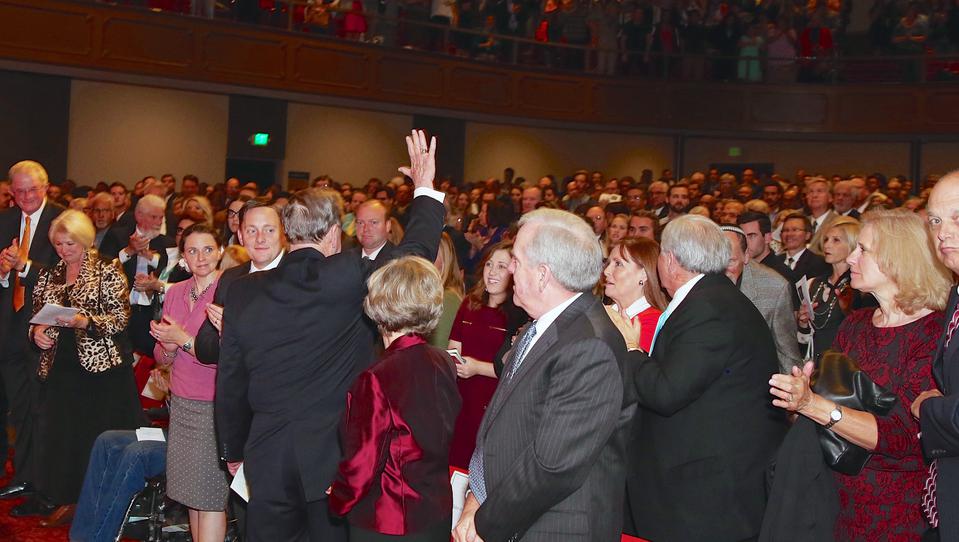 Marriage and Family
With the 20th anniversary of "The Family: A Proclamation to the World," Holland emphasized the importance of traditional marriage. "Rather than redefining marriage and family as we see increasing numbers around us trying to do, our age ought to be reinforcing and exalting that which has been the backbone of civilization since the dawn of it," Holland said.
We should be declaring boldly that inherent in the very act of creation is, for both parents, a life-long commitment to and responsibility for the child they created. No one can with impunity terminate that life, neglect that care, nor shirk that responsibility.
Holland suggested that all religious people should stand for the rights of the family and religious freedom.
"To counter these trends every citizen should insist on his or her constitutional right to exercise one's belief and to voice one's conscience on issues not only in the privacy of the home or the sanctity of the pulpit but also in the public square, in the ballot box and in the halls of justice. These are the rights of all citizens, including people, leaders and organizations who have religious beliefs."
In closing, Holland told the audience at Chapman University that students at Universities give him hope for the future of religious freedom.
"I believe the young people at universities like Chapman and my alma mater, Brigham Young, and scores of other institutions, are among the finest and best-trained believers we've ever had to defend, to advocate and to plead for the great faith, the strong families and the religious freedom for which, and upon which, the future of a Christian society is dedicated."