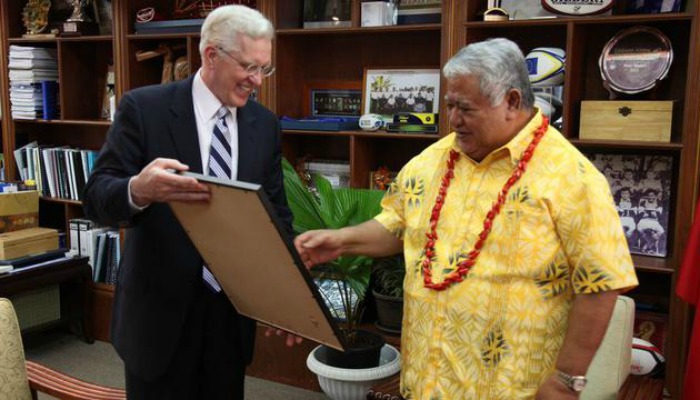 Elders D. Todd Christofferson and Quentin L. Cook made trips to the South Pacific and to Central America to meet with local government leaders.
Mormon Newsroom reports that Christofferson and his wife visited with American Samoan Lieutenant Governor Lemanu Peleti Mauga and Samoan Prime Minister the Hon. Tuilaepa Aiono Sailele Malielegaoi last weekend to discuss the growth of the Church in the Somoan islands.
During his visit, Christofferson also expressed his gratitude and love to the leaders and the people of the Somoan islands.
Cook and his wife met with the president of the Republic of El Salvador, Sanchez Ceren and the first lady, Margarita Sanchez, at the Presidential Palace during their trip to El Salvador.
The apostle informed those at the meeting that more than 120,000 Salvadorans are members of the Church and more than 600 Mormon missionaries are serving in El Salvador. Mormon Newsroom reports that these individuals help provide aid to their communities and benefit thousands of lives through volunteer work.
Visit Mormon Newsroom's website to learn more about Christofferson and Cook's recent travels.