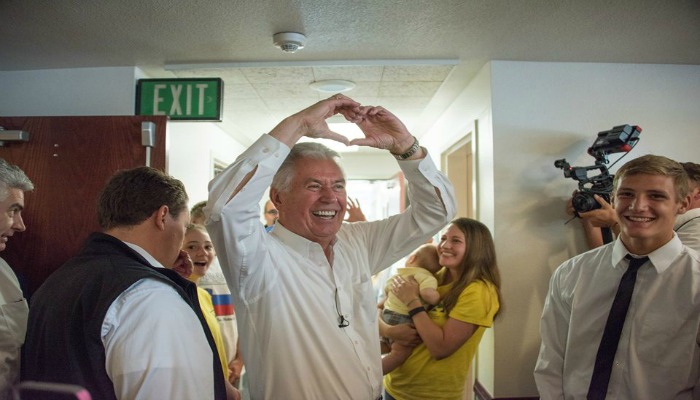 As Hurricane Harvey's flood waters receded, thousands of Latter-day Saints throughout the greater Houston area mobilized in a variety of ways, showing in their words and actions the hope the Gospel gives in times of trial.
When Through the Deep Waters I Call Thee to Go
While most of the Siebert family rode out the flood at home, Brother Jim Siebert, a meteorologist for FOX26 News, spent most of Harvey at the news station relaying information to the public.
The Sieberts love to sing together. They've created a YouTube channel with their Sunday "hymnselfies."
Debbie Siebert shared their latest hymnselfie with the background:
Our family Sunday #hymnselfie with super special meaning. Earthly foundations will fall but faith will not. We've learned so much from people around us.  #HowFirmaFoundation #HoustonFlood #HurricaneHarvey #ShareGoodness #FaithStrongerThanFlood #MoreLoveThanWater #TexasStrong #Isaiah41:10 #Isaiah43:2-5
The Rivers of Sorrow Shall Not Thee O'erflow
The McShane family home in Katy, Texas, flooded last year during the 2016 Memorial Day flood. They mucked out the house, repaired the walls and floors, and kept on living. This year as Harvey's flood waters inundated their home again, Patricia McShane shared her hope and faith.
We are living upstairs in our home. Water covers the floors down stairs. Wood floors coming up. Baseboards pulling away from wall. Carpet squishy and wet. Garage has several inches of water. 2 cars flooded and possibly close to getting into 3rd. We have power still.

Watching news and thankful we are safe. Could be so much worse. We are exhausted and in shock.

But we know the Lord is in control. No matter what happens we will survive and we will get through this together! We will continue to pray and trust in our Heavenly Father.
The next afternoon, Patricia reported that "The 'fiancé' and his wonderful Dad have arrived on canoe and brought us supplies! I have a very, very, Happy daughter! (And they brought homemade bread!!!)"
For I Will Be With Thee, Thy Troubles to Bless
Morning news anchor Tracy Kennick shared that
Each of us was impacted by Hurricane Harvey in a different way. Our family lost almost everything we have inside our home and had a car flooded. Still, I feel incredibly grateful. We had so many friends and complete strangers come to our rescue and now we're well on our way to recovery.

I hope all of you who were affected are staying strong and finding a way to get the help you need and that those who didn't suffer as much will continue to share their resources and encouragement. Together we can, and we will overcome.
And Sanctify to Thee, and Sanctify to Thee
The Boyd family from Spring, Texas, lives near the Houston Temple. Robert Boyd's temple photography has brought light to the world for years. His pictures of the Houston Temple surrounded by flood water capture eternal majesty amid earthly troubles.
Eleah Boyd shared a poignant post about the sustaining nature of hope and prayers.
There really aren't adequate words for the feelings in my heart and soul. It's been over a week now. It's still so surreal. One thing that keeps coming to me over and over is that I must be willing to mourn with those who mourn, no matter when, no matter where, and no matter WHY. Comparing peoples losses or trials can be detrimental to HOPE and HEALING. Everyone needs to be heard and comforted.

I live among angels! I have had such incredible support from family, neighbors, and dear friends. Far and near the love keeps coming. Food, visits , phone calls and hugs!! I've been given strength beyond my own, and in turn I've been able to pass that love and support on to others even if just in small ways! Even just rescuing TURTLES. Thank you for your prayers! They are sustaining!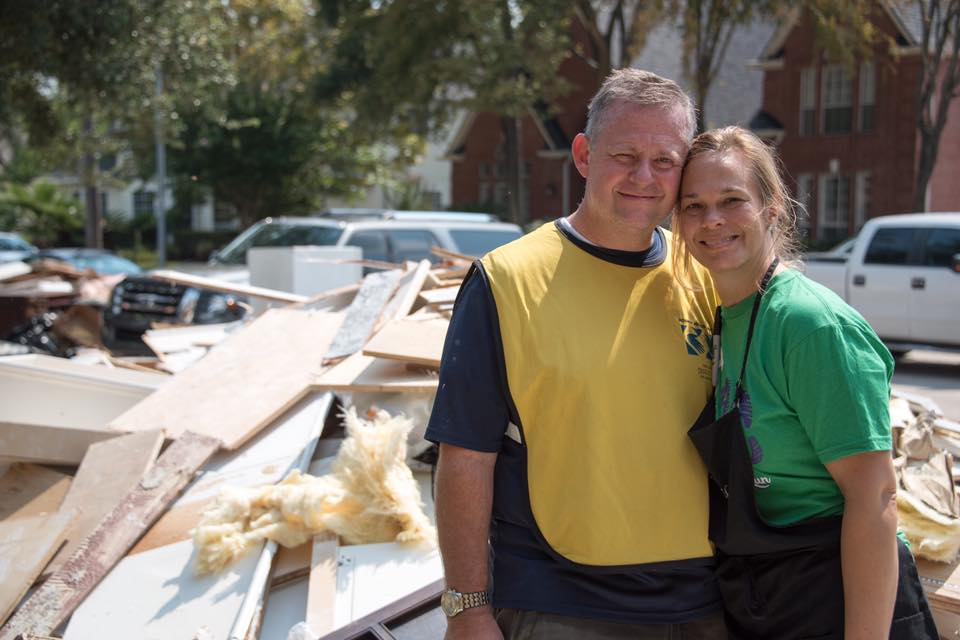 And Sanctify to Thee Thy Deepest Distress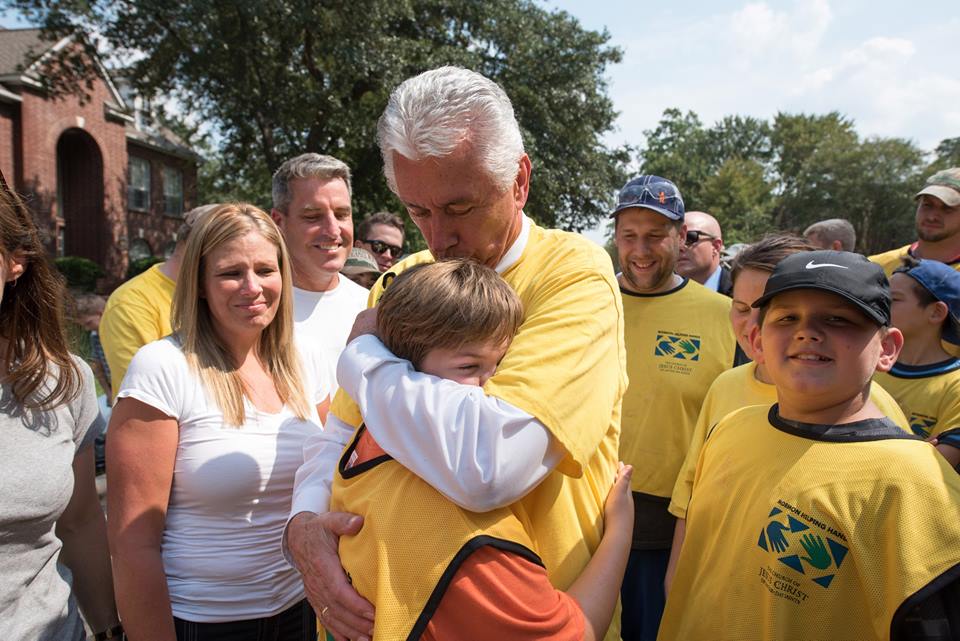 Brother Boyd accompanied President Uchtdorf, Bishop Caussé, and other leaders as they visited the Houston area.
It was an amazing day today! I was invited to accompany President Uchtdorf as a photographer, along with the news media, during his visit to Houston. So grateful to see the outpouring of love and support from our church leadership as they visited our friends and neighbors who have lost so much in Hurricane Harvey.

They stopped at our temple and met the temple presidency, and they discussed the welfare of the temple and it's patrons. We had a great Sacrament meeting, visited Command Central, and finished at the Red Cross headquarters. Bishop CaussÉ, and area authorities were in attendance. In the midst of our trials we are so blessed by a wonderful church and leadership!
A firm foundation brings hope during adversity. Hope enables peace and courage to override fear. The Lord promises to uphold His saints in every condition, and He does.
Fear not, I am with thee; oh, be not dismayed,

I'll strengthen thee, help thee, and cause thee to stand,

Upheld by my righteous, upheld by my righteous,

Upheld by my righteous, omnipotent hand.