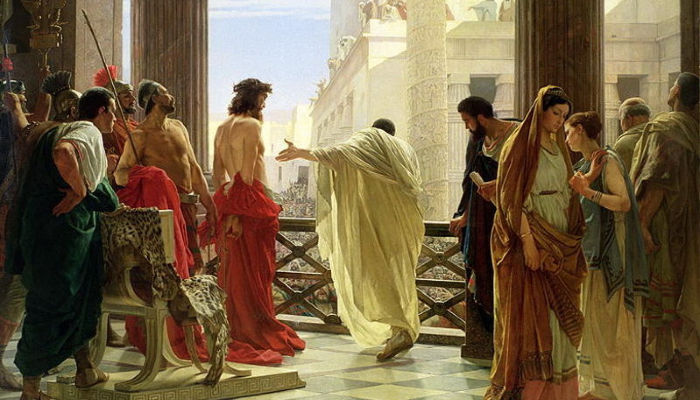 I was in an informal conversation about current world events with several people, some of whom were of Jewish ancestry. Tragically, recent years have seen an increase in terrorist acts targeting Jewish people and their synagogues. One person in our group mentioned the centuries-old excuse some people have given for persecuting the Jews – that "they killed the Christian Messiah."
Dictators and despots from the late Roman era to Hitler justified persecuting and killing Jews at least in part on that completely false claim. Satan has promulgated that lie, and the deaths of untold millions of innocent Jewish men, women, and children has been the result.
A shallow reading of the New Testament may bring people to assume that Caiaphas the High Priest and members of the Sanhedrin were culpable. Pontius Pilate relented to their demands and, after washing his hands symbolically, nevertheless gave the order to crucify. Roman soldiers carried out the crucifixion.
But that small snapshot of history does not even come close to giving the true picture of who caused Jesus Christ to die. In this discussion with these people, I felt I should speak up to dispel false notions that the Jewish people are in any way to be blamed for the crucifixion of Christ, either then, now, or ever.
I stated that anyone who claims to be a Christian should at least be basically familiar with the premise of what Jesus of Nazareth taught about His mission, the central point of His doctrine. Any who blame the Jews know nothing of core Christianity.
He made a clear statement in John 10:15 "I lay down my life for the sheep." Then He gives more detail in verses 17-18 "Therefore doth my Father love me, because I lay down my life, that I might take it again. No man taketh it from me, but I lay it down of myself. I have power to lay it down, and I have power to take it again. This commandment have I received of my Father."
He couldn't be taken by force. No one, no mighty army could have taken Christ and put Him to death. Jesus Christ was more powerful than they all, so He could have prevented them from perpetrating lethal force against him. He also had power over death itself, as stated in John 5:26 "For as the Father hath life in himself; so hath he given to the Son to have life in himself."
After His suffering in Gethsemane, soldiers led by Judas Iscariot arrested the Savior. Peter, seeking to defend this assault against Jesus, drew and swung his sword, cutting off the ear of Malchus, a servant of the High Priest. The Savior immediately healed Malchus and told Peter to put up his sword, declaring "the cup which my Father hath given me, shall I not drink it?" (John 18:10-11)
In that discussion group, after reviewing these words the Savior recorded in John chapter 10, it occurred to me that there are, in fact, people who caused Jesus Christ to die.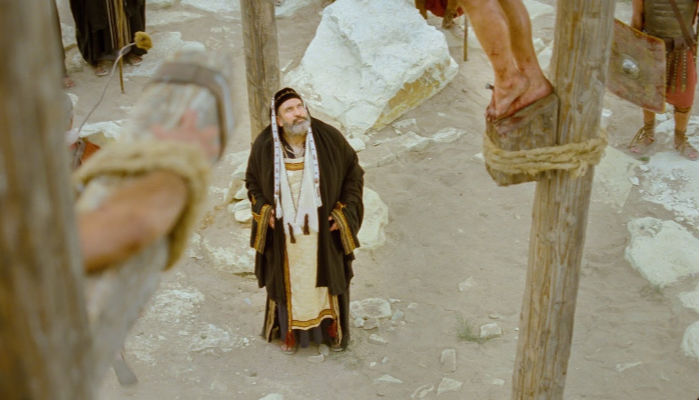 So I told the group that I knew who was actually responsible for His suffering and death. I asked if any of them knew the names of those responsible. Blank looks. So I raised my hand high. "I am responsible. He died because I needed what only He could give me by laying down His life for me. No one else could provide the results to me that His suffering and death provided. No one." Some of them then raised their hands, with mine.
Now, the Prophet Joseph Smith said "No one need suppose me guilty of any great or malignant sins. A disposition to commit such was never in my nature" (Joseph Smith–History verse 28). I relate with that because neither is it in my nature. But, however well I walk the covenant path, I'm still far from perfect. Absent the Savior's Atonement and resurrection for me, I would remain outside the Celestial Kingdom just as will the vilest of sinners. So all my efforts will not save me. The Apostle Paul said "For all have sinned, and come short of the glory of God" (Romans 3:23).
Each one of us is the cause of Jesus Christ suffering and dying. We need what only He could give, by suffering and dying. To me, this is a most solemn thing to contemplate. Reading in John chapter 10 makes it clear that He willingly gave His life for me, for all of us.
Knowing that, I want to receive His great gift to me, and not dismiss it in the least. Doctrine and Covenants 88:33 states: "For what doth it profit a man if a gift is bestowed upon him, and he receive not the gift? Behold, he rejoices not in that which is given unto him, neither rejoices in him who is the giver of the gift."
The prophet Abinadi sealed his testimony with his blood, and his last words (Mosiah 16:13) were "ought ye not to tremble and repent of your sins, and remember that only in and through Christ ye can be saved?"
Nephi stated "Wherefore, how great the importance to make these things known unto the inhabitants of the earth, that they may know that there is no flesh that can dwell in the presence of God, save it be through the merits, and mercy, and grace of the Holy Messiah, who layeth down his life according to the flesh, and taketh it again by the power of the Spirit, that he may bring to pass the resurrection of the dead, being the first that should rise" (2 Nephi 2:8).
The Savior spoke with great clarity and charity in John chapter 10, including these joyful words: "I am come that they might have life, and that they might have it more abundantly." Life, resurrected life, that endures through eternity – even Eternal Life – is what the Savior declares in John chapter 10. It is a joy to read and ponder this.