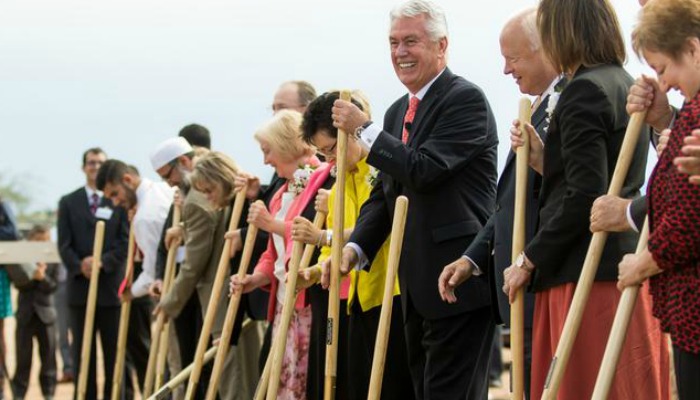 The Church of Jesus Christ of Latter-day Saints broke ground for the Tucson Arizona and Concepción Chile Temples on Saturday. 
Local meetinghouses in both locations broadcasted the groundbreaking ceremonies for the general public to view.
Mormon Newsroom reports that President Dieter F. Uchtdorf presided at the Tucson groundbreaking ceremony. The second counselor in the First Presidency spoke at the ceremony and said,
From the days of the Old Testament, the Lord has commanded His people to build temples — sacred structures where He could teach, guide and bless them. Temples of The Church of Jesus Christ [of Latter-day Saints] are sacred structures in which eternal questions are answered.
In his dedicatory prayer, Uchtdorf asked Heavenly Father to help members of the Church rededicate themselves to God's will and purpose. The Tuscon Temple will be the sixth temple in Arizona.
Elder Walter F. González, president of the Church's South America South Area, presided at the groundbreaking of the Concepción Chile Temple. Mormon Newsroom quotes González, saying, 
It is my desire that we ponder and look for things that we can do to quality, receive and be worthy of the benefits of a temple. It's a place of instruction where we receive knowledge and as we go there, we increase our knowledge and learn about our true purpose in life.
The Concepción temple will be the second temple in Chile. 
The Church will make an announcement with the Open House dates closer to the completion of these two new temples.