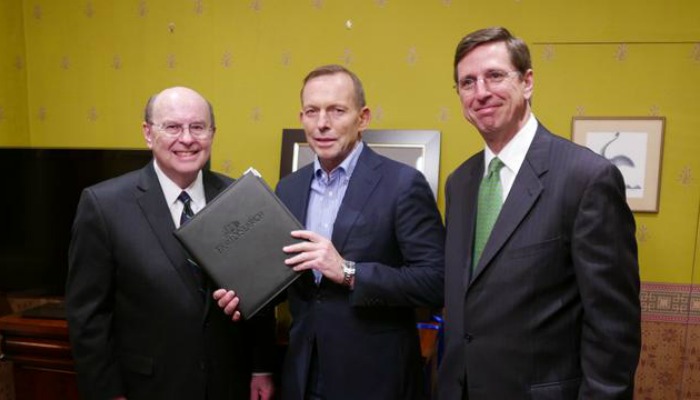 Australian Prime Minister Tony Abbott was presented with a framed family tree and three folders of research by The Church of Jesus Christ of Latter-day Saints on Friday, May 22, 2015.
Elder Quentin L. Cook of the Quorum of the Twelve Apostles and Elder Kevin W. Pearson, area president of the Pacific, were present to give Abbott his family history. Cook told Pacific Mormon Newsroom,
Prime Minister Abbott's history is rich with examples of faith, love of family, leadership and service. We were honoured to present Mr Abbott with his family history.
Abbot, who currently serves as Prime Minister, was a Rhodes Scholar, a lawyer, economist and feature writer for "The Australian" and "The Bulletin." He resides in Sydney with his wife Margaret and three daughters, Louise, Frances and Bridget.
Abbott's family history featured his great-grandparents, Earnest Richard Abbott and Ada Grace Yabsley, who were entertainers. His great-grandfather was an actor and theater manager and his great-grandmother was an author and actress. They both performed with a theater company throughout the British Isles.
The Church of Jesus Christ of Latter-day Saints has also presented personal histories to other world leaders including George W. Bush, Bill Clinton, Barack Obama, British prime minister David Cameron and New Zealand prime ministers Helen Clark and John Key.