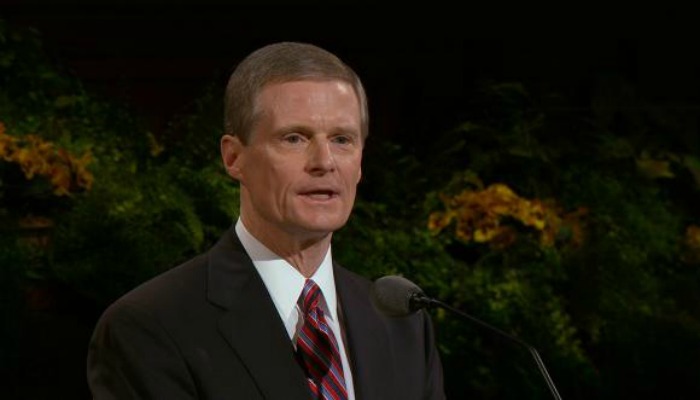 This article was originally written by Amanda Beal for the Idaho State Journal. The following is an excerpt. 
David A. Bednar, of The Church of Jesus Christ of Latter-day Saints, spoke Tuesday at a Devotional at Brigham Young University-Idaho, where he delivered an apostolic warning and promise.
Bednar, a member of the LDS Quorum of the Twelve Apostles, focused on the importance of repetition in learning, teaching and receiving spiritual revelation.
He explained in detail an account in Joseph Smith-History, a segment of LDS Scripture, in which Joseph Smith is visited four times by the angel Moroni. Bednar noted a pattern in the text: that the angel delivered the exact same core message, but added a personalized warning or instruction during each appearance.
Bednar said repetition in teaching is a hallmark for religious leaders and showed examples of this in his own life.
He said many members of the church hear repetition of topics or messages in Sunday meetings or General Conference and don't see the value in the repetition. But he encouraged appreciation for it.
Read the full article at idahostatejournal.com.