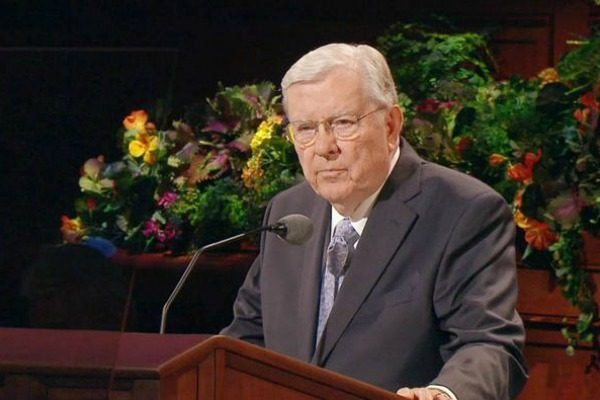 Elder M. Russell Ballard of the Quorum of the Twelve Apostles counseled in the Sunday afternoon session of General Conference on October 5 for members of the Church of Jesus Christ of Latter-day Saints to "stay in the boat" as he compared life's mortal journey to white-water rapids.
Earlier this week, #LeftBehind was trending on Google and other social media outlets following the October 3 release of "Left Behind," a movie about the Biblical rapture starring Nicolas Cage. The IMDb description for the movie reads, "A small group of survivors are left behind after millions of people suddenly vanish and the world is plunged into chaos and destruction."
Elder Ballard's Conference address, though, serves as a reminder that with the gospel none will be left behind. And for some members of the Church, the message of the address reminded them of the challenges they have faced as they left the boat and came back.
Watch a highlight video of Elder Ballard's General Conference address below.
Finding Strength through Fundamentals
Throughout her childhood, Victoria Stevens felt lost. Though she was born and raised in the Church, her family would go through "bursts of activities," which ultimately led to her feeling behind the rest of the youth. She said she felt as though her family lacked the fundamentals many of the general authorities spoke about in General Conference last weekend.
"My family didn't have Family Home Evening, we didn't talk about the gospel at all [and] we never did family scripture study, so I didn't think it was that important, [and] I didn't do any of that stuff on my own so I really didn't have the knowledge of the gospel [growing up]," she said. "By the time I was old enough to make the decision to go to church, everybody had already read the Book of Mormon and had this really strong testimony that I didn't have… It was really difficult trying to establish my testimony again."

Just two months ago, Sister Stevens started college at Washington State University and made the decision to start fresh in the gospel by attending the Pullman YSA 1st Ward of the Moscow Idaho University Stake.
[In my ward], I was already new. Nobody knew my shaky past until I told them. And I promised [Heavenly Father] that I would continue to go to church. 
Sister Stevens said that in the two months since she has been back in the Church, she has noticed a profound difference in her life and could not imagine going through college without the gospel.
"I've already relied on the Church so much. It has been such a blessing," she said. "I've definitely noticed a change in my mood [and] how I'm looking at things. When I was inactive… any mistake I made, I assumed I wasn't good enough to fix that mistake… But then as I started coming to church and reading the scriptures and praying day and night, I've definitely noticed a change."
As Sister Stevens listened to Elder Ballard's Conference address on Sunday—her first time ever listening the General Conference—she said she was particularly struck when he spoke of calm waters.
"It was a big reminder because when I was 16 and was [starting] to become active in the Church again, my life did start getting a little better, and I was thinking that it was my doing," she recalled. "Then I fell away from the Church again and then things got bad. I've had stormy waters and calm waters. When I fell away in the calm waters, things got really rocky again."
She wants everyone to know, though, that there is hope and they too can get back on the boat.
It takes time. I didn't realize how long it takes to develop a testimony and that it takes work. It doesn't just come naturally. Don't give up. Hang in there. 
Turning Points
Like Sister Stevens, Kory Luczak was born into the Church. But, he said, he didn't try too hard in the gospel as he grew up. He recalled attending church with "the crazier kids" and climbing out of the windows of the church building to skip out on the meetings and classes.
When he was 16, he moved from Wyoming to Utah for a summer job and experienced a "turning point" in his church activity.
I had no parental accountability and I was not reading the scriptures or doing the routine stuff.  I stopped going to church. 
Throughout this time, he said he knew church was a good thing, but had no desire to go. However, he still felt a connection with God and "felt and respected the prophet and apostles."
"Those men were special," he said. "I knew there was something different about them."
He knew that the prophet and apostles were like "the experienced river guides" that Elder Ballard spoke of during his conference address, helping "us arrive safely to our final destination."
Brother Luczak experienced another turning point a few years later when he met a few people who had just come home from their missions.
These friends were a good influence on me, and I started going to a singles ward. Even though it was for social reasons, being around that atmosphere allowed me to feel the Spirit. 
At 21, Brother Luczak started a snowboard company in Wyoming, which he felt was his purpose and "driving force." However, about a year into it, the business was robbed. Additionally, his business partner got married and was not spending as much time with the company.
I started asking questions and praying to God to know what he wanted for my future. It put me in a perfect position to humble myself.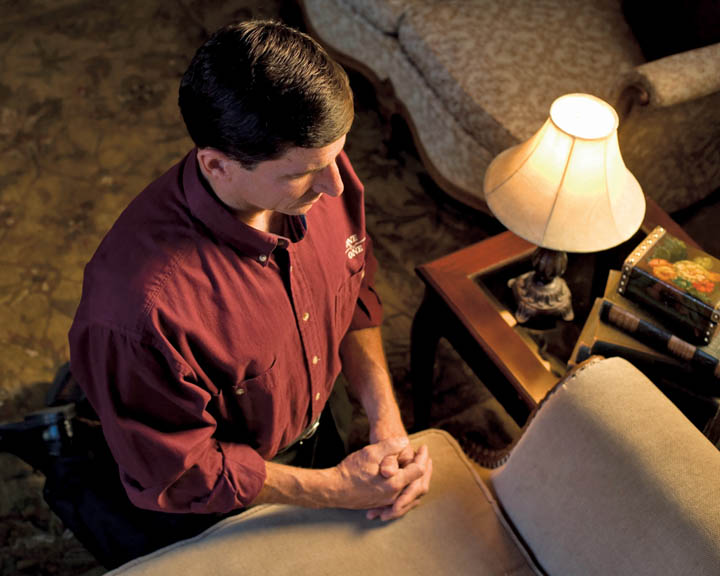 As he started to read the scriptures and pray more, he felt more direction in his life. Up to that point, Brother Luczak had thought that his snowboarding business and school were the right things to do, but that changed when a friend of his came to visit him in his shop just before he left on his mission. After his friend departed the store, leaving it empty, Brother Luczak prayed in the middle of the store and received "this strong impression" to serve a full-time mission.
"When I told my parents, they were completely shocked," he said.
Brother Luczak served from 2011-2013 in the Washington Spokane Mission, even serving as the Assistant to the President, and was able to use his experiences of coming back to the Church to reach others.
"I could relate with people in certain ways because I had been at a point in my life when I wouldn't endorse missionary work," he said. "I had two different perspectives. I could relate with people who didn't understand it."
Being an older missionary in the field, he was also able to help many of the younger missionaries, some of whom looked up to him as an older brother.
Brother Luczak said one of the "biggest key factors" in him coming back was "friends who were really good examples and were not pressuring."
I don't know that I felt left behind. I think at one point, it was almost like, not that I wanted to be left behind, but that I was okay with where I was. I thought I was great. 
He said he thinks that if his friends had been more pressuring, he would have resisted their efforts and doesn't know where he would be today. He would also like others to know not to give up on people and that they need to be "actively engaged in trying to help those who need help."
Experiencing the Healing Power of the Atonement
Heidi Treasure found her way back to the Church after a deep experience with repentance and the Atonement of Jesus Christ.
"To get back into the Church, I had to go through the full Atonement and repentance process," said Sister Treasure. "It's been a long road, but it's been an excellent one."
Sister Treasure returned to the Church two years ago, but she faced a tough road as she recovered from her addiction to alcohol and found herself homeless in the mountains of Colorado after her husband left her. Eventually, she prayed.
To make a change, you need to constantly be on your knees. I was completely alone, but I wasn't. I had somebody stronger than ever, and that was my Heavenly Father. 
Quoting President Brigham Young, Elder Ballard said in his address, "We are on the old ship Zion. … [God] is at the helm and will stay there. … He will guide us right."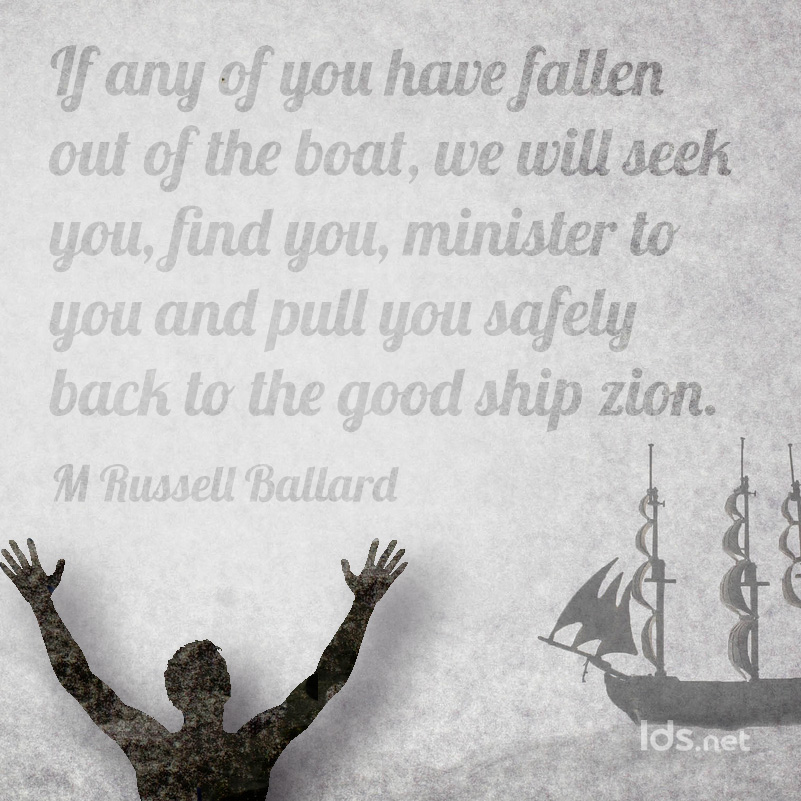 It was through prayer and the feeling of a "warm blanket around" her that Sister Treasure was able to find her way back to the boat.
[Heavenly Father] is like a best friend, standing right there, wanting to listen to us. 
Through her process of praying and coming back to the boat, Sister Treasure not only helped herself, but she was able to help other homeless people around her.
"I was able to teach other homeless people how to pray. We were really helping each other."
Today, Sister Treasure is back with her husband and said, "life is so much easier" with the gospel. She said she wakes up every morning and asks, "How can I make God happy today?"
She recently moved from Utah to Big Sky, Montana with her husband to open a grocery store. They are members of the Bozeman Montana Stake, Big Sky Branch—a branch of only 12 people, including the bishopric. She is preparing to give her first ever talk in church this weekend and is excited to be a part of the growth of the tiny branch and small town.
I've got a lot of work to do. Who would have thought I would want to be doing missionary work? It'll be exciting to watch it grow and see if we can make a difference. 
Echoing Elder Ballard when he said, "And if any one of you have fallen out of the boat, we will seek you, find you, minister to you, and pull you safely back onto the Old Ship Zion, …" Sister Treasure wants those struggling with their testimonies and place in the Church to know, "Everybody's a missing piece of the puzzle, and you're missed."