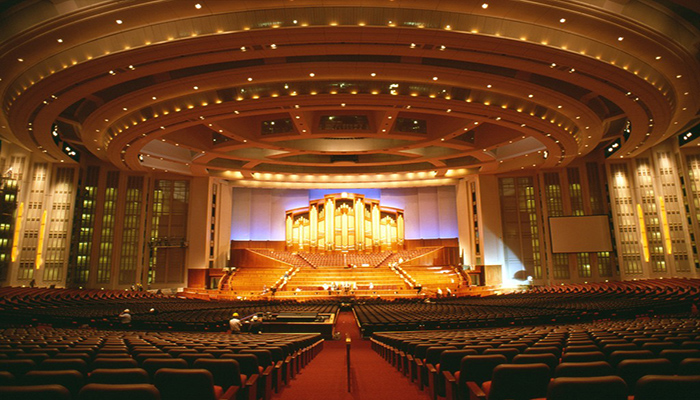 It is October and that means it is time again for the semiannual general conference of The Church of Jesus Christ of Latter-day Saints.
Many Church members will be traveling to Salt Lake City, Utah, to attend general conference in person at the Conference Center. For many, this may be the first time attending in person, or perhaps it has been a number of years since they've attended.
If you are going to Utah, you may want some help in attaining tickets to the event, knowing how to find your way around the Conference Center and Temple Square, finding a place to stay, or even locating restaurants to eat at.
Perhaps you are a new member of the Church who has never watched conference before, or you are just a longtime member looking for a new easier way to view conference. How do you go about getting access to conference broadcasts, channels, audio, or streaming?
This article is here to help all members of the Church and other interested parties get the best experience possible from this upcoming semiannual general conference. In this article, you will find your complete guide to: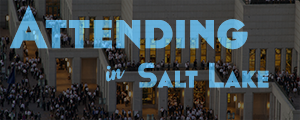 Attending conference at the Conference Center: Including getting tickets, travel routes, places to stay, places to eat, and getting around at the Conference Center.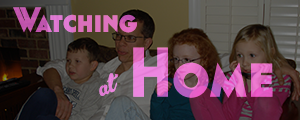 Including finding a Church building with a broadcast, finding online broadcasts, and finding TV or radio stations airing conference.
How to get the most from your conference experience, including prayerful preparation, listening and taking notes, and helping children and teens enjoy Conference.

Attending conference in person at the Salt Lake Conference Center can be a rich and rewarding experience for many members of The Church of Jesus Christ of Latter-day Saints. Many Church members will make the trip to Salt Lake City on a yearly basis. But if you haven't been to general conference in person, or are simply looking for a little help in planning your trip, here are some tips for:
Getting Tickets:
There are a two main ways you can acquire tickets to one of the sessions of general conference: getting tickets from your stake president/church leaders, or standing outside the Conference Center and asking for tickets.
1. Getting Tickets from your Stake President/Church Leaders:
Each stake president within the Church is given an allotment of tickets to distribute to stake leaders, ward leaders, and the stake membership. Stake council members, patriarchs, bishops, and other leadership get first priority for the tickets. However, there are often tickets left over that are distributed among other members.
Each stake handles ticket distribution in a different way. In  some stakes you can simply ask your stake president and he can provide the tickets. Other stakes have an application process through e-mail, phone, or even text. Find out what method your stake uses by asking your Church leadership.
Keep in mind, the stake president only has a select number of tickets, so acquiring one may prove difficult. Sometimes you can ask other leaders or members in your ward who might have extra tickets or won't be using the ones that the stake president already gave them.
2. Getting Tickets at the Conference Center or on Temple Square
If you still want to attend General Conference but were unable to acquire tickets from your stake, there is always a chance to get tickets at the Conference Center or on Temple Square.
Stand in the Stand-By Line:

There is an official stand-by line that is formed at the north gate of Temple Square prior to each session of General Conference. Stand-by tickets are given out on a first-come, first-served basis.
Stand in Temple Square and Ask for Tickets: Other Church members at conference will often have extra tickets to hand out and all you need to do is ask. Entire Church branches have gone out and sung hymns on Temple Square while holding signs indicating how many tickets they needed.
Stand next to the Conference Center: You can also stand in designated areas—anywhere you won't block the flow of pedestrian traffic—closer to the Conference Center where more attendees will pass. This way you might get tickets from those who have extras.

Get Tickets from the Ticket Office if you are from outside the U.S. and Canada:

 The Church holds a number of tickets for members of the Church who come from outside the United States and Canada. All that is needed is a passport showing your country of origin and you can get one ticket for each day of Conference.
3. What to do if you can't get tickets on Temple Square
There is always the chance that you won't get tickets to the sessions you stand outside for. This doesn't mean you miss out on the conference experience. There are still many ways to enjoy conference just by staying on Temple Square.
Watch at the Tabernacle: Sometimes there is extra room in the Tabernacle on Temple Square. It is a fun experience to sit in such a historic building and watch conference.
Watch at the Joseph Smith Memorial Building Chapel: The Joseph Smith Memorial Building, just outside of Temple Square, also screens general conference in the chapel.
Sit on the grass and listen: If the weather is nice you can sit anywhere on the Temple Square grounds and listen to conference as it is broadcast over loudspeakers.
See Church films at the Joseph Smith Memorial Building: The Church has created many feature-length movies. These are shown in the auditorium of the Joseph Smith Memorial Building. They don't screen during the sessions of conference, but the rest of the day, including in between sessions, you can go see one of these uplifting spiritual films.

Temple Square Activities:

There are a number of free activities on Temple Square including a visitors center, the Church history museum, historic buildings and sites, libraries, and more.
Picking Travel Routes:
Whether you live in Utah proper or are traveling from another part of the country or world, plans for attending and traveling to general conference can get pretty hectic. Finding the right route to drive to Utah—or even finding plane tickets—is hard work.
1. Traveling from Outside Utah
A large flow of the LDS population that travels to general conference comes from the surrounding areas of the United States—Nevada, Arizona, Colorado, Wyoming, and Idaho. Generally the best routes when driving from out of state include taking the Interstate highways.
Driving from the North

: Coming from the north through Idaho, the best routes include I-84 through Boise and I-15 through Idaho Falls and Pocatello. If you're coming from the north through Wyoming, I-80 is the best route.

Driving from the West

: If you're coming west from Colorado, you can go up through Wyoming on I-80 or take I-70 through the Rocky Mountains and then go north on I-15.
Driving from the South: I-15 is also the best route when coming up from Arizona through Las Vegas.
Driving from the East: And finally, I-80 is the best route coming from the east through Elko and northern Nevada.
Flying into Salt Lake: From further areas and locations it may be best to fly into the Salt Lake airport and then drive into Salt Lake via W. North Temple or on I-80. There are many options for renting a car while on a conference trip. Taking a bus, train, or shuttle into Salt Lake are also feasible options.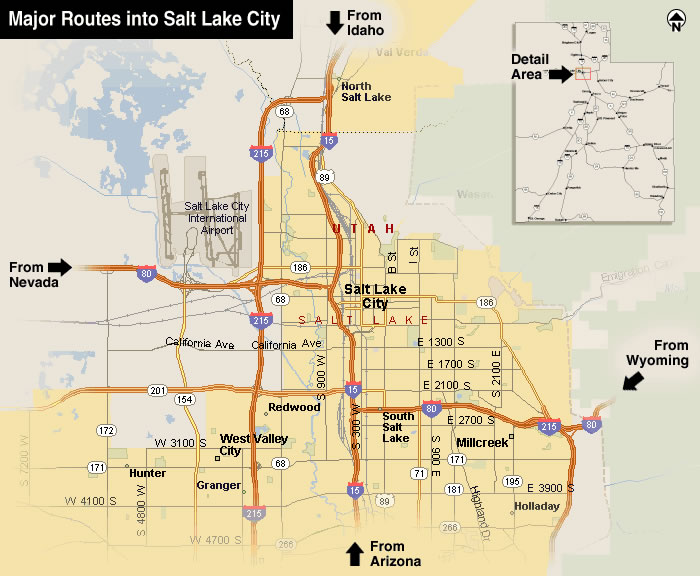 2. Traveling from Within Utah and Parking
Many members of the Church within Utah also commute to the Salt Lake area for general conference. Throughout most of Utah, whether you're traveling from northern Utah or southern Utah, the best route is I-15. It intersects directly into the center of Salt Lake City, making it fairly easy to get to the Conference Center and Temple Square.
If you are driving down to the Conference Center, you will also need to worry about parking in the downtown area.
Permit Parking: Often times if you received tickets from your local stake you will also be given a parking pass. The Conference Center has a large parking garage and other accommodations for those with a pass.
Church Parking: For those without a parking pass the Conference Center parking lot is off limits to public parking. Other nearby parking is available at Church-owned buildings, but will often cost money. So be prepared with cash when you travel.
City Parking: The city provides public parking throughout downtown Salt Lake. Many of these lots may also require payment for use.
On Street Parking: There is limited on street parking available in the nearby neighborhood to the north of Temple Square. However, this area fills up quickly and often isn't a viable option.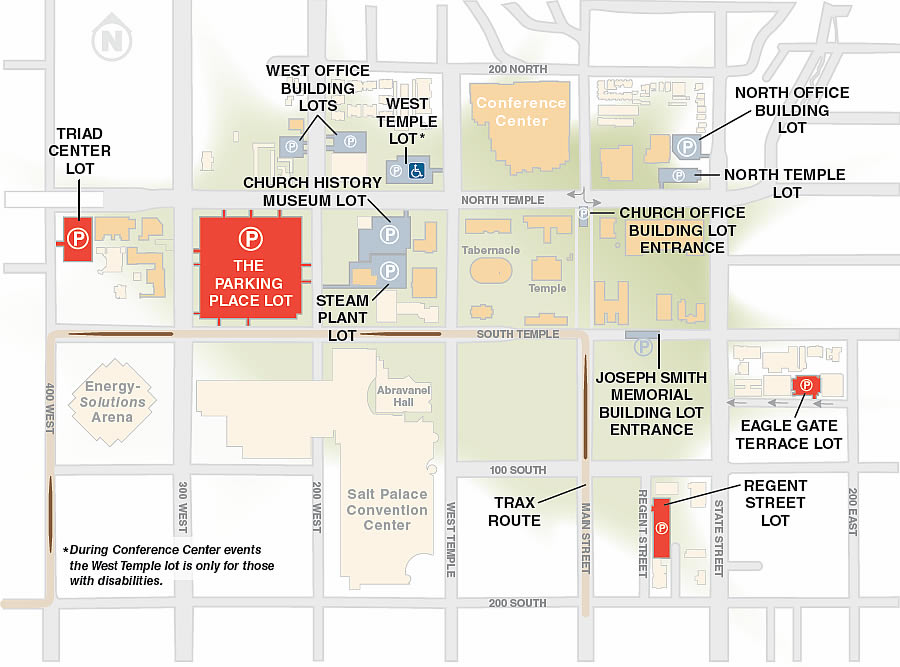 Picking a Place to Stay in Salt Lake:
There are many hotels and similar accommodations in downtown Salt Lake for your stay during general conference.
The closest hotel, which is within walking distance to the Conference Center, is the Radisson Hotel. However, rooms are often booked to capacity during general conference, so make reservations early. The Radisson can also be a little pricey when compared to other accommodations.
Other accommodations in close proximity to the Conference Center include:
Each of these is fairly close to the Conference Center. Other accommodations exist farther out from the Temple Square area as well. However, these areas do not have as easy access to Temple Square and the Conference Center as the others do. Sometimes these farther locations may be the only options available if the other accommodations fill up quickly.
If applicable, another frequently used and potentially easy option is to stay with family or friends who live in the Utah, Salt Lake area.

Finding Public Transportation in Downtown Salt Lake:
Depending on how close your accommodations are to Temple Square, you will need to find transportation to and from Conference.
If you are not renting a car, or didn't drive your own, here are some good forms of Public Transportation.
Public UTA transportation

: The downtown Salt Lake public UTA transportation is free to ride in the downtown area right around the Conference Center. See the map below to see routes and pick up locations.
The City Bus:

The bus is another cheap option that is always running in many locations throughout Salt Lake. One of the most common routes, for instance, runs between Ogden and Salt Lake. But, you can find routes from any area in the city simply by consulting the extensive list of bus routes on the UTA website.

The Inner City Train:

The inner city train—also known as the Trax—may not have as many routes and locations but can be a great form of public transportation to utilize. The Trax runs all the way from Pleasant View to Provo. You can get a complete list of the routes and train stations—including stations with parking available—on the UTA wesbite.
These are all viable options for transportation within the Utah area. However, the train and bus routes will often change to accommodate general conference. All route and stop updates will be listed on the UTA Facebook page. Make sure to check that before planning your routes for the day.

Avoiding Protesters:
When walking around Temple Square and downtown Salt Lake during conference, you will often run into protesters and preachers from other denominations.
By law they are allowed to stand on sidewalks and preach, so long as they are not obstructing pedestrian traffic. They tend to congregate at main crossing areas such as Temple Square gates and city intersections. See the map below to see what areas have the heaviest amount of protesters.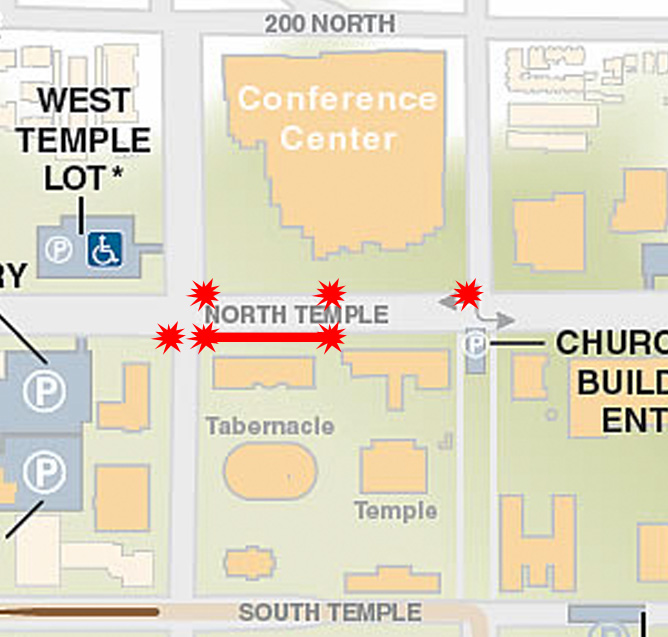 There is no real concrete way to avoid conference protesters, so instead it is best to simply be polite as you pass and then keep walking. If one approaches you individually, it is best to politely decline discussion. The Church asks members not to engage them in debate or argument, as it only detracts from the spirit of conference.

Picking Places to Eat in Salt Lake:
If you are planning on staying in the downtown area for both sessions on Saturday, you may want to find somewhere to eat while you wait for the next session.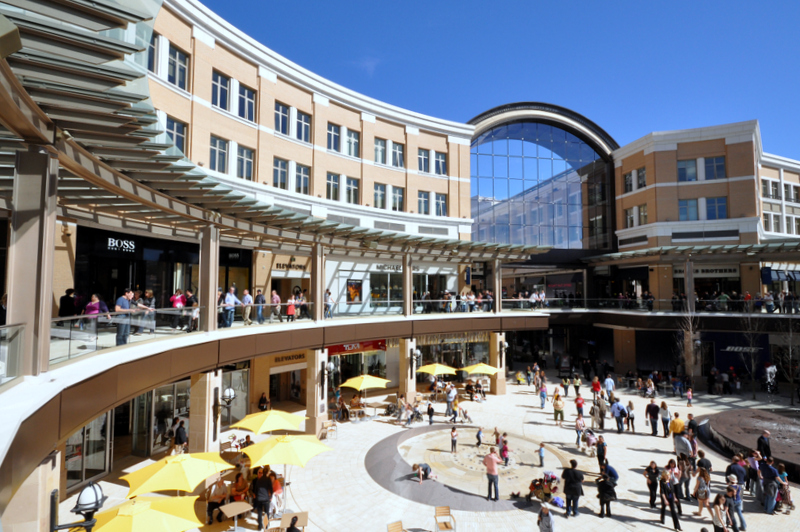 Downtown Salt Lake, specifically near the Conference Center, has some great options for choosing a place to eat out.
Many of these options are closed on Sunday, and therefore conference attendees will need to plan accordingly.
Many families will pack a picnic lunch and then, between sessions of conference, sit on the grass at Temple Square and enjoy their meal. If the weather permits, this is a leisurely and inexpensive option.

Thanks to the blessings of telecommunication and the internet, Saints all over the globe now have the chance to view general conference in their own homes or at a local church. With the use of modern technology, you can stream conference over the TV, the computer, or any other internet-capable device.
However, finding the right option for you and your family can sometimes be tricky.
In this section you can find tips for:
Where to Watch Conference Online:
Streaming general conference live over the internet is possibly the most popular way to watch conference. However, there are many different websites to view conference. Much of this depends on what device you have chosen to watch it on.
If you and your family are watching conference on a PC or Macintosh, you have the options of:
If you are streaming through a mobile device such as a phone or tablet, many of the above options will work. There is also an app for the Latter-day Saints Channel on mobile devices for direct streaming.
Lastly, if you have a Roku Box connected to your TV, you can link to the Roku compatible version of the Latter-day Saints Channel and stream directly to your television.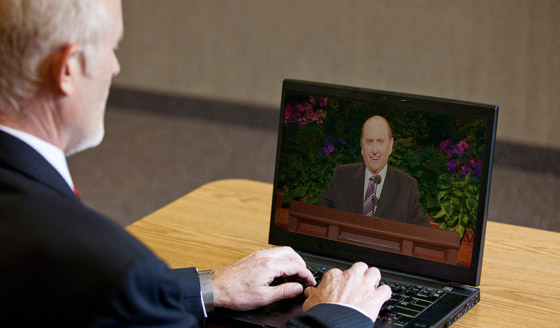 How to find a TV Channel or Radio Station Airing Conference:
Sometimes, if you aren't as tech savvy, you can find general conference on a television channel or radio station. Bonneville Communication, the Church-owned company that films and streams general conference, has a complete and comprehensive database of all television channels and radio stations that will be airing general conference.
On the Bonneville Distribution website, you will find a box in the lower left corner of the webpage labeled "Finding General Conference." By clicking one of the options within this box (after you click "Continue"), you can search for television channels and radio stations within your area simply by selecting the state name.
When searching a state you will bring up a list of channels. For instance, searching within Utah you can find the results outlined below:
SALT LAKE and LOGAN:

Comcast of Salt Lake City: Channel 21

LOGAN:

 KCVB-TV: Channel 26
MANTI: KMTI-TV: Channel 32.1 or 12.1
Additionally, you can search for radio stations within any designated area. The stations for Utah are listed below:
CEDAR CITY: KSUB-AM/KSSD-FM: Channel 590 AM
LOGAN: KVNU-AM: Channel 610 AM and 102.1 FM
MANTI: KMTI-AM/KMGR-FM: Channel 650 AM/95.9 FM/102.7 FM
MOAB: KCPX-AM: Channel 1490 AM
OREM: KSRR-AM/KQMB-FM: Channel 1400 AM/96.7 FM
RICHFIELD: KSVC-AM/KMXD-FM 980 AM and 100.5 FM
SAINT GEORGE: KREC-FM: Channel 98.1
VERNAL: KVEL-AM: Channel 920 AM/104.5 FM
Where to Find a Chapel to Watch Conference:
Many Church members prefer going to a local chapel to watch general conference. Most areas will have at least one local chapel that will stream conference live. If you're living in an area without any options for watching conference via television or listening via radio, this may be a good option for you.
You can locate local chapels in your area through the Church's website. Oftentimes the stake center will be the selected chapel to stream conference, but make sure to ask a local bishop or stake president which of the locations will be streaming conference first. Not all locations stream conference.



Attending general conference is one of the finest blessings we have access to as members of the Church. We have been taught from a young age that the prophets speak the word of God. New revelation from on high is poured out to the Saints if we but have an open mind and heart.
But how do we best prepare to receive those revelations and blessings? In this section you will find tips for:
Preparing for Conference Through Study and Prayer:
One of the key methods for preparing for general conference is through personal study. Each day leading up to general conference, we can take time apart to study and ponder quietly what past prophets have spoken. The time spent in personal study is sacred and beneficial to our spiritual readiness for general conference.
Here are a few resources to study that can help us prepare:
Study Previous Conference Talks: One great resource to study is previous conference talks, either from the most recent conference or conferences past. Studying topics and themes from previous sessions can prepare us for what may come in the newest session of general conference. This type of study can help us know what topics we want to try to listen for. Previous conference talks also put us in the right spiritual mindset of the conference season.
Study Current Ensigns: Another good option is to study the current Ensigns. Oftentimes the themes and topics present in the articles found throughout the Ensign help us know what may come during general conference. The Ensign is also filled with real stories and experiences from other faithful Church members. This type of study can help us find what concerns we may want to seek help for in the upcoming general conference.
Read the Holy Scriptures: And most importantly, we can study the holy scriptures as we prepare for general conference. The scriptures are the direct word of God that was preserved for modern day. They are directed to us from God and the prophets of old. If there is one text that can help open our hearts and minds and put us in the spirit of conference, it is the scriptures.
Personal study and pondering would never be complete without including prayer. By speaking with our Lord and Father, we have a direct connection to heaven. Here are a few tips for prayerful study leading up to conference:
Begin Study With Prayer: We can begin our study sessions with a prayer to ask for guidance and to seek for answers. By seeking the Lord's aid before we begin, we can better prepare our specific questions for general conference.
Keep a Prayer in Our Hearts While We Study: During our studies, we can keep a prayer in our minds and hearts to help guide us. By doing this, we can gain help in understanding the Lord's will through the words on the page and the thoughts created in our mind. There are times where I've even stopped in the middle of study to kneel and pray. During the study session, I prayerfully prepare my list of potential questions and desires for general conference.
Finish Study With Prayer: When we finish our studies, then we can fall to our knees in prayer once again to humbly seek guidance from the Lord. We can ask Him to help us find answers to the questions we prepared for conference.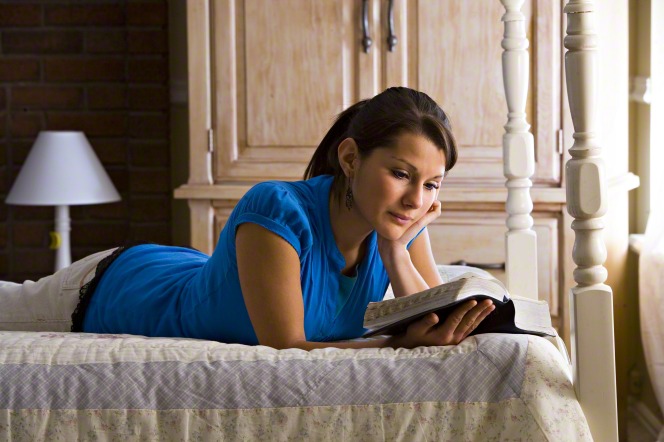 Being in the Right Spiritual Mindset for Conference:
In some part, attending conference, even from our homes, is similar to entering the celestial room of the temple.
We are listening to God's words and revelations directly from the mouth of His prophet. We should prepare ourselves to be in the spiritual mindset, similar to the temple, on the day of conference.
Here are some things we can do even if we won't be in the Conference Center for conference:
1. Listening Intently and Taking Notes:
Taking time to listen to all the words being spoken, including the words of the prayers and hymns, can help us to gain the most from our experience at conference.
Seeking to find answers to the questions we prepared includes listening intently to the words and the spirit they carry to our hearts. Even if a talk, a prayer, or a hymn isn't directly related to our questions, we may still find answers through the influence of the Holy Ghost.
Taking notes at conference has been a staple of conference attendance since I was a young child. My parents expected me to gain something from conference. Therefore, I took notes and wrote down my favorite quotes and stories to share with my family after conference ended. When something would strike me, I would take a note of it.
These notes helped me remember, even as a child, what things had touched me spiritually. Even doodling images that come to mind can help bring remembrance of the things learned.
2. Reviewing Notes and Talks:
Within the same day or weekend of the conference sessions, take some time to go over your notes. It is proven that, in a classroom setting, students will retain 50% more of what they learned by going over their notes within 24 hours. The same applies to the education of the gospel.
Taking time to review notes will help solidify the spiritual experiences you had during conference. Go through and make annotations about some of the ideas that really stood out to you. See what elements had the most impact.
After that you can try asking yourself questions concerning your conference experience:
What sort of answers did I receive to my questions?
In what form did those answers come? Through a talk, hymn, or prayer?
What other new things did I learn that were not related to my questions?
How does the information apply?
How can I use what I learned to help improve my life and spirituality?
Once the talks are available online and in print, take the time during your personal study each day to connect your notes back with the talks that affected you the most.
Your notes will act as your personal guide to studying conference. You can see where the notes—specifically the ones that touched you the most—came from. Reread those section of text and ponder their meaning.
You can also take time to go over other talks that perhaps you didn't take notes on or don't remember as well.
Take time to write down things you felt and experienced in your journal. Copy notes into your journal. Then you will be able to return and study those experiences later. Similarly, family members can read those experiences in the future.
3. Making goals:
Finally, see what ways your questions were answered and find ways to apply those answers to your life. After taking time to really study the revelations you received and reviewing notes and conference talks, you can begin to make applications to your own life.
Begin by making small goals to help you improve and move forward with your spiritual life. Share those goals with family and friends, if it is appropriate and applicable. They can help you apply those goals.
Writing goals down where you will see them will help remind you of the experiences you had during this conference season.

Helping Children and Teens Enjoy The Conference Experience: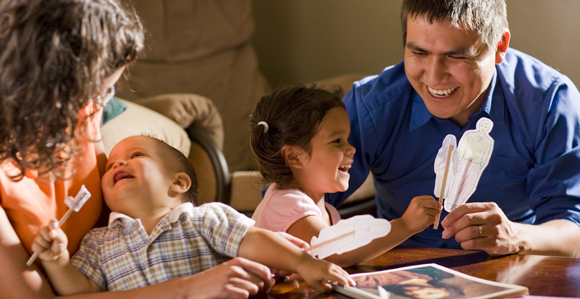 The Church of Jesus Christ of Latter-day Saints focuses heavily on the importance of the family. Therefore, in addition to our personal studies and preparation, we should also work together as a family to prepare for conference.
Including both children and teens in your preparations can help them feel more a part of the conference experience. Here are a few ideas to help include the whole family in preparing for conference:
Have a family meeting before general conference begins. Go around and ask each person what they hope to get from conference.
Ask the children what their favorite part about going to conference is.
Study previous conference talks, Ensign articles, and the scriptures as a family. Pray about the topics and themes the family may be seeking after.
Have everyone collaborate on some questions you can prepare and ask as a family. Is there something the family needs? Is there something another family in the ward or neighborhood needs? Thinking about these things can help everyone feel included.
Prepare activities that the children can do during conference to help them find answers and listen to the apostles.
Sometimes involving children and teens in conference may be difficult. The many long sessions of conference may bore them and cause them to lose interest. In many cases, this is okay and will inevitably happen. But that doesn't mean that they won't get anything from their conference experience.
Here are a few tips you can possibly use to help them be more a part of conference:
Getting in the right mindset, as described above, includes the entire family. Perhaps have a family prayer before the first session of conference. Invite the Spirit to attend you.
Some parents will let their children draw or play quiet games during conference. This is one good way to help the children. Giving the children games related to listening will help them be a part of conference with you. The Church even provides games related to conference to download and print for children.
Often the Friend and New Era magazines will have activates or ideas related to conference that children and teens can do while listening to the sessions.
Having them look for specific stories is great. For teenagers, let them take their own notes and have their own questions.
Most of all, set the example as parents and leaders.
It is always good to share the spiritual experiences we've had with others, especially our family. Helping children understand what we gained from the experience can also help them apply the teachings of the prophets in their own lives.
Here are some ideas to follow up conference:
Have a discussion after the final session of conference with your family. Go around the family and ask the children what they learned and what they remembered. Ask them what stories they enjoyed the most.
Have a family testimony meeting concerning conference. Each person can share a spiritual experience they had during the last two days.
If you had any, discuss the family questions. What answers did everyone receive? How does everyone feel the family could proceed with what everyone learned?
Make some family goals together. Find ways to invite the Spirit into the home more. Ask the kids and teens to make personal goals during their personal study. Ask them to share them with the family if they feel it is appropriate.
Sharing Your Conference Experience

During general conference, as well as during the following days and weeks after conference, the internet becomes alive with tweets, posts, and pins about the great and uplifting experience general conference is. We as members of the Lord's Church have the opportunity to share our favorite thoughts, quotes, and talks via our own personal social media.
Here are some tips for knowing what and how to share!
Share Your Testimony: Post a short testimony on your social media accounts. It doesn't have to be anything complicated. Just showing your gratitude and belief can be a real boost for fellow members and non-members alike.
Use Specified Hashtags: Using popular LDS hashtags on all your social media posts can help others find your posts more easily. Some of the most popular hashtags for conference posts include: #GeneralConference #LDS #JesusChrist #Christian #LDSConf #WomensMeeting #last6months #next6months.

Share Conference

Memes:

As soon as conference is happening, there are many news and social media sites who work hard to create inspirational memes based off the most memorable quotes and events from conference. These are often beautiful and eye catching and can make for a great spiritual post. Writing something like "This was my favorite part of Conference"  adds a personal touch. You can find memes such as this on the Third Hour Facebook page, the LDS General Conference Facebook page, the Deseret News Facebook page, and the official Church Facebook page.

Share Conference

Media:

Sharing media from conference can be very effective and spiritual. This includes videos, audio, gifs, and images from General Conference. You can find all kinds of videos and media all over the Internet including on the Church website, the Deseret News Page, and right here on Third Hour.
In Closing
There are many ways to make general conference a fulfilling and rewarding experience for you and your family. Another blessing of our lives is that everyone is different. Everyone has methods that help them out the most in garnering great spiritual fruits from conference. And the ones I have listed here may not work 100% for you.
What are some ways you prepare for attending conference? Are you planning on attending general conference at the Conference Center, or have you done so in the past? Do you know of good options for travel and accommodations not listed here? If so, please share with us in the comments section below!