The General Primary Presidency of the Mormon Church was released during the Saturday afternoon session of general conference, and a new presidency was called and sustained. The new presidency consists of Joy D. Jones, President; Jean B. Bingham, First Counselor; and Bonnie H. Cordon, Second Counselor.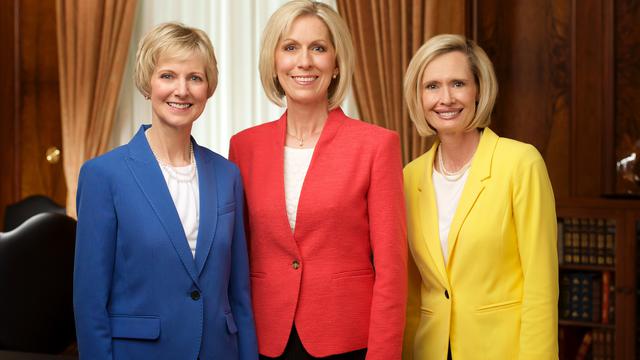 Joy D. Jones was born and raised in Oregon. She married Robert B. Jones, while attending BYU, where she received a degree in family living. They have five children and thirteen grandchildren. She loves spending time with family, in the temple, and outdoors. She has served as a Relief Society president and spent time in the Young Women and Primary organizations. She had been serving on the Primary General Board for nearly six years when she received this call as Primary President.
Jean B. Bingham, First Counselor, also served in the Primary General Board and was entering her sixth year of service in that capacity. She was born in Utah but grew up in Texas, Minnesota, and New Jersey. She met her husband, Bruce, a convert from Illinois, at BYU. They have two daughters and five grandchildren. Sister Bingham received a master's degree in teaching from National-Louis University. She has served in Primary, Young Women, and Relief Society and as an early-morning seminary teacher.
Bonnie H. Cordon was born in Idaho Falls, Idaho, and received a bachelor's degree in education from BYU. She was a full-time missionary in the Portugal Lisbon Mission from 1982 to 1983 and is fluent in Portuguese. She served with her husband, Derek, in the Brazil Curitiba Mission from 2010 to 2013 when he was the mission president. She has also served in the Young Women, Relief Society and Primary organizations of her local congregation. She and Derek have four children—three boys and one girl.
Eleven New General Authority Seventies Called
The First Presidency announced the calls of 11 new General Authority Seventies and 62 Area Seventies during conference. They will serve in the Presidency of the Seventy, in Area Presidencies, and in other headquarters administrative functions. Under the direction of the Quorum of the Twelve Apostles, they travel often to meet with and teach Church leaders, missionaries, and members of the Church in local congregations.
While General Authority Seventies can serve anywhere in the world they are called to serve, Area Seventies' service is limited to an assigned area.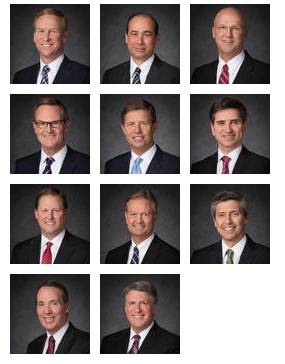 The new General Authority Seventies are Elder W. Mark Bassett, Elder Mark A. Bragg, Elder Weatherford T. Clayton, Elder Valeri V. Cordón, Elder Joaquin E. Costa, Elder Massimo De Feo, Elder Peter F. Meurs, Elder K. Brett Nattress, Elder S. Mark Palmer, Elder Gary B. Sabin, and Elder Evan A. Schmutz. They are a diverse group. Elders Bassett, Bragg, and Clayton were born in California. Elder Natress is from Idaho, and Elder Schmutz and Elder Sabin are Utahns. Elder Cordón was born in Guatemala; Elder Costa is from Argentina; Elder Feo is Italian; Elder Meurs is Australian, and Elder Palmer is from New Zealand.
New LDS Area Seventies
The new Area Seventies include P. David Agazzani, 47, Córdoba, Argentina; Quilmer A. Agüero, 52, Lima, Peru; René R. Alba, 65, Marietta, Georgia; Victorino A. Babida, 63, Manila, Philippines; Steven R. Bangerter, 54, Washington, Utah; Richard Baquiran, 46, Quezon City, Philippines; Dong Chol Beh, 54, Obin-Ri, South Korea; Michael V. Beheshti, 58, Little Rock, Arkansas; Matthieu Bennasar, 42, Paris, France; Hubermann Bien-Aimé, 49, Port-Au-Prince, Haiti; Kevin E. Calderwood, 55, Reston, Virginia; Luis J. Camey, 49, Boca del Monte, Guatemala; Matthew L. Carpenter, 56, Aurora, Colorado; Douglas B. Carter, 62, Eustis Florida; Aroldo B. Cavalcante, 45, Pernambuco, Brazil; Luis C. Chaverri, 42, Pococi, Costa Rica; Ulises Chávez, 45, Ciudad Juarez, México; Brent J. Christensen, 61, Salt Lake City, Utah; Douglas L. Dance, 59, Midway, Utah; Marc C. Davis, 50, Poway, California; Alessandro Dini Ciacci, 38, Rome, Italy; J. Scott Dorius, 64, Turlock, California; M. Dirk Driscoll, 61, American Falls, Idaho; Antonio F. Faúndez, 48, San Bernardo, Chile; Jose A. Fernández, 43, Tijuana, México; Matias D. Fernandez, 42, Santa Cruz, Argentina; Candido Fortuna, 47, Santo Domingo, Dominican Republic; Bruce E. Ghent, 58, Manhattan Beach, California; Michael A. Gillenwater, 57, Sellersburg, Indiana;  Daniel G. Hamilton, 58, Sydney, Australia; Mathias Held, 55, Chia, Colombia; Tom-Atle Herland, 52, Oslo, Norway; Raymond S. Heyman, 60, Chandler, Arizona; Christophe Kawaya, 55, Kananga, Democratic Republic of Congo; Todd S. Larkin, 57, Las Vegas, Nevada; Pedro X. Larreal, 39, México City, México; Juan J. Levrino, 46, Santa Fe, Argentina; Felix A. Martinez, 59, Madero, México; Kevin K. Miskin, 55, Yucaipa, California; Mark L. Pace, 59, Holladay, Utah; Ryan V. Pagaduan, 42, Quezon City, Philippines; A. Moroni Pérez, 46, Quetzaltenango, Guatemala; Carlos E. Perrotti, 53, São Paulo, Brazil; Mark P. Peteru, 57, Bidwill, Australia; Alan T. Phillips, 45, London, England; Thomas T. Priday, 61, Centennial, Colorado; Brian L. Rawson, 56, Wichita, Kansas; Rene Romay, 55, Jaltipan, México; Blake M. Roney, 58, Provo, Utah; Luis G. Ruiz, 47, Colonia Juarez, México; Maximo A. Saavedra Jr., 47, Cagayan de Oro City, Philippines; Pedro A. Sanhueza, 53, Santiago, Chile; Eric J. Schmutz, 56, Cedar City, Utah; Benjamin Tai, 43, Hong Kong, China; Heber D. Texeira, 38, Asuncion, Paraguay; Maxsimo C. Torres, 56, Portales, New México; Jesús Velez, 59, San Miguel de Allende, México; Carlos Villarreal, 55, Fair Oaks, Texas; Paul H. Watkins, 59, Cameron Park, California; C. Dale Willis Jr., 57, Mesa, Arizona; William B. Woahn, 59, Pleasant Grove, Utah; Luis G. Zapata, 49, Antofagasta, Chile.