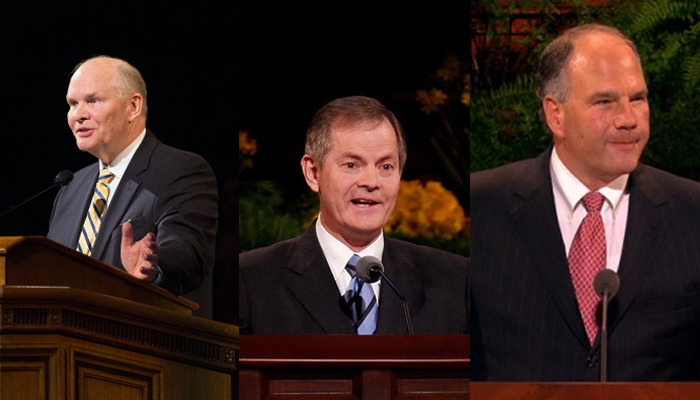 For the first time since 1906 three vacancies in the Quorum of Twelve Apostles have opened at once. Today all three of those vacancies were filled in the Saturday afternoon session of General Conference. President Dieter F. Uchtdorf announced the new apostles. Quorum members are called for life. They were sustained by those in the Conference Center.
Ronald A. Rasband
Ronald A. Rasband has served as Temple Square Missionary guide and was the one to dedicate the first chapel built in the Czech republic. Elder Rasband attended the University of Utah and received an honorary Doctorate of Business and Commerce from Utah Valley University in 1995.
He now has 22 grandchildren. Elder Rasband served a two year mission to The Eastern States Mission. He has served as a bishop, a member of the Church's Sesquicentennial Committee, and was once  the president of the New York New York North Mission.
Gary E. Stevenson
Bishop Gary E. Stevenson, previously serving as the Presiding Bishop, served a mission to Japan. Elder Stevenson holds a great love for the bishops of the church and looked up to his father greatly as a young man. He and his wife were married in the Idaho Falls, Idaho Temple. They have four sons.
Elder Stevenson has served as counselor in a stake presidency, a bishop, and the president of the Japan Nagoya Mission (2004–07)
He attended and obtained his degree from Utah State University where he met his wife.
Dale G. Renlund
Dale G. Renlund received his M.D. degree from the University of Utah, and trained at Johns Hopkins Hospital. He is married to Ruth Lybbert, and is the father of one daughter.
He has served in the First Quorum of the Seventy since 2009, and prior to his calling as an apostle served in the presidency of the Africa Southeast Area.