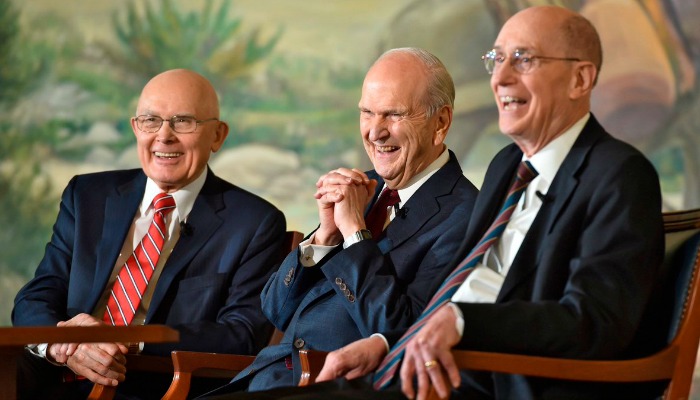 From the announcement of two-hour church, to the addition of twelve new temples, to the firm emphasis on no longer being known as "Mormons" but instead, "members of The Church of Jesus Christ of Latter-day Saints," this October's general conference was full of surprises. Here are fifteen of the best Twitter posts about this weekend!
1. Catching this gem of a man in the choir:
Someone's happy to be on the stand this morning #ldsconf #generalconference pic.twitter.com/5e0pxtsFay

— Spooky Fall-time Madelyn (@madelynove) October 7, 2018
2. President Nelson was not kidding about the name change!
My sorry butt getting called out on griping about the name correction right now. #GeneralConference #PresNelson pic.twitter.com/WWhYI8QBSr

— A. Whitney Rees (@AriWRees) October 7, 2018
3. President Eyring is the coolest.
President Eyring. So Gangsta. #GeneralConference pic.twitter.com/6U3nYR06Lw

— Jordan Pierson (@jnpierson1) October 6, 2018
4. Great way to support the new name change.
"Are you Mormon?"

"Nope, he died along time ago. Want to read his book?"#GeneralConference

— Hank R. Smith (@hankrsmith) October 7, 2018
5. I need to get me one of these!
Getting his #GeneralConference spiritual and physical excersice #FTW #ldsconf pic.twitter.com/tn00pqtpLY

— Gabe Villamizar (@gabevillamizar) October 7, 2018
6. Let's build ALL the temples!
Actual photo of President Nelson just now#ldsconf #generalconference pic.twitter.com/J4x5HxsDdw

— Ashley (@smaisley) October 7, 2018
7. I'm not sure this was exactly what President Nelson had in mind…
What did you call me??? #GeneralConference #LDSConf #ImNotMormon #ImAMemberoftheChurchofJesusChristofLatterDaySaints

Credit: Normon Memes pic.twitter.com/Jpggb5uGPx

— Julio Puentes (@JuliousPuentes) October 7, 2018
8. Elder Bednar's graphics were pretty impressive.
Six months ago

President Nelson: Yeah so, pretty big changes coming next conference, just a heads up that it might be kinda hard to get your talk to stand out

Elder Bednar: *signs up for a graphic design class*#GeneralConference #LdsConf

— Andrew S. Pumpkins ? (@R_ARich) October 6, 2018
9. Not gonna lie, Elder Gay's talk was pretty powerful.
me listening to elder gay#generalconference pic.twitter.com/lib3sRdj4J

— poetic kate (@poetickate) October 7, 2018
10. We love our German Shepherd!
My brother just sent me this and I'm CRYING??? #generalconference pic.twitter.com/OOQteBFUcq

— Shelby (@shelby_louisee_) October 7, 2018
11. Can't wait for two-hour church!
"These changes will be implemented in January 2019"#GeneralConference #2hourchurch #LDSConf pic.twitter.com/pUkj7f1Mkg

— Lil Momster (@cynicotton) October 6, 2018
12. A great reminder that all of these powerful men are called of God.
This quote from President David O. McKay is ? considering some of the talks given in #GeneralConference this weekend. pic.twitter.com/TqbJmwp4iF

— Jordan Gundersen (@jghundi) October 8, 2018
13. Gotta love general conference snack foods!
Eating all kinds of fruit and drinking tons of water today to fight off a cold. Its almost as if an entire weekend of eating nothing but cinnamon rolls and pumpkin pie was bad for me. #GeneralConference

— Stehly Barr (@StehFresh) October 9, 2018
14. God truly leads this church.
All there is are worldly arguments. This is not a man-made organization, it never will be man's ways. #GeneralConference

— Al Carraway (@22AlFox) October 7, 2018
15. Not gonna lie, those were some pretty sweet glasses!
U GUYS!! I KNEW HE WAS SUPERMAN. ❤️I CAN SEE PAST THOSE CLARK KENT GLASSES #ElderHolland #Generalconference pic.twitter.com/XY3nO01DOJ

— marlaBoo?pets (@marlamuppets) October 7, 2018
16. What we will be telling our grandchildren one day:
Back in my day .. we had church for 3 hrs!!! 3 hrs!!! Do you know what that was like?!?!!! #LDSconf #ldsconference #LDS pic.twitter.com/Hig137Mztq

— Douglas Fidler (@DouglasSFidler) October 6, 2018
17. We will neither confirm nor deny that we were doing this.
The staffs of LDS Living, Mormon Hub, LDS Daily, and Mormon Buzzz rn. #GeneralConference pic.twitter.com/VTnrHSGIu0

— A. Whitney Rees (@AriWRees) October 7, 2018
What were some of your favorite conference moments?