COVID-19 has impacted all of our lives in major ways this year. My schooling got moved online, my friends lost their jobs, and some of us haven't seen our loved ones in months. The Church of Jesus Christ of Latter-day Saints has been affected, too! Just a few weeks ago we did a road trip and visited many of the Church Historic Sites. It was an interesting time to visit these places. If you're curious, I have the inside scoop on what it's like to visit the Church's historic sites during COVID-19!
Related: Serving a Mission During COVID-19. What's it Like?
Joseph Smith Birthplace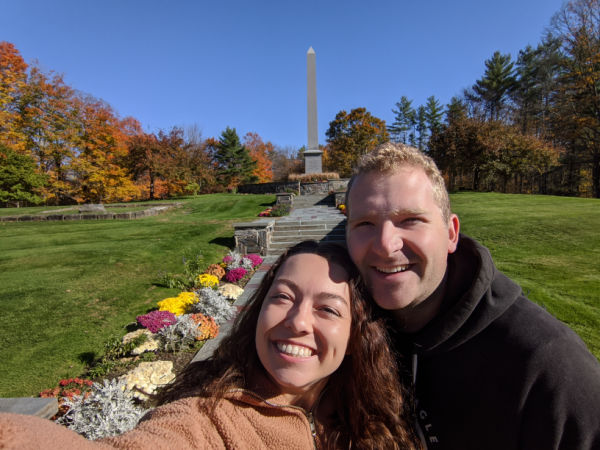 This is the spot where it all began! My husband and I actually served our missions near the Joseph Smith Birthplace memorial and got to visit it often. It's an incredibly peaceful historic site. Right now, the visitors' center is closed. However, the grounds are open! You can take a stroll around the huge obelisk and see the actual spot where Joseph Smith was born.
During the Christmas season, this place puts on a fantastic light display! You don't even have to get out of your car! It is truly magical and something you don't want to miss. When the weather is a bit nicer, there are some beautiful walking and hiking trails in the woods behind the memorial. There, you can see even more homes that belonged to more of Smith's family members.
Missionaries are offering free, virtual tours of the Joseph Smith Birthplace memorial. To schedule one, click here.
Sacred Grove
The Sacred Grove was one of my favorite spots on our trip. Even though the visitors' center is closed during COVID-19, the grounds are open for all to visit. There are informative signs along the way and the actual Sacred Grove itself is much bigger than I expected. We could have spent hours walking around in there! There are dozens of benches so that you can sit down and reflect, too.
While here, you'll also see the Joseph Smith Family Farm site. We couldn't tour the buildings, but we were able to peek through the windows and see pretty much everything! It was fun to wander by ourselves and talk about what events happened there.
To schedule a free, virtual tour with missionaries at these historic sites, click here!
Hill Cumorah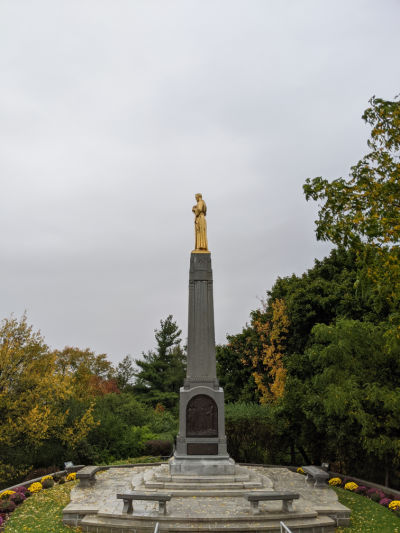 The Hill Cumorah was another fun one to visit (even during a worldwide pandemic). The visitors' center here was closed, but the grounds were open to the public. You can choose to hike or drive up to the top of the hill. We decided to hike and it was really beautiful! The view from the top is breathtaking and the Moroni monument was really cool to see.
There are benches at the top, so you can take as much time as you'd like. We had to make our trip short because of how windy it was at the top of the hill. Also, if you choose to hike, make sure to bring water. It's a short trip, but fairly steep. I had to take a couple of breaks!
You can visit this Historic Site virtually by clicking here!
Priesthood Restoration Site
This historical site is one of the lesser-known ones. However, we had a blast here! We went on a small nature walk that led us to the river. There, Joseph Smith and Oliver Cowdrey baptized each other and received the Aaronic Priesthood from John the Baptist. It was a beautiful spot! Also on the property of the Priesthood Restoration Site is the house in which Emma Smith grew up. She later lived there with her husband, Joseph Smith. He actually translated quite a bit of The Book of Mormon at this property!
Of course, the Priesthood Restoration Site visitors' center was closed. However, we were able to walk around the site and houses. We looked through the windows and could see almost everything. The grounds were beautiful and we had a lot of fun.
We actually got to talk to some senior missionaries here that were about to start a virtual tour. If you'd like to be part of one, click here.
Historic Kirtland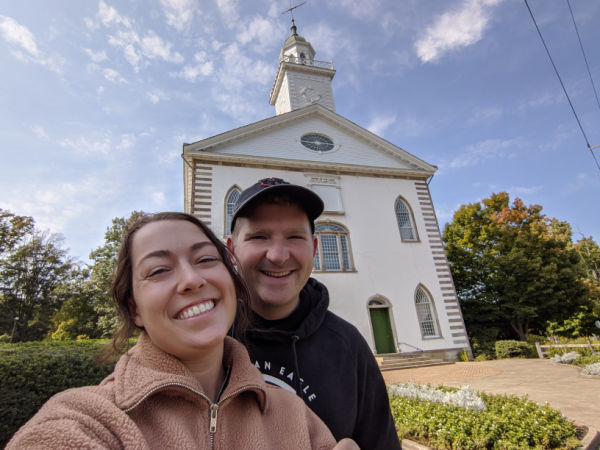 There are a lot of things to see in Kirtland, Ohio. This was the first Historic Site on our list that I would recommend waiting to visit until it's back up and running. There are fun activities you can do and multiple tours to take during your visit.
Because of COVID-19, we only spent about five minutes here. We got out of the car, snapped a picture of a couple of things, and went on our way. It was hard to find a lot to do without the fantastic missionaries able to help.
However, doing a virtual tour of Kirtland seems like a blast. You can schedule one by clicking here!
Independence, Missouri
Independence, Missouri, had a little bit more to offer, but not much due to COVID-19. The windows at the front of the visitors' center were big and we got to see the beautiful statue of Christ inside, though! I also loved that they had music playing outside as we walked around the grounds.
There was quite a bit to see as we walked around and we enjoyed ourselves. However, I really would have liked to get a tour and learn more about what I was seeing. It was hard to get a lot out of my experience here.
This is definitely a site for which I want to take advantage of the virtual tours happening right now. You can join me by clicking this link.
Liberty Jail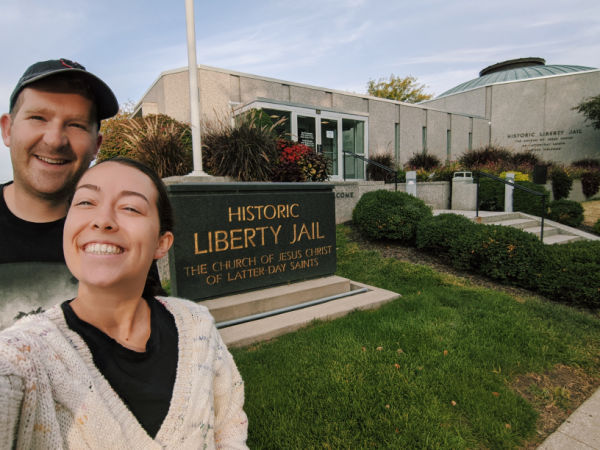 I have heard incredible things about Liberty Jail and what you can experience within the walls of the visitors' center there. It's a place I have always wanted to see and I can't wait to go back when it is open again. This Historic Site is on a relatively small plot of land and there is almost nothing to see outside.
We sat in the parking lot and discussed the events that happened there. I felt the Spirit, but I wouldn't tell you to make a long trip just to visit this spot during COVID-19. Instead, click here to take part in a virtual tour of Liberty Jail!
Historic Nauvoo
Nauvoo, Illinois, was a really neat stop on our trip. The temple was stunning, there was so much to see, and the Mississippi River was jaw-dropping. The Trail of Hope leads you down to the river and has signs along the path with pioneer quotes. I felt so much respect for the pioneers and my testimony was strengthened immensely. There are also a lot of memorials around the site that I loved.
I did feel like I was missing out on the many fun activities this place offers when it's up and running. We hope to get back there soon so that we can do it all! Overall, we liked visiting Nauvoo even with the COVID-19 craziness. It was peaceful and we were able to walk around and see quite a bit.
Just like the other Historic Sites, this one is offering virtual tours! Click here to take part.
Carthage Jail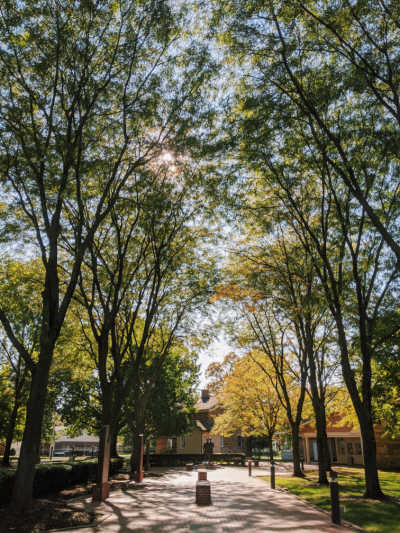 Even though there was almost nothing to do there due to COVID-19, Carthage Jail was one of my top spots on the trip. When you first arrive on the grounds, there are some signs to read as you walk along the pathway. We could immediately feel how special the place was. The buildings weren't open to the public, but we walked around outside for a while and really enjoyed our time there.
We looked through some of the windows but weren't able to see much. I'm really looking forward to joining one of the virtual tours for Carthage Jail so that I can see everything! If you'd like to do one, click here.
Related: 7 Fun Facts About the Joseph Smith Birthplace Memorial
Have you been to any of these Historic Sites? We would love to hear about your experiences in the comments below!