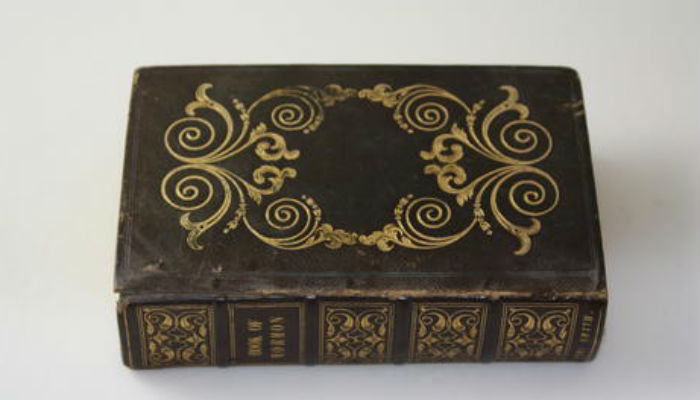 This article was written by Ryan Morgenegg for Deseret News. 
Lynn and Tanya Bascom, an LDS couple from Bountiful, Utah, went on vacation this past June, touring some of the nation's historical sites in the Boston, Massachusetts, area. At the home of John Quincy Adams, they found an 1841 copy of the Book of Mormon that originally belonged to someone very special in Church history — Emma Smith, wife of the Prophet Joseph Smith.
"We went back East for a wedding in Nantucket," said Lynn Bascom. "My wife was born in Cape Cod, and we love to visit the New England area." While they were there, Brother and Sister Bascom decided to visit some historical sites associated with the family of John Adams in Quincy, Massachusetts.
The final stop on the Adams historical sites tour is the Old House at Peacefield, the home of John Quincy Adams. "In his will, John Quincy Adams requested that his library of books be preserved in a fireproof structure," said Brother Bascom. "The library is actually a quaint little cottage that is a separate stone building [housing] more than 14,000 volumes. They put in sky lights so you can see the vast array of books there."
Read Morgenegg's full article at deseretnews.com.