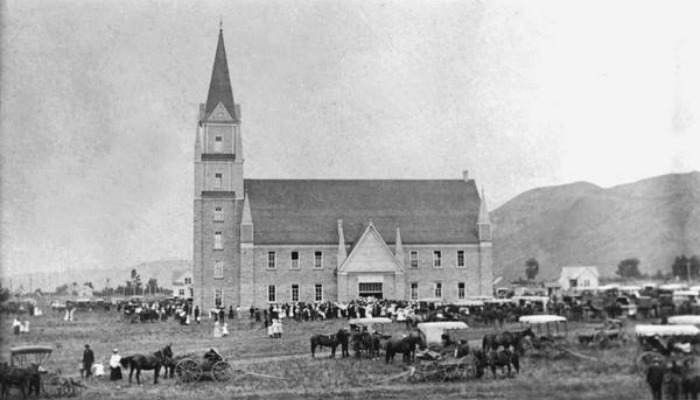 This article was originally written by Trent Toone for Deseret News. The following is an excerpt. 
In the early morning hours of Dec. 17, 2010, flames consumed all but the brick walls of the Provo Tabernacle. Almost a year later, President Thomas S. Monson announced in general conference that The Church of Jesus Christ of Latter-day Saints would rebuild the historic icon into a temple, drawing audible gasps from the congregation.
"This wonderful building, much beloved by generations of Latter-day Saints, was left with only the exterior walls standing," President Monson said in 2011. "After careful study, we have decided to rebuild it with full preservation and restoration of the exterior, to become the second temple of the church in the city of Provo."
Today, workers are preparing the Provo City Center Temple for its open house in January and dedication in March. When dedicated, it will join a unique group of temples adapted from existing church buildings, including ones in Vernal, Utah; Copenhagen, Denmark; Hong Kong, China; and Manhattan, New York.
The Provo Tabernacle was one of about 100 such structures of various sizes and architectural styles built by LDS Church members from the 1850s to the 1950s, according to Scott R. Christensen, an area acquisitions manager in the LDS Church History Department who has researched tabernacles in recent years. These magnificent buildings are easily recognized by their pipe organs, handcrafted decor, stained-glass windows and galleries, Christensen said.
Read Toone's full article at deseretnews.com.