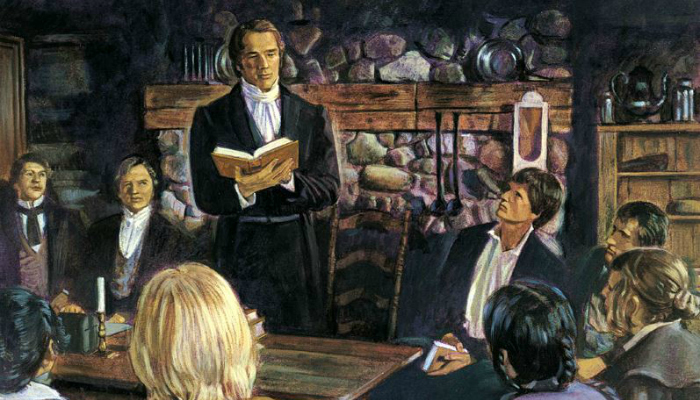 On July 20, 1833, a Missourian mob battered down the front door of William Phelps' home. William was not in at the time, but his wife and five children were. The mob dragged them into the street. Sally Phelps watched as men raided her home, smashed her windows, and threw out her furniture. But it was the contents of the second story of the home that the rabble was really after: Phelps' printing press. The men tossed paper and type out the window, followed by the press itself. But the most precious item cast out by the mob was the soon-to-be published Book of Commandments. This is when 15-year-old Mary Elizabeth Rollins and her 13-year-old sister, Caroline, sprang into action.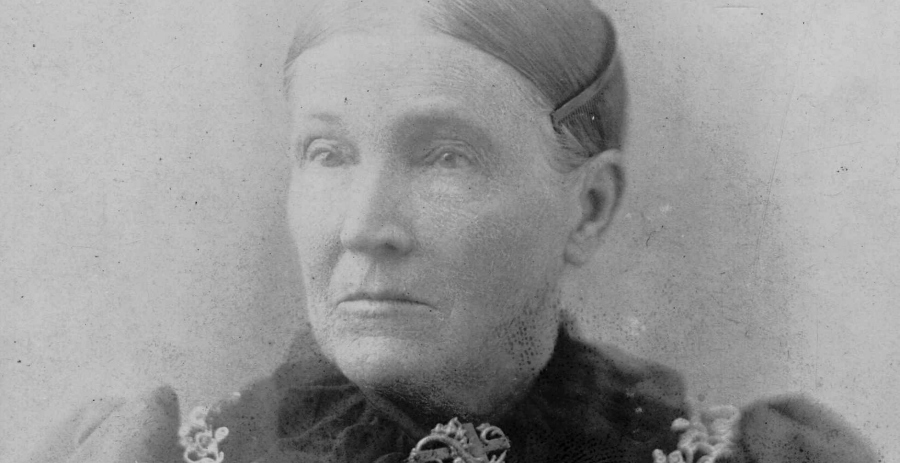 You're probably familiar with the rest of the story. The girls sneakily scooped up what pages of the Book of Commandments they could, and darted into a nearby corn field—angry Missourians hot on their trail. The corn hid them well, and the Book of Commandments was salvaged. But this story isn't about the Book of Commandments. It's about Mary Rollins.
I've sometimes wondered how Mary could have had so much courage. Would you or I have had enough courage to defy an angry mob that was in the process of destroying your community? These were truly two exemplary girls. But recently, I think I found another piece of the puzzle. While certainly not the only factor to consider, the story you're about to read was surely a defining experience for Mary that must have served as a foundational piece of her life-long testimony.
A little background
I'm going to let Mary herself tell the rest of this story. Her recollection of it comes from a speech she gave to a group of prospective missionaries gathered at Brigham Young University on April 14, 1905. Mary was 87 at the time, and still kickin'. She related a story from her childhood, when she was nearing 13 years of age. The story would have taken place sometime around February, 1831, soon after the arrival of Joseph Smith in Kirtland, Ohio. She mentions that as of 1905, she was the only remaining living witness to what happened at the meeting she describes. Here's what she had to say [spelling of transcript corrected and reformatted]:
Joseph's first Kirtland meeting
It is true I have been in the Church from the beginning. Just six months after it was organized I joined it. I have been acquainted with all of those who saw the plates and handled them; those who even saw the angel Moroni, who came to them. I am well acquainted with every one of them and I have known them from the time that they came to Ohio until their death; and I am the only living witness who was at the first meeting that the Prophet held in Kirtland.

The Smith family were driven from New York, and a small Church had been organized. Oliver Cowdery, Peter Whitmer, and Ziba Peterson were members. Well I being anxious, though young, to learn about the plates from those who knew all about it, my mother and I went up to the Smith family the next night after they came to Kirtland.

As I went in there were two or three others present. They were all there, the whole Smith family, from the old gentleman and his wife to all the sons and daughters. As we stood there talking to them, Joseph and Martin Harris came in. Said he 'There are enough here to hold a little meeting.' Joseph looked around very solemnly. It was the first time some of them had ever seen him. They got a board and put it across two chairs to make seats. Martin Harris sat on a little box at Joseph's feet. They sang and prayed. Joseph got up and began to speak to us.

As he began to speak very solemnly and very earnestly all at once his countenance changed and he stood mute. Those who looked at him that day said there was a search light within him, over every part of his body. I never saw anything like it on the earth. I could not take my eyes off of him. He got so white that anyone who saw him would have thought he was transparent. I remember I thought I could almost see the bones through the flesh. I have been through many changes since, but that is photographed on my brain. I shall remember it and see in my mind's eye as long as I remain upon the earth.

He stood some minutes. He looked over the congregation as if to pierce every heart. Said he: 'do you know who has been in your midst?' One of the Smiths said 'an angel of the Lord.' Martin Harris said: 'it was our Lord and Savior, Jesus Christ.' Joseph put his hands down on Martin and said: 'God revealed that to you. Brothers and Sisters, the spirit of God has been in your midst. The Savior has been here this night and I want to tell you to remember it. There is a veil over your eyes for you could not endure to look upon Him. You must be fed with milk not with strong meat. I want you to remember this as if it were the last thing that escaped my lips. He has given all of you to me and has sealed you up to everlasting life that where he is there you may be also. And if you are tempted of Satan say "get thee behind me, Satan."'

These words are figured on my brain; and I never took my eyes off his countenance. Then he knelt down and prayed. I have never heard anything like it before or since. I felt that he was talking to the Lord and that power rested down upon us in every fiber of our bodies, and we received a sermon from the lips of the representative of God.

Much has come and gone from me through the powers and vicissitudes of this Church. I have been in almost every mob. I have been driven about and told I would be shot and had a gun pointed at me, but I stayed with the Church until it was driven from Nauvoo. The words of the Prophet that had been revealed to him have always been with me from the beginning to the end of the gospel. Every principle that has been given in the Church by the Prophet is true. I know whereon I stand, I know what I believe, I know what I know and I know what I testify to you is the living truth. As I expect to meet it at the bar of the eternal Jehovah it is true.
Coming full circle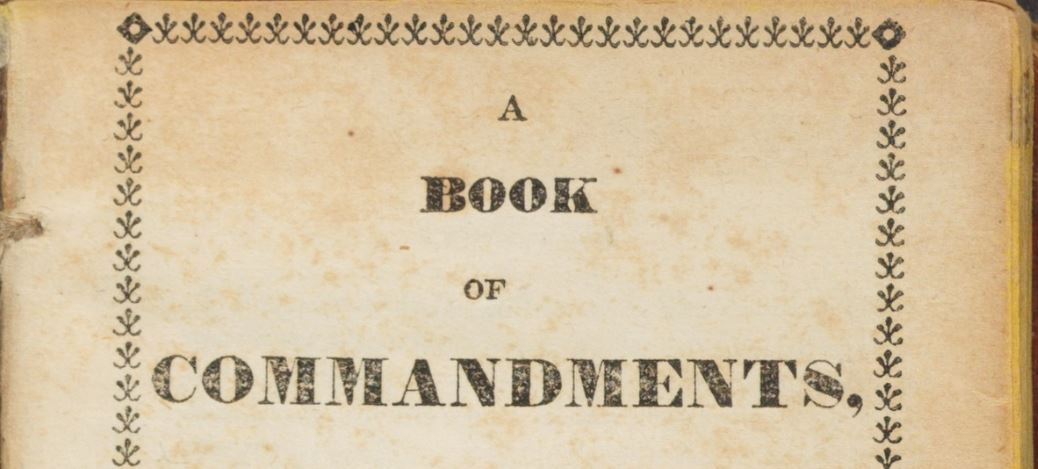 In the fall of 1831, Mary and her family would move to Independence, Missouri. Less than two years later, she and her sister were crouched next to a fence, watching the scene unfold at the Phelps home.
"When they spoke of the commandments I was determined to have some of them," Mary later wrote in her autobiography. "Sister said if I went to get any of them she would go too, but said 'They will kill us.'"
They went anyway. But with the miraculous Kirtland experience surely still fresh in her mind (as it remained even decades later), I understand now a little more why she was so willing to risk her life to do so.
If you learned something new in this article, consider sharing it with your friends!
---
For the reader's information: You can read Mary's full speech here. Another recollection of this experience exists in the Diary of Mary Elizabeth Rollins Lightner, which was compiled in 1936 (Mary died in 1913). It is unclear when she first recorded the experience as found there. Though it was likely recorded before the speech cited in this article, the differences are minuscule (though interesting). You can read that recollection here. Variations include details such as, "Suddenly he stopped and seemed almost transfixed. He was looking ahead and his face outshone the candle which was on a shelf just behind him. I thought I could almost see his cheek bones. He looked as though a searchlight was inside his face."